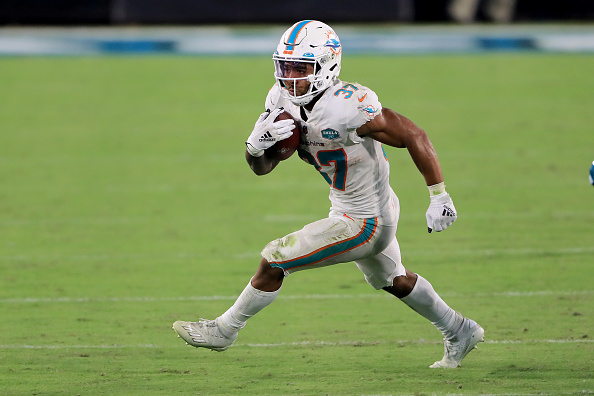 Week Four NFL DFS is upon us and I'm going under the radar to uncover the plays that get us into the green. The NFL has been a war of attrition up to this point. The injury report is littered with a who's who of trusted DFS line-up mainstays. That said, the DFS grinder grinds on and week four NFL DFS main slate offers us a loaded slate with plenty of options at each position. The following plays are for your consideration, not all necessarily value plays. But, as a possible pivot or one-off for your GPP (guaranteed prize pool) rosters whether you play single entry, three max, or mass multi-entry (MME). I like to play a mix of cash and GPP contests. I use all of my DFS plays in one line-up or the other. That said, let's go under the radar.
All prices are taken from the DraftKings main slate.
Week Four NFL DFS: Under the Radar
Stafford is a pivot option in the price range where people are starting to gravitate toward Ryan Fitzpatrick at $5,400. The Detroit Lions are a four-point home underdog, against the visiting New Orleans Saints, with an over/under of 54 points. I think it's safe to say Stafford will be passing. A lot! The Saint's defense carries the perception of being very good. However, they are currently the twenty-seventh ranked team defense. While they are middle of the pack against the run, teams are able to expose them in the passing game. Especially, anywhere Marshon Lattimore isn't. And, it's working i.e. Darren Waller and Allen Lazard. This game should shoot out and you could stack with T.J. Hockenson and/or Marvin Jones as Kenny Golladay draws Lattimore coverage.
In a week that's full of games with high implied totals, we have to find value for our DFS rosters. And, Gaskin fits that description. While everyone and their brother will be stacking the passing game of both the Seattle Seahawks and Miami Dolphins, Gaskin could go overlooked. Although, he was given the ball 22 times in a route of the Jaguars, what stands out is his receiving ability. He's averaging 6 targets per game. And, that's what has me intrigued. At first glance, the Seahawks are very stout against the run. One of the best, in fact. However, teams are utilizing the running back in the passing game against the Seahawks and that is where they can be exposed. If you're into dart throwing, this play is for you.
I am not a fan of clicking on Watkin's name. However, he's good for one or two big games a year. This week the New England Patriots travel to Kansas City. The implied total is a healthy 54 points with the Chiefs a 7 point favorite. However, it seems as if Andy Reid and Patrick Mahomes are trying to get him more involved, at least thus far. Watkins has been targeted eight times in two separate games and did his disappearing act in week two with only two targets. But, that was against the Los Angeles Chargers and they boast a pair of the best corners in the league. I think it's safe to say Bill Belichick will scheme to take away the best players in Travis Kelce and Tyreek Hill. This could lead to plenty of opportunities for Watkins. If he's able to fall into the box he can multiply that salary by four with ease. The Patriots are very good at limiting the tight end position but, the wide receivers. Not so much.
I really like the stack of Stafford-Hockenson and Alvin Kamara as the run back. As previously mentioned the Saints are the leagues worst against the tight end position giving up the most receptions, yards, and touchdowns to tight ends which, translates into 28 DK points per game. Hockenson has been relatively quiet early on averaging five receptions and 50 yards. And, We know he has ten receptions for 100 yards and a score in his range of outcomes. Add to the fact that the Lions have Golladay back in the lineup defenses are forced to shift their focus. No matter how you slice it, this should be a fun game to watch.
Frank Reich and the Indianapolis Colts have discovered one thing: Don't let Rivers throw the ball more than 30 times in a game if they can help it. In the opener against Jacksonville, he was forced to the air 42 times which resulted in two interceptions. Since that game, he hasn't thrown more than 25 times in a game. Sure, Jonathan Taylor has emerged after the injury to Marlon Mack. However, they haven't exactly been tested either. Soldier Field isn't the easiest venue to play in. Additionally, Robert Quinn continues to get into game shape and could see an increase in snaps which could lead to more pressure. And, more opportunity for Khalil Mack.
Under the Radar
The week four NFL DFS main slate is chock full of games with high implied totals. And, with that, we should see high scores at the top of DFS leader boards. Choosing the right game stack and the right pivot should get us in the green and a chance at a GPP takedown. There's a lot to like this week. Who do you think is going under the radar?
Good luck and good fantasy!
Main Photo:
Embed from Getty Images