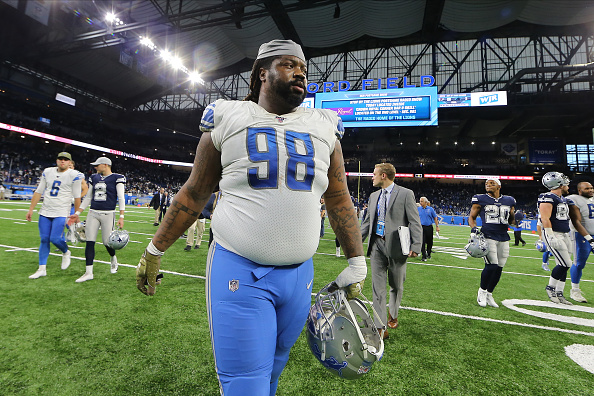 The free-agent market has picked up just a little in the past week. The New York Giants signed free agent Devonta Freeman this past week and now teams are interested in All-Pro defensive tackle Damon Harrison. He spent all last season with the Detriot Lions and hasn't signed with a team since. In 2019, he started in 15 games and had 49 total tackles with two sacks. The 31-year old contemplated retiring last season but decided to keep playing. Four teams have interest in Harrison and all of these teams seem like great fits for a guy looking to make an impact.
Teams Interested In Former All-Pro Defensive Tackle
Cincinnati Bengals
For any of these teams, it's not known when interest was expressed but "Snacks" Harrison could certainly help any team, including the Cincinnati Bengals. The Bengals have had troubles along the defensive line this season with injuries to Geno Atkins and Mike Daniels. The offense looks to be trending up with rookie quarterback Joe Burrow but the defense won't allow the offense to catch up. Harrison would slot in nicely on that defensive line, even if they got healthier as the season went on.
Chicago Bears
With Eddie Goldman opting out and now John Jenkins dealing with an injury, Harrison would help the Bears in at nose tackle. With the offense on the fence, this defense will have to step up yet again and Harrison's services would be needed on the defensive line. The Chicago Bears signed defensive tackle Daniel McCullers so they may be out on Harrison for the time being but even with the recent signing, Harrison would add stability to that line.
Green Bay Packers
The Green Bay Packers run defense was a huge problem for them last year. Even though they made it to the NFC Championship game, teams ran all over the Packers, including the San Francisco 49ers, who ran them off of the field. No moves have been made this past offseason to improve the run game on that defensive line. They held their own so far this season but star Kenny Clark was sidelined with a groin injury in week one and didn't play in game two against the Lions. The severity of the injury is unknown although he was on the field Wednesday. It's been reported earlier this offseason that the Packers may have been interested in Harrison and they could be interested now more than ever. Damon would improve this run game that stopped them a game away from the Super Bowl.
Seattle Seahawks
The Seattle Seahawks might be the favorites to sign the former All-Pro defensive tackle. Harrison is reportedly set to make his first visit of the season with Seattle next week. This could be a huge deal for the Seahawks as they look to lock him down before anybody else. Even though Seattle is off to a hot 2-0 start, the defensive line could use someone like Harrison. Several subtractions were made throughout the years to the defensive line and that has been a problem for Seattle as they've tried to make a Super Bowl run. Snacks would help a team that everyone views as one of the best in the league.
Final Drive
"Snacks" Harrison has played for the New York Jets, Giants, and the Lions. He now hopes to add a fourth team to that list as soon as possible. He had a down year with Detroit last season but he has proved to be a great option in years past. In 117 games, he's had 11 sacks with 485 tackles. For a guy at his position, that's pretty good. All of these teams need help at the position and Harrison is one of the most talked-about free agents on the market.
Main Photo:
Embed from Getty Images