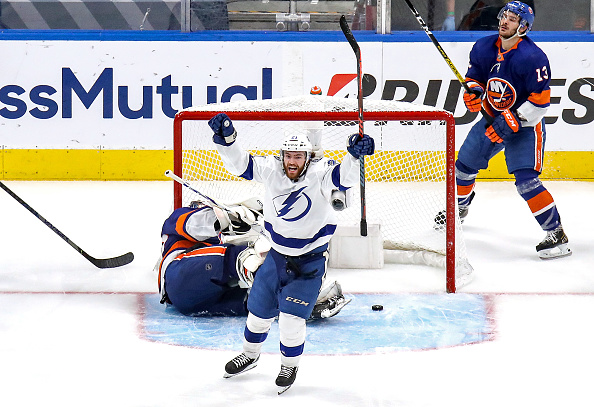 The Stanley Cup Final is set as the Dallas Stars take on the Tampa Bay Lightning. These two teams have gotten a lot of great performances that have carried them to this point. Those great performances have warranted a lot of talk about who should win the 2020 Conn Smythe Trophy for the best player in the playoffs. By watching these two teams, I'd say there have been some great candidates to watch out for. As we inch closer to the Stanley Cup Final, these Conn Smythe Trophy candidates look to shine and bring home the ultimate prize, the Stanley Cup.
2020 Conn Smythe Trophy Candidates
Brayden Point
Brayden Point has been one of the most important players for the Lightning in the Stanley Cup Playoffs. He has nine goals with 16 assists in 17 games. Point had seven points in three games against the Islanders. He was deemed unfit-to-play in games three and five in the Eastern Conference Finals and the Lightning lost both of those games. That tells you how much he means to this team and that he's one of the leaders in that locker room. He gives this team a different feel when he's involved and is availability will be huge against the Stars. Point is clearly one of the favorites to win the Conn Smythe Trophy.
Miro Heiskanen
Miro Heiskanen has a bright future with the Stars. The 20-year-old defenseman gave us a glimpse of his talent last year and now he's putting it on display this year. He's not only shined in this year's regular-season but he's also doing so in the playoffs. Heiskanen has five goals with 17 assists with two of the goals coming on the power play. He's been very disciplined as he's only taken one penalty, which is great news for the Stars. Playing just under 26 minutes a game really shows that the Stars trust the young star. He's going to have to play a huge role in the Stanley Cup Final by trying to slow down this Lightning attack. Heiskanen is getting a lot of praise from hockey legends and he'll seek even more praise with a Stanley Cup.
Nikita Kucherov
The 2018-19 Hart Trophy winner is almost always the best player on the ice. He does a lot for this team, even with plenty of stars surrounding him. He only has six goals but dishes the puck out to others in the form of 20 assists. The quickness that he plays with and the release he has is like no other. He alone will be tough to stop and he is poised to have a big series and shine where the lights are the brightest. Nikita Kucherov has had a great career so far and he wants to continue for years to come with a Conn Smythe and Stanley Cup.
Anton Khudobin
In last year's playoffs, Anton Khudobin appeared in one game but didn't start. This year, he's started 18 games. Goaltender Ben Bishop was slated to be the starter throughout the playoffs but he was deemed unfit to play and when he wasn't, he didn't look too sharp. Bishop has only started three games, which allowed Khudobin to take over and he hasn't looked back. In the Stanley Cup Playoffs, including the round-robin, Khudobin is 12-6 with a save percentage of .920 and a goals-against-average of 2.62. He's been huge for the Stars and may have to be even better with the star power on the Lightning.
Jamie Benn
Since 2009, Jamie Benn has been leading this team and was at one point in the conversation as the best player in the league. His production has gone down this season but his presence was still important for this team. Benn is having his best statistical playoff year, not counting the round-robin games. He has eight goals with ten assists for 18 points. He's scored a goal in each of the last three games, including the game-winner in overtime to send the Stars to the Finals. Been has been playing at a high level as of late and that momentum could carry into the Finals. If it does, the Stars will be much better off and Benn might just win the Conn Smythe Trophy.
Victor Hedman
Victor Hedman is arguably the best defenseman in the National Hockey League. He has been the finalist for the Norris Trophy for four years straight while winning in it 2018. Hedman is a finalist once again and why wouldn't he be? In the Stanley Cup Playoffs, he's been nothing but great. He had nine goals with six assists and he always seems to make the right plays. Hedman's size and speed alone tells you that he is a force to be reckoned with. If the Lightning win the Stanley Cup, he'll be a big reason why. It wouldn't be a surprise if he is the Conn Smythe favorite after game one.
Around The Rink
One guy that wasn't on this list that could've very well been is Lightning goaltender Andre Vasilevskiy. He has been a rock in goal for Tampa and it'll be a test for the Stars to shake him. Game one of the Stanley Cup Final is set for Saturday at 7:30 eastern time. These two teams have a lot to offer with speed and firepower. This best-of-series has talent all over the ice and it's going to be a great one for fans to watch.
Main Photo:
Embed from Getty Images