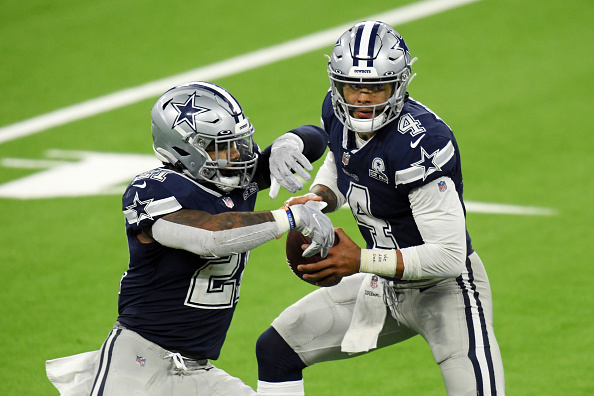 The NFC East top five players list contains players from three of the four teams in the division. That shows how well balanced this division is heading into the 2020 NFL season. The NFC East has not been won by the same team two years in a row since the Philadelphia Eagles did it four times in a row between the 2001-2004 seasons. Every single year this division is up for grabs and it is no different heading into the 2020 season.
NFC East Top Five Players
Honorable Mentions
Lane Johnson – Offensive Tackle, Philadelphia Eagles
Darius Slay – Cornerback, Philadelphia Eagles
Fletcher Cox – Defensive Tackle, Philadelphia Eagles
Dak Prescott – Quarterback, Dallas Cowboys
Tyron Smith – Offensive Tackle, Dallas Cowboys
Ryan Kerrigan – Edge, Washington Football Team
Brandon Scherff – Offensive Guard, Washington Football Team
5.) Carson Wentz – Quarterback, Philadelphia Eagles
Carson Wentz is the best quarterback in this division. Wentz had an MVP caliber season in 2017 and would have likely won the award if not for a late-season injury ending his year. In the 2019 season, Wentz threw for over 4,000 passing yards and 27 touchdown passes. He did all of that while also being the first quarterback to ever pass for 4,000 yards in a season where none of his receivers eclipsed 500 yards. Wentz is an elite quarterback in this league and has shown his worth and toughness multiple times over his first four seasons.
4.) Ezekiel Elliott – Running Back, Dallas Cowboys
Ezekiel Elliott has been nothing but consistent since being drafted 4th overall in 2016. Zeke has led the league in rushing two out of four years and has been named a pro-bowler three times in four seasons. He has rushed for over 1,000 yards in three of four seasons and the only season he did not rush for over 1,000 yards, he was suspended for six games. If you want a pure consistent downhill running back you cannot do better than Elliot.
3.) Saquon Barkley – Running Back, New York Giants
Saquon Barkley had over 2,000 total yards in his rookie season. In his second NFL season, he fought through injuries and lackluster offensive line performance. Yet, he still managed over 1,000 yards rushing and 1,400 total yards in 13 games. Over that same time span, Barkley has also put together 143 receptions proving that he is just as lethal as a receiver as a runner. Barkley is arguably the most impressive offensive player in the league who doesn't play the quarterback position.
2.) Jason Kelce – Center, Philadelphia Eagles
Jason Kelce has been a first-team all-pro each of the past three seasons. In that period, Kelce has proven to be a top-three center in the NFL and a vital member of a Super Bowl-winning team. Kelce is as good as it gets and the Eagles are lucky to have someone as consistent as him on their roster.
1.) Zack Martin – Offensive Guard, Dallas Cowboys
In six NFL seasons, Zack Martin has never missed the pro-bowl. He also has four first-team all-pro appearances during that time. Martin is on pace to be a Hall-of-Famer one day. In a league where interior offensive line play is as important as ever, you cannot find a better offensive guard than Zack Martin.
Main Image:
Embed from Getty Images