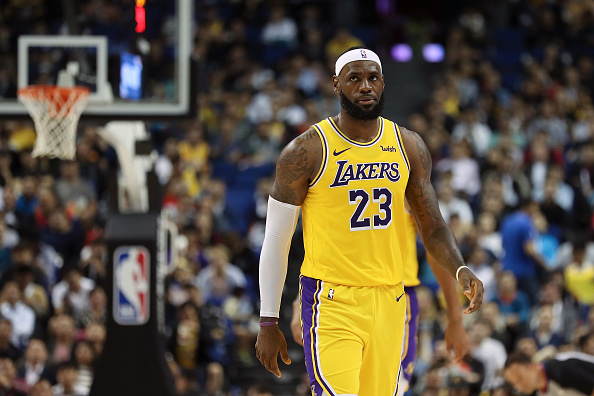 Since March 11th when the NBA season was postponed, life as we once knew it has been altered. And over the last four months, sports fans have had to reminisce of the old days. However, by the time you read this article, NBA scrimmages in Orlando will have begun! And on July 30th, we'll get the NBA regular season back for a two and a half month sprint to the NBA Finals. Out of the 22 teams in the bubble, there are a half a dozen or so teams who are finals contenders. Yet one team has always stood out to me more than the rest, and that's the Los Angeles Lakers. In this piece, I will explain why the Lakers are my finals pick.
Why The Los Angeles Lakers Are My Finals Pick
Their Star Tandem Is Better Than Any Other
Before the season was halted, the 49-14 Lakers owned the second-best record in the NBA. This was while playing the second-toughest schedule in the league. This season, the Lakers did something unorthodox with the face of their franchise. LeBron James played point guard for the first time in his career. The results blew expectations out of the water. James excelled in the role, putting up a league-leading 10.6 assists per game, and earned a spot in the MVP discussion. Also, Anthony Davis solidified himself as a top 5 player, led the team in scoring, and has a DPOY case to be made. It helps that James and Davis don't have chemistry issues, and appear to enjoy playing together.
For as awesome as Giannis Antetokounmpo is, James still has my vote as the best player in the bubble. Plus, James has 9 NBA Finals appearances, which is an invaluable experience. The Lakers have two of the top five players in the NBA, and no other team can say that.
Super Supporting Cast
But what makes this Lakers team special is their quality role players. Unlike in 2007 and 2018, James won't be working alone. First off, we have a two time NBA champion who's made a career off of shooting and defense, Danny Green. Statistically, Green hasn't been as efficient on offense this year as he was last year with the Toronto Raptors. But Green has still had a good season defensively and always steps up in the postseason. Another important player is Dwight Howard. Although Howard has been surrounded by controversy as of late, he's a key cog to the second unit. After missing most of last year due to injury, Howard came back this year shooting field goals at 73.4%. His rebounding would be missed dearly by the bench unit.
Although those are some notable Lakers players, every player adds something of value to this team. When Rajon Rondo returns from injury, he's an experienced floor general who can run the offense. Rondo also knows how to shine in the playoffs, averaging 10.3 points, and a dazzling 12.2 assists two postseasons ago. Kentavious Caldwell-Pope is the team's best three-point shooter with a 39.4% clip. Lastly, Kyle Kuzma is a wild card. This year Kuzma has been one of the biggest letdowns in the league. But it was just last year that Kuzma was coming off of a great season and looked well on his way to becoming the third star in L.A. If he finds his shooting touch and plays more like the 2018-19 Kuzma, the rich will only get richer.
The Rich Get Richer
As if two top-five players and quality role players weren't enough, the Lakers made some moves since games were last played. The Lakers added guards Dion Waiters and J.R. Smith. Waiters and Smith both come with plenty of off the court baggage, but both were brought in to help with scoring. It's fair to wonder if either of them will contribute much, but having veteran bodies ready is a good insurance policy. Especially with Alex Caruso and Quinn Cook already needing to step up some due to the injury to Rondo. Last but not least, Markieff Morris is joining the team in Orlando. Morris only played eight games with the Lakers and struggled. But Morris has been in the league since 2012 and is solid. When he acclimates to the team, he'll give the second unit some offense.
The Lakers And James Are My Finals Pick
Despite the Lakers being my finals pick, I do acknowledge the competition will be fierce. The Milwaukee Bucks and Los Angeles Clippers are both special teams. And there are also threats like the Toronto Raptors who I feel aren't being respected enough. But the Lakers make it look so easy, and James will be on a mission. Since the season was postponed, James has had his legacy put under a microscope during "The Last Dance" documentary. He's also had to hear about an Astrix going next to who wins the championship this year and find out the MVP race won't take games in the bubble into account. Not many athletes in any sport can motivate themselves and a team like James. And when the king gets his co-star Davis and his supporting cast clicking again, the league better watch out.
Main Image: Embed from Getty Images