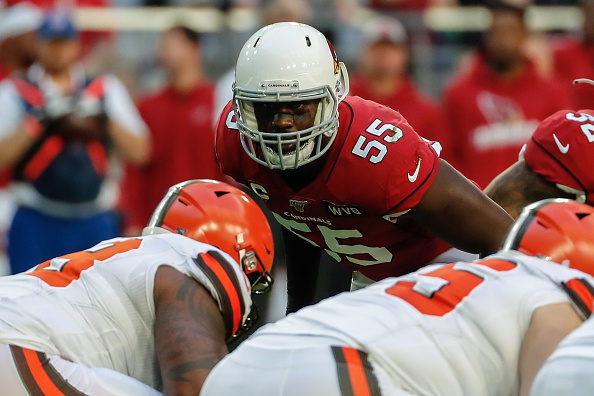 The keyphrase "defense wins championships" has been famous throughout sports and has been true to the NFL many times. Throughout the years, the NFL has evolved from being an offense-oriented league to one that focuses more on defensive aspects. The likes of Aaron Donald, Khalil Mack, and Jamal Adams are the faces of defense in the NFL. They are well respected and accredited by all. Although, there are players on defense that consistently play well every season, but never get recognition. Last time, we looked at underrated offensive players. This time, here are the most underrated current NFL players on defense at every position including outside linebacker.
Most Underrated Current NFL Players on Defense
Underrated Defensive NFL Players Preview
Like my previous article on underrated offensive players, it was hard to choose the players. The NFL has a boatload of solid defensive players that are underrated. I picked the best of the best out of underrated defensive players. I made decisions based on statistics, achievements, as well as other factors.
Defensive Tackle
Cameron Heyward has been underrated due to the team he plays on. The Pittsburgh Steelers have had lots of success in the previous years. Heyward has been a great producer, but the faces of the Steelers have been Antonio Brown and Ben Roethlisberger. Even when Brown was gone and Big Ben was injured, T.J. Watt and Minkah Fitzpatrick got lots of credit on the Steelers defense and put Heyward in the shadows.
Heyward has consistently been a solid producer on the Steelers defense. He has been a do-it-all, from pressuring the quarterback, tackling, forcing fumbles, and even defending passes. In his nine NFL seasons, he has recorded 397 career tackles, 54 sacks, and 30 passes defended. This averages out to 44.11 tackles per season, 6 sacks per season, and 3.33 passes defended per season. The statistics are higher than most defensive tackles, showing that he is one of the best in the business. Even outside these statistics, he is a three-time Pro Bowler. Cam Heyward has been a remarkable NFL player.
Defensive End
Cameron Jordan is a part of a New Orleans Saints team that is famous for its offense, yet never gets enough credit for its defense. Besides being in his team's offensive shadow, there are so many great defensive ends that fans forget about him. Well they shouldn't, he is a key reason the Saints had a top-five rushing defense last year and, without him, the Saints defense wouldn't be that good.
He has recorded 463 career tackles, 87 career sacks, and 47 career passes defended in his nine NFL seasons. This comes out to 51.44 tackles per season, 9.66 sacks per season, and 5.22 passes defended per season. Not only that, but Cameron Jordan is also a five-time Pro Bowler and has never missed a game in his career. Though stats-wise he has been a great contributor, most importantly Cam Jordan has such a great impact on his team like no other player.
Outside Linebacker
More and more, people are starting to talk about Chandler Jones and give him more credit, but I will not stop calling him underrated until he wins the Defensive Player of the Year award. He might be the most underrated player in the whole league. Chandler Jones is a wrecking ball and has been throughout his career. Quarterbacks and defensive coordinators fear him.
In eight NFL seasons with the New England Patriots and Arizona Cardinals, Chandler Jones has recorded 421 tackles, 96 sacks, 105 tackles for loss, 27 forced fumbles, and 23 passes deflected. Those are mind-blowing statistics. Frankly, they are Hall of Fame-type numbers. To expand on that more, he averages 52.625 tackles per season, 12 sacks per season, 13.125 tackles for loss per season, 3.375 forced fumbles per season, and 2.875 passes deflected per season. Not many players can say they average 12 sacks per season.
He is also a three-time Pro Bowler and a super bowl champion with the Patriots. Like I said, with his achievements and statistics, he should be a Hall of Famer after he retires and should also finally win the Defensive Player of the Year award. Chandler Jones is a player to be feared.
Inside Linebacker
Danny Trevathan has been a solid player for the teams he has played for. He is underrated because when he played on the Denver Broncos, Von Miller, was the main talking point of the Broncos defense. While on the Chicago Bears, the Bears didn't play well for a period of time. But, when they did, it was because of the defense, Khalil Mack, Eddie Jackson, and Kyle Fuller got most of the credit.
Although Danny Trevathan doesn't get a lot of sacks, the man is a tackling machine. In eight NFL seasons, he has 609 career tackles. That averages out to 76.125 tackles per season. Besides tackles, he also has nine career sacks, nine career interceptions, and 35 career passes deflected. Also, he is a super bowl champion. Danny Trevathan has been a solid do-it-all linebacker that has been an unsung hero on his teams' defense.
Cornerback
Kyle Fuller
Kyle Fuller has been an unsung hero on the Bears defense that has been overshadowed by the likes of Khalil Mack and Eddie Jackson. Fuller has been a quality starter throughout his career. He has solid stats in every cornerback category in his career. He has played five NFL seasons, all of them with the Chicago Bears.
In those five NFL Seasons, he has recorded 325 career tackles, 18 career interceptions, and 74 career passes defended. Fuller averages 65 tackles per season, 3.6 interceptions per season, and 14.8 passes defended per season. Those are very good stats, and they are above average stats for cornerbacks. With those stats, he still isn't regarded by some as a top-ten cornerback. If the Bears defense continues playing at an elite level and they make the playoffs, I believe Kyle Fuller will get more recognition.
Safety
There are many elite safeties in the league, but when people don't consider Kevin Byard a top-five/top-ten safety, it's mind-blowing. He has recorded the most interceptions in the last three years than anyone else. He is an elite safety who is a huge reason that the Tennessee Titans defense is very good, and was also a big reason for their deep playoff run.
In four NFL seasons, Byard has gotten 319 career tackles, 37 career passes deflected, and 17 career interceptions. This means that per season he averages 79.75 tackles, 9.25 passes deflected, and 4.25 interceptions. Those are the top-ten and near-elite statistics for a safety. He has consistently been a great contributor for his team, and at the young age of 26, look for him to become a top-three safety in the league in the upcoming years.
Underrated Defensive NFL Players Recap
We have to give credit to the NFL superstars on defense, but we also have to give recognition to many other elite defense players like those above who are underrated. They play very well consistently game in and game out. A defensive unit of these players would for sure rank as a top-ten defense. These players and others I believe would be serious playoff contenders, and they could perhaps be super bowl contenders.
Main Photo:
Embed from Getty Images