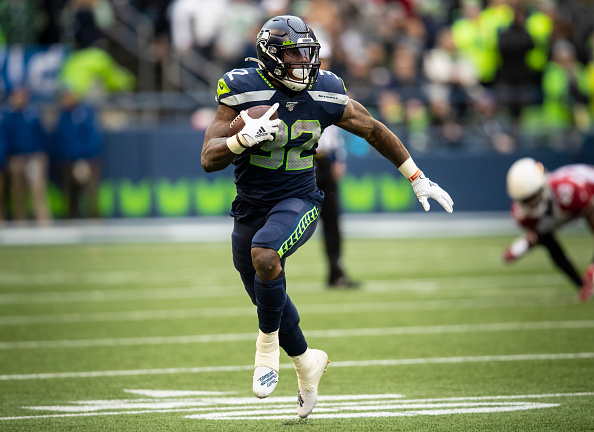 The NFL has its superstars, whether it's Patrick Mahomes, Christian McCaffrey, or Michael Thomas. The NFL fans and reporters praise these players every chance they get. In the NFL though, there are players that play their hardest and put up great stats. Though they never get the recognition they deserve. Here are the most underrated offensive NFL players at every position including on the offensive line.
Most Underrated Current NFL Players on Offense
Underrated Offensive NFL Players Preview
It was not easy picking these players because the NFL has a great amount of talent. Along with that come elite and talented players that are underrated. I picked the most underrated offensive NFL player at each position based on stats and the players I viewed as being better than others.
Quarterback
Matt Ryan's loss to the New England Patriots in Super Bowl Ll after leading 28-3 has overshadowed his prolific career in the NFL. He has been one of the best and most consistent quarterbacks in the NFL. It's proven by the record he holds which is most consecutive NFL games with at least 200 passing yards with 64 games. That is basically four seasons. Besides that record, he also holds six other NFL records.
Throughout his ongoing 12 NFL seasons, which have all been for the Atlanta Falcons, Matt Ryan has thrown for 51,186 passing yards which is 10th all-time. Additionally, he has thrown for 321 career touchdowns, which is 21 touchdowns away from 10th all-time. At his pace, he should reach that by next season. A big stat factor that underrates Matt Ryan is his NFL win-loss record of 109-80. This is really the fault of his offensive line. In his career, Matt Ryan has received poor offensive line play regularly. For example, last year, he was sacked a league-high 48 times.
Besides record and statistics, Matt Ryan is a four-time pro bowler and has won the prestigious MVP award in 2016. He also won Offensive Rookie of the Year in 2008. Although Matt Ryan will always be known for choking in the super bowl, he deserves a great deal of recognition. Credit is due where credit is due, and Matt Ryan has shown that by playing great consistently throughout his NFL career.
Running Back
Chris Carson has only played three NFL seasons, all of them for the Seattle Seahawks. He has played very well and has never gotten credit. People underrate him because he has a fumbling problem that included seven fumbles last year. Not to mention the fact that he hasn't played long enough. In his three short NFL seasons, Chris Carson has become a top-ten running back in the NFL.
In his career, he has rushed for 16 touchdowns and 2,589 yards. Additionally, he caught 488 receiving yards and three touchdowns in his career. Last year, he rushed for 1,230 rushing yards which were fifth-most in the NFL. Last year was Carson's second consecutive season of over 1,000 rushing yards. Chris Carson has risen as a very solid runner as he averaged 4.4 yards per rush and 82.0 rushing yards. Though he has only caught 488 career receiving yards, including 266 last year, he is emerging as a very good dual-threat running back.
Along with the statistics, Chris Carson is a one-time Pro Bowler. Many people forget that Chris Carson is still very young. He has the time to improve, as is likely too especially in Pete Carroll's run-heavy offense. Remember the name, because in the upcoming years he will be one of the best running backs in the NFL.
Wide Receiver
Allen Robinson has been greatly underrated throughout his NFL career. The biggest reason has been the quarterbacks. In his career, he has had Blake Bortles and Mitchell Trubisky throw to him. They are not good at all. Actually, they are two of the worst in the NFL. Poor quarterback play has led to Robinson not having fantastic stats. If you put him on the Kansas City Chiefs, Seahawks, or Green Bay Packers, he would have no problem getting over 1,000 receiving yards each year.
In six NFL seasons for the Jacksonville Jaguars and the Chicago Bears, Robinson has caught 4,749 receiving yards and 33 touchdowns. However, in 2017, he only played one game due to a torn ACL. He is a top-five possession catching receiver and had a 58.3% contested catch rate which is 5th in the NFL. Also, he has a 33.6% dominator rating which is 10th in the NFL. It means how many of his team's receiving yards and touchdowns he has accounted for, so he has accounted for one-third.
Allen Robinson has been underrated his entire career due to his quarterbacks playing poorly. He is one of the best possession catching and contested catching receivers in the NFL. He can also make remarkable catches. With better quarterback play, Allen Robinson could easily become a top-ten receiver in the NFL.
Tight End
Jared Cook has consistently put up solid numbers throughout his entire NFL career, but for some reason, he has been underrated. He has played 11 NFL seasons for five teams including the Tennessee Titans, the former St. Louis Rams which are now the Los Angeles Rams, New Orleans Saints, Packers, and the Oakland Raiders, which are now the Las Vegas Raiders. He is best known for being a downfield threat, not speed-wise, but size as he stands tall at 6′ 5″.
In those 11 NFL seasons, he has put up 6,169 receiving yards and 34 receiving touchdowns. Additionally, Cook has been very consistent in his production. He averages 560.82 receiving yards per year and 37.85 receiving yards per game in his career, which is solid compared to other tight ends.
With all those great stats and consistency, he still has only been in the Pro Bowl two times. Maybe if he finally wins a super bowl with the Saints, he will get recognized. For now, he is one of the most underrated current NFL players in the league.
Offensive Line
First of all, there are many underrated offensive linemen to pick from, but I decided to choose the Cleveland Browns center, J.C. Tretter. He has played six NFL Seasons for two teams which are the Packers and the Browns. A big reason why he is underrated is he plays for the Cleveland Browns without a good team in general and he is the only spark in a bad Browns offensive line.
Last year, he played 1,039 offensive snaps (which was 13th in the league), he only had five penalties (8th-best), he allowed only one sack, and 16 quarterback hurries. In his career, he has played 4,116 offensive snaps, has had only 13 penalties, and has allowed seven sacks.
Though Tretter isn't powerful and hasn't played on the best offensive lines, he should be recognized. His stats show he should get recognition. He has been a very solid and disciplined offensive lineman throughout his career. If the Browns make the playoffs this year, he will likely get credit and recognition which he deserves.
Underrated NFL Offensive Players Recap
As I have said before, the NFL has superstars and elite players that have gotten constant recognition, but there are others that don't. Players that I have stated above, work hard and put up great production, but are very underrated. A team of these combined players and others would-be for sure playoff contenders, and possibly Super Bowl contenders.
Main Photo:
Embed from Getty Images