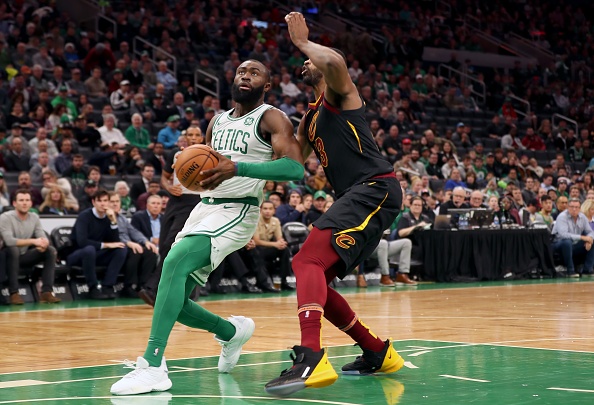 In the second edition of the NBA's Top 25 Players Under 25, we rank the players listed 17 through 11. To refresh, the players that fall into the NBA's Top 25 Players Under 25 are under the age of 25, not 25 and under. The first edition of this three-part series ranked players 25 through 18.
Top 25 Under 25 in the NBA
NBA's Top 25 Under 25 – #17-11
Can Murray prove that he is worth $170 million over the next five years?
Kicking off the second edition of the NBA's Top 25 Under 25 is Jamal Murray at the number 17 spot.
The Denver Nuggets may have bitten off a little more than they can chew by offering Jamal Murray that five year/$170 million max extension, but that doesn't take away what Murray is capable of on the court. In each of his 4 seasons, Murray progressed year after year and it is what earned him that big payday. Denver saw that and took an investment. Right now it seems a little shaky, but Murray is only 23 years old and has already made great strides in his career.
With Murray being a very talented player and with Denver being one of the West's top teams, he isn't exactly a strong second option on a championship team. The duo of Murray and Nikola Jokic is strong, but Denver needs that third star to round out their roster and put them in serious title contention. 
Hopefully, we see Murray take that next step next season, or even in this coming playoffs.
The Unicorn is back and has not missed a step
Much like Jamal Murray, Kristaps Porzingis is a very talented player, but he can't be your second option on a contender. He and Luka have formed an exciting duo in Dallas, where the theme is apparently European-born talent. If the Dallas Mavericks are able to reel in a third star (European or not), then that will surely move them up a few pedestals. 
Don't let that distract from the type of player Kristaps is. After missing a season and a half, Porzingis stepped back onto the court with the Dallas Mavericks and produced like he never even left. A nightly 19.2 PPG and 9.5 RPG with a 35% 3-pt shot, Porzingis went back to his old roots this year. His playstyle mixed with Luka can only benefit the two, and his career is back on track after leaving New York and joining Dallas, whose trajectory is much higher than New York's.
Sabonis enjoyed an impressive All-Star season in Victor Oladipo's absence
Domantas Sabonis earned an All-Star roster spot for the first time in his career this past February. When Victor Oladipo missed a large portion of the 2019-20 season, Sabonis stepped up and helped the Indiana Pacers remain a competitive team in the East. He is a Jack-of-all-trades big man who can shoot, rebound, pass, and defend like the best of them. 
Where Sabonis has been most effective is at the high and low post, which allows his court vision to flourish and is a helping hand as to why players like Malcolm Brogdon, TJ Warren, Myles Turner, etc, have been able to be so effective as well. Sabonis doesn't try to do too much and knows what he's best at. I'm not sure if the Pacers will ever be a real championship contender with this constructed roster, but that is not to discredit what Sabonis has done and is capable of doing in the future.
D'Angelo Russell
Here's to hoping D-Lo finally has a permanent place to call home in Minnesota
Hopefully, D'Angelo Russell has found his long term home in Minnesota. After hopping from the Lakers to the Nets to the Warriors and now to the Timberwolves, Russell has been on the move constantly since coming to the league in 2015. This shouldn't come as a knock to him or how he performs on the court. Russell is one of the most electrifying young guards in the league, and he's only going to get better now that he has Karl-Anthony Towns working by his side.
Russell's game is bound to evolve from here, now that some of the pressure is taken off him with KAT alongside. That duo was seemingly years in the making, and it was only a matter of time before the two united. For a franchise that has continued to underwhelm for years upon years, Minnesota now holds a glimmer of hope in their future with Russell, KAT, and perhaps their 2020 draft lottery choice.
OKC will hand the keys to SGA soon enough
Yes, Chris Paul is undoubtedly OKC's leader of the pack. However, it is clear that the future of the organization runs through Shai Gilgeous-Alexander. After being dealt to the Thunder from the Clippers in the Paul George trade, SGA thrived under the new spotlight he was given, helping OKC return to the playoff picture despite losing both George and Russell Westbrook.
Very few teams have a brighter future than the Thunder, as they are in a position to both compete now and have a large stock of future draft picks and assets over the next few seasons. With CP3 continuing to grow long in the tooth, it's only a matter of time before the keys are handed to SGA. 
In just his second year, Shai's numbers across the board spiked in his new role at the forefront of the new look Thunder. OKC has a bright future with SGA leading the charge.
Morant single-handedly revived basketball culture in Memphis
Ja Morant's arrival in Memphis has created perhaps the smoothest transition the Grizzlies could have had as they move away from the Grit 'n Grind era and lean into the youth movement. While Zion was the number one overall pick in the 2019 draft and is destined for NBA greatness, he did miss a large chunk of the season, and in that time, the race for NBA Rookie of the Year ran through Ja Morant.
Ja has helped revive basketball culture in Memphis, and in return, it has sped up their timeline during the team's rebuild as Memphis now has their franchise point guard paired with Jaren Jackson Jr, to form one of the most promising duos in a league where a one-two punch has become the norm. 
Growth, maturity, and wisdom are what make Jaylen Brown so valuable to the Celtics
If basketball IQ were a measurable stat by analytics, then Jaylen Brown owns that category by a landslide. His continued growth and development since his rookie season in 2016 has been exponential, transforming from a raw athletic wing to an all-around multi-dimensional star. 
With Brown's role increasing this season after the departure of Kyrie Irving and Al Horford in Boston, he stepped up to the plate and produced a career-high season across the board. Brown scored a career-high 20.4 PPG and 6.4 RPG. But moving away from the stats, what makes Brown such a special talent and what will ultimately make him a star for years to come is his maturity.
Despite falling in the rankings of the NBA's top 25 under 25, being that he is 23, Jaylen Brown is years beyond his age. Mentally, physically, and spiritually.
Brown's mindset is years beyond the court. Despite being an elite NBA player, his greatest life accomplishments will come off the court. His mentality on and off the floor has turned him into a leader, and why he" undoubtedly see much success in the NBA.