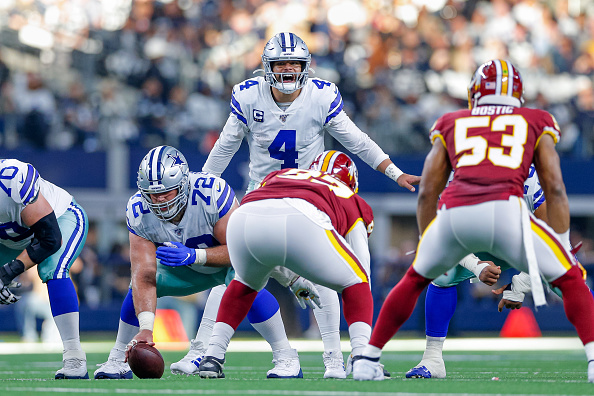 This week I break down the NFC East fantasy football outlook. I look at each team's offensive players and how I see them when I get ready to create my rankings. The NFC East usually begins with how we view the Dallas Cowboys. After all, they get the most headlines. However, they aren't the only ones in the NFC East and there is a certain player in the division that will be on top of many fantasy football rankings. So let's dive in and see if there are risers and fallers for our fantasy football rankings.
2020 NFC East Fantasy Football Outlook
Just Give Him The Money
Dak Prescott should just get paid. Then I don't have to worry about a holdout for my drafts. Am I the only one shocked (outside of Cowboys' fans) that Prescott was the overall QB2 in 2019 fantasy football? The dude is a stud. I like him as a QB1 in all formats and I get the feeling he goes slightly overlooked due to bias against the Cowboys.
Zeke Feet
Ezekiel Elliott is a top-five fantasy pick once again going into the 2020 fantasy football season. He was also the overall RB3 and ninth-highest fantasy points producer in PPR formats. There are some whispers that his production will slip due to Prescott having so many mouths to feed. I'm not buying it.  I'll be more than happy to plug and play his 20 fantasy point average. Tony Pollard is a must add to your bench in all formats. He's been compared to Alvin Kamara style-wise, with both excellent running and catching instincts.
Air Raid Dallas Style
Amari Cooper, Michael Gallup, and CeeDee Lamb. I wouldn't fault you for drafting the entire Cowboys offense. Cooper finished overall WR10, Gallup WR23 and they've added who many ranked as the best wide receiver in the draft. This is a scary, good group of wide receivers. Cooper is a very solid WR1 after drafting running backs early and I love Gallup in the middle rounds as a WR2. Lamb is a top pick in dynasty drafts and worthy of a roster spot in re-draft.
Tight for the Ends
The mainstay, Jason Witten, has left for greener pastures. Greener pastures as in money. There really aren't any pastures in Las Vegas. With that being said, it is time for Blake Jarwin to seize his opportunity. He was targeted seven times in week 14 but, never more than four times in a game. If Jarwin is able to carve out a "Witten" like role in this offense I'd view him as a more than serviceable TE1 on my roster. However, it's a role I don't trust just yet.
Last Laugh
Is Daniel Jones worthy of a QB1 roster spot? Maybe not. But, if you think Drew Brees is worth adding as your back-up then Jones is absolutely worth a backup roster spot. He was just three fantasy points behind Brees in 2019. However, let's not kid ourselves. He is no Drew Brees. But, after passing for 24 touchdowns as a rookie, it's easy to predict an uptick in fantasy production. Keep him on your dynasty roster and consider him a back-up in re-draft.
Quad Crusher
And, in this corner, the Crusher. I don't know why I think of the Bugs Bunny versus the Crusher when it comes to Saquon Barkley. Maybe, it's because his quads need their own zip code or maybe, it's because he finished as the overall RB10 and he strikes me as a man that's going to come out ready to run over every opponent in this 2020 NFL season. He should be viewed as the top one or two picks in every draft format.
Under-Rated
Golden Tate, Darius Slayton, and Sterling Shepard don't necessarily strike fear into the hearts of opposing defenses. But, Slayton has emerged as a deep threat and Tate is still viable as a PPR scoring format addition. As Jones grows as a passer, so too shall Slayton's role as a number one wide receiver. But, for now, I view Slayton as a WR2/3 in re-draft leagues and Tate as a WR3/4. Shepherd is still very good. Although he missed five games he should be viewed as a WR3 on rosters.
Not Too Shabby
Evan Engram should be healthy for the 2020 fantasy football season. And, is still viewed as a TE1. However, Kaden Smith is more than serviceable as a back-up and offered fantasy league owners a cheap streaming option. You may have even rostered Smith, on the cheap, in daily fantasy.
When-tz
The question isn't the talent. Carson Wentz made it through the entire 2019 season injury-free. However, the same can't be said for his surrounding cast. He was able to top 20 fantasy points five times and finished as the overall QB9 in most scoring formats. Not too shabby given what he had to work with. He has been and still should be drafted with confidence as your QB1 in all fantasy football formats. With that being said, Jalen Hurts was drafted in the second round and his time could come sooner than later. Add in the early rounds of established dynasty drafts.
Miles Away
Miles Sanders exhibited that he has what it takes to be an RB1 on your roster. Even with limited opportunities, he put up fantasy points. Once the job was his the last half of the season, he easily put up RB1 fantasy numbers we like to see. And, his receiving ability helps in PPR scoring formats. Watch his average draft position. He could be a great option if you draft a wide receiver or quarterback early and then focus on running backs. Boston Scott's true value is in PPR scoring formats. He was targeted no less than six times per game when in the line-up and he's capable of taking on a larger role. He's worth a stash on your bench.
Not Too Sure About This Group
If Alshon Jeffery is healthy and can stay healthy he's easily a WR2 on fantasy rosters. However, that is a big if. The sexy pick will be Jalen Reagor. While a sure-fire top pick in dynasty, he's worth an add on deep rosters in re-draft leagues. The rest of the Eagles roster should just be monitored if one emerges as a potential go-to such as Nelson Agholor in 2019.
Nice Ends
Zach Ertz and Dallas Goedert form, arguably, the best tight end duo in the NFL. Ertz is clearly the number one option in all fantasy football formats and Goedert can be viewed as TE1 as well. Due, in most part, to injuries to the wide receiver corp. Both Ertz and Goedert commanded a high target share in the Philadelphia offense. As Goedert's role grew, he averaged nearly eight targets per game in the second half of the season. If Jeffery can stay healthy and Reagor proves to be the real deal, you can expect a slight downturn in their production. However, both provide a safe floor for a TE1 roster position.
Are We Really Gonna Do This
Dwayne Haskins is the man that Washington is going to hang their hat on. Even if he improves just a little bit, there are better options. Outside of being a fan of Washington, I'll leave him on the waiver wire. You can gamble on Haskins in "Best Ball" fantasy leagues. But, it's clear that the Redskins will rely more on the running game than Haskins' arm.
Rolling the Guice
Derrius Guice's knee is the only thing keeping him from breaking out in a big way for the 2020 NFL season. We saw a glimpse of what he's capable of and it's clear he's a better option than the aged Adrian Peterson. Keep an eye on his rehab. He would be a nice addition as an RB3 or RB4 on rosters with the potential of being an RB1 leading to fantasy football glory. Antonio Gibson was drafted in the third round and should be drafted in dynasty leagues with one eye open towards a waiver wire addition if his role expands as the year goes on. Then there's the question of one of the all-time greats, Peterson. With a limited floor, I'm willing to let him stay on the waiver wire.
Now That's Scary
Terry McLaurin will be a popular target in re-draft as a WR2 on rosters between the fifth and tenth rounds. Haskins may depress his average draft position just a little bit, but he's the clear cut number one receiver in the Washington offense. Steven Sims proved serviceable and the Redskins also drafted Antonio Gandy-Golden in the fourth round. He's worth picking in the middle rounds of dynasty leagues.
A Reliable Tight End
Jordan Reed, we hardly knew you. And, we hardly know the current roster of tight ends. The venerable Vernon Davis has moved on to retirement and they are left with a menagerie of journeymen. The only player of note is Thaddeus Moss. He went undrafted, but has the potential to develop into a nice NFL tight end. He's worth drafting late in your dynasty league.
Wide Open East
In terms of the 2020 NFL season, this division could be a toss-up. The early favorite is the Cowboys based on the talent of their roster. However, when thinking of fantasy, Saquon Barkley and the Cowboys skill players will be highly sought after. Fantasy footballers might be inclined to pick on the Washington Redskins based on their record. But, be careful. Their defense will keep them in games and keep opposing offenses in check. NFC East fantasy football could be interesting this season.
Main Image: Embed from Getty Images