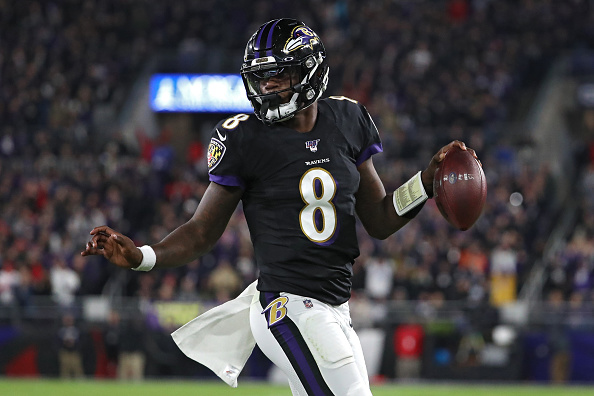 This week I make sense of the AFC North for our fantasy football rankings. Can Big Ben layoff the cheeseburgers? Will Baker Mayfield continue to shoot blanks with all of the weapons at his disposal? Can Lamar Jackson replicate 2019? And, is Joe Burrow the savior that Cincinnati needs? All this and more in this week's edition of the 2020 AFC North Fantasy Football Outlook.
2020 AFC North Fantasy Football Outlook
First Round Worthy
The burning question for fantasy footballers will be Is Lamar Jackson worth a first-round pick? I don't think it's an easy answer. Fantasy footballers will say never draft a quarterback in the first round. There's too much variance year to year. However, a player like Jackson doesn't come around that often. A running back in a quarterbacks body. If your scoring is both runner and passer friendly it wouldn't be outlandish to take Jackson in the first round.
Three-Headed Monster
J.K. Dobbins, Mark Ingram, and Justice Hill. What is the three-headed monster, Alex? I'll roster all three. However, the dilemma lies in their rankings. Dobbins is a must-add in all formats and could take the starting job by mid-season if not sooner. I'm trading Ingram to Dobbins owners in dynasty and will add him in re-draft as RB2/RB3 hoping to capitalize on any early-season success and then sell him high. Hill is still worthy of a roster spot in dynasty due to the uncertainty of the position.
Double B's
Marquise Brown and Miles Boykin. Brown has the jets and Boykin has the size. I like Brown in best-ball drafts and dynasty. However, in redraft leagues, it's tough to gauge his value. Right now I view him as a WR3/4 on my roster. Boykin is worth a roster spot in dynasty. But, doesn't carry much value beyond that. Fantasy points will be thin other than the occasional outlier game by any given player.
Top Tight End
There is no reason to think that Jackson won't continue to look Mark Andrews' way. Andrews has established himself as Jackson's safety blanket and opposing defenses have too much to worry about than trying to take Andrews out of the passing game. I love the way John Harbaugh uses Andrews in the offense and that should continue. I really like Andrews as a TE1 and to replicate his 2019 fantasy football production as the overall TE5 in PPR formats.
Captain Obvious
This is really all about Joe Burrow. The interesting thing will be to track his development compared to his Ohio counterpart. The major question will be, can the Bengals offensive line keep him upright? Other than that the Bengals have enough offensively to support the success of Burrow. Obviously, draft him in dynasty. But, How do you view him re-draft and even best ball League? I'm not a huge proponent of drafting a rookie quarterback, but you could hope for a blow-up game for best-ball fantasy teams.
Sir Mixon a Lot
Is this Joe Mixon's year to break out as a top-five running back? I have my doubts. However, if Burrow can lean on Mixon on third downs, he's attractive in PPR leagues. And, that's where his value will be. Time will tell. Again, much rests on the Bengals' offensive line. Even a little improvement could propel Mixon a long way. If he's available in round three and I need an RB2, I won't hesitate to draft him.
Don't Look Now
Is it possible that the Bengals have a receiving corps as good as any in the NFL? The development of Tee Higgins and the health of A.J. Green will be the deciding factor in that debate. Tyler Boyd is in the conversation for WR1 if you go running back heavy to start your draft. I nearly forgot about John Ross whose entering his fourth year. Ross began to break out in 2019 until he missed time due to injury. There's a lot to like here. And, Bengals fans have a reason for hope now and into the future.
There Was One?
Hello, hello, hello…Seems that echo you hear is from an empty tight end room. Nothing to see here. Move on.
Bake Me a Cake as Fast as…
Not that this is a make or break year for Baker Mayfield but, we'll surely learn a lot going forward. Can you think of another quarterback with the type of surrounding talent other than Mayfield? With that being said, what will new head coach Kevin Stefanski's offense tell us? Mayfield is a quarterback I really want to like re-draft. Keep him on your dynasty team for now. But, he's the type of player that may not be as consistent as we like as a QB1 on our roster.
Run and Run and Run
Nick Chubb is an RB1 for your roster in all formats. I won't let Kareem Hunt deter me from drafting Chubb as such. Additionally, I really want to add Hunt to my roster whether I'm drafting Chubb or not. Hunt is one injury away from a lead role that could garner a great return on investment. The more that I think about the Browns' offense the more it reminds me of how the San Francisco 49ers run theirs. It's difficult to pinpoint the majority of fantasy points but there's upside across the board.
Draft High or Slide
Odell Beckham Jr. was once viewed as a potential first-round draft pick. Although he may not be that anymore, in PPR formats he is still worthy of a WR1 roster spot.  Conversely, Jarvis Landry ended the 2019 Fantasy Football season as the overall WR20. Landry can be viewed as a very solid option as a WR2 on your rosters. In short, both are draftable in all formats. With that being said, there isn't a receiver beyond them worthy of a roster spot in my opinion.
Making Sense of the Tight Ends
The David Njoku experiment has come to an end. If he can maintain health he could be attractive trade bait for the Browns. If that's the case keep him on your dynasty roster and hope he lands in a tight end friendly system. The Browns have just spent a lot of money on Austin Hooper. To be clear, he had Matt Ryan slinging him the rock. Can we trust Mayfield to do the same? I'll let other owners' recency bias overdraft, Hooper.
More Than a Menu Item
Last we saw Ben Roethlisberger he had just lost about 200 pounds. Yes, he shaved his beard. But don't get me wrong, Roethlisberger still looks like he could skip a few trips to the buffet. Returning from injury always gives me pause when drafting an aging quarterback. But, with JuJu Smith-Schuster and Diontae Johnson, there is still upside as a QB2 on your re-draft rosters. I'll take my chances passing on Roethlisberger on dynasty rosters.
Trusting the Running Backs
James Conner is poised to return from injury. Can we trust him? The once dependable Pittsburgh backfield is a patchwork of potential. If one can emerge and your lucky enough to have that RB on your roster? More power to you. Jaylen Samuels, Benny Snell Jr., and fourth-round pick Anthony McFarland Jr. round out the backfield. Mcfarland is worth a dynasty stash and I'm willing to gamble on the waiver wire for the others.
Solid Wide Receivers
Smith-Schuster and Johnson combine to make a formidable receiving duo. Where they fall on your list will make a difference in their average draft position. I like Smith-Schuster as a borderline WR1 or 2 and Johnson as a WR3 on rosters to start the year. Both have the potential to move up given a healthy Roethlisberger. Hopefully, Roethlisberger can stay out of Permanti Bros. long enough to feed his receivers instead of himself.
Heads or Tails
The Steelers role into 2019 with two capable fantasy tight ends. Eric Ebron and Vance McDonald. Ebron has shown signs of being a fantasy stud. However, save for one season with the Colts, his hands continue to betray him. As for McDonald, he's also shown the ability to be a serviceable fantasy tight end. If Roethlisberger can stay healthy he might manage to make one of them worthy of a roster spot. However, I view them both as TE2 roster spots. One may emerge but until then, I will pass.
A Shift in the AFC North
Separating fact from fantasy, I can't remember the last time the AFC North was this intriguing as we head into the 2020 NFL season. The Ravens are the class of the division with the most dynamic quarterback. The Bengals have renewed hope and Cleveland will look to prove that there self-anointed Super Bowl contention comes to fruition. And, the once-vaunted Steeler will look to prove that they are still the bullies on the block. Fantasy wise, there are some standouts. But, like their NFC North brethren, this year will surely be a slugfest. I really like the running backs to carry the load. However, there are a few receivers to keep your eye on. Especially in the middle rounds. AFC North fantasy football should be interesting, to say the least!
Good luck and good fantasy!
Main Photo: Embed from Getty Images