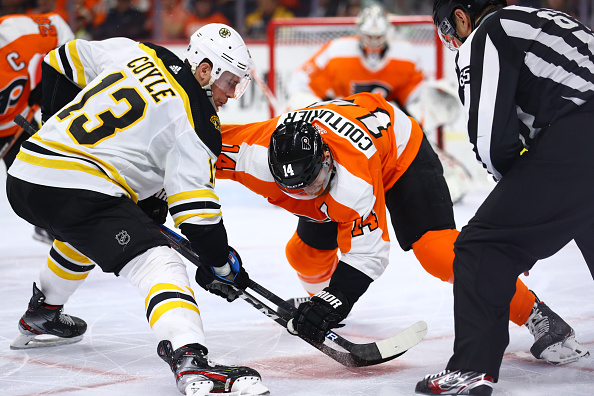 NHL commissioner Gary Bettman laid out a return-to-play plan for the league at a zoom press conference Tuesday afternoon. In that press conference, he addressed topics like the draft lottery and the Stanley Cup Playoffs. Bettman officially announced that the 2019-20 regular season is over and that they'll be rolling right into a 24-team playoff format. The format was laid out as follows:
Top four teams in each conference to play round-robin for seeding

Remaining eight teams in each conference to play a best-of-five qualifying series

Conference finals and Stanley Cup Final WILL be best-of-seven

To be determined: Best-of-five or best-of-seven in the first two rounds

To be determined: First-round matchups via seeding or fixed brackets
One part of this format people are most interested in is the top four teams in each conference playing a round-robin for seeding. Seeing the top teams play each other for the top seed will be a battle and it'll be interesting to see if these teams can maintain that level of play with all of this time off. As we let this all sink in, let's take a look at who the top four teams are in the Eastern Conference.
NHL Return-To-Play Plan: Top Four Seeds In The Eastern Conference
Top Four In The Eastern Conference
Bruins
The Boston Bruins have picked up right where they left off last season. After a trip to the Stanley Cup Finals last season, the Bruins look just as dangerous or even more. The Bruins won the President's Trophy with 100 points, six more than the second-place team. That perfection line with David Pastrnak, Patrice Bergeron, and Brad Marchand has been on fire ever since they joined forces. Pastrnak leads the team with 95 points and right behind him is Marchand with 87. Another player who deserves just as much credit is Tuukka Rask, who is having yet another great season. He's 26-8 with a .929 save percentage and 2.12 goals against. When this team starts clicking again, you better believe they will be just as tough as last year.
Lightning
Last season, the Tampa Bay Lightning had one of the best regular seasons in NHL history. It didn't go so well in the playoffs as they got swept out of the first round. They started slow this season but have surely picked it up and started looking like the team of last season. The Lightning finished with 92 points and second in the Eastern Conference. They have four players with over 50 points and that includes former Hart Trophy winner Nikita Kucherov, who leads the team with 85. With solid goaltending by Andrei Vasilevskiy, this team can be close to what they were last season. This time, they are hoping for a different result.
Capitals
The Washington Capitals division lead was in Jeopardy before play was stopped but what has kept them ahead is there never give up attitude. A guy who has stepped up big for them this season is defenseman John Carlson, who is surely a leading candidate for the Norris Trophy. He has a team-leading 75 points with 15 goals and 60 assists. Another guy who's stepped up is the leader of this team and a familiar face in Alex Ovechkin, who is the league leader in goals with 48. Other core players are having a significant role with this team like Nicklas Backstrom, Evgeny Kuznetsov, and T.J. Oshie. If they want to compete, Braden Holtby has to improve or the backup needs to step up but this team is poised for a deep run.
Flyers
This stoppage couldn't have come at a worst time for the Philadelphia Flyers, who were one of the hottest teams in the league. The players might not have the numbers like other top players but they were playing as a team. They were building great chemistry and if they can keep that on the ice, they will be just as dangerous. They are led in net by young goalie Carter Hart, who is having a good season with 2.42 goals against. The Flyers were surging late in the season and now they find themselves in a unique position. 
Puck Drop
This return-to-play plan has gotten a lot of criticism but it also has gotten a lot of praise. The Eastern Conference has some great teams to do a round-robin and seeing them play against each other will be fun entertainment. This is an unprecedented time but the NHL is trying to make the most of it and doing the best they can to bring the game back to the fans.
Main Photo:
Embed from Getty Imageswindow.gie=window.gie||function(c){(gie.q=gie.q||[]).push(c)};gie(function(){gie.widgets.load({id:'XdObGHFKQQxcnwNd7ANgFA',sig:'_D4JIeIqQlQeCc3Lam-GknvnuD6YXUATLU0aTx-U6hA=',w:'594px',h:'396px',items:'1206496180′,caption: true ,tld:'com',is360: false })});