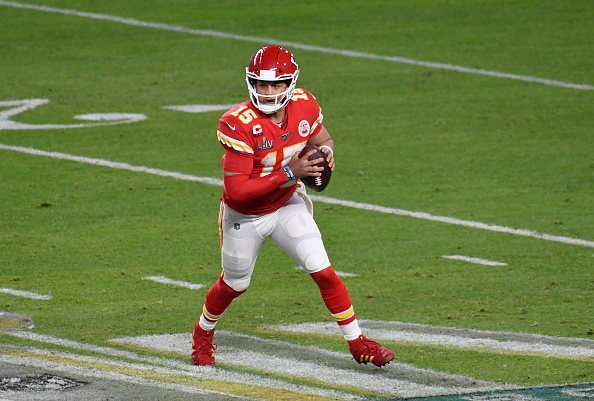 The 2020 NFL offseason is in full swing with many eye-opening moves that have shaken the football world. One of the many moves includes former MVP quarterback Tom Brady taking his talents to West Florida to join the Tampa Bay Buccanneers. As we look forward to the 2020-2021 season, many are already starting to place their bets on who they think will be the next winner of the NFL MVP. Before you place your bets, take into consideration some of my personal favorites to win the award.
*Note: The odds listed below may differ from the odds for your sportsbook*
Personal Best Bets for the 2020-2021 NFL MVP
Arizona Cardinals second-year quarterback Kyler Murray is receiving high praise from around the league. Adding one of the best wide receivers in the league in DeAndre Hopkins sets up Murray and the Cardinals for some real expectations next season. The Cardinals are part of one of the toughest divisions throughout the whole league in the NFC West. Arizona is being looked at more of a sleeper team when it comes to earning the NFC West crown. However, that's not how I'm looking at this young, up-and-coming team. I have strong expectations for this group and to be in the playoff conversation come December. That starts with their young leader in Kyler Murray. I believe he will have a strong sophomore season and be a dark horse to take home the league MVP.
Many critics have been seriously questioning Houston Texans head coach and GM, Bill O'Brien for his offseason moves. The most notable one is the one stated above, trading star wide receiver DeAndre Hopkins to the Arizona Cardinals. Along with Hopkins, the Texans also sent a 2020 4th-round pick. In return, they received running back David Johnson, a 2020 2nd-round pick, and a 2021 4th-round pick. On top of the Hopkins/Johnson trade, they also acquired free agent wide receiver Randall Cobb and traded for Brandin Cooks. Even without Hopkins, star QB Deshaun Watson will still have some reliable targets to count on. However, this team could be a serious Super Bowl contender if they did keep Hopkins.
Nonetheless, Watson and the Texans could still be a sleeper team to win the AFC South this upcoming season. With Hopkins in Arizona, many are already writing this team off to not pose any threat to the rest of the AFC. In my opinion, that won't affect Watson's play much at all. He's still a straight baller and I strongly believe we will see an MVP-caliber season from the former Clemson Tiger. He will have enough help to boost his case for MVP and expect to see nothing less than we have been accustomed to throughout Watson's fourth season in the league.
As every football fan on the planet knows, future Hall of Fame quarterback Tom Brady has ended his 20-year run with the New England Patriots and decided to join the Buccaneers. He joins an already explosive offense that includes receivers Mike Evans and Chris Godwin and tight ends O.J. Howard and Cameron Brate. And, of course, his longtime Patriots teammate, Rob Gronkowski joined the squad this offseason as well. The weapons Brady will have this upcoming season will be some of the best he's had in his career. The 42-year-old quarterback believes he still has something left to prove after losing in the Wild Card round last year to the Tennesse Titans. One can fully expect Brady to have at least one more run at a league MVP, and maybe even the Super Bowl.
After posting unbelievable numbers throughout all of last season, Seattle Seahawks quarterback Russell Wilson is poised for another MVP-caliber year this upcoming season. If it weren't for Baltimore Ravens' Lamar Jackson's breakout year last season, many believe Wilson would've taken home the hardware. He has been very close to winning the MVP multiple times but never has actually won the award. Heading into next season, the Seahawks expect WR D.K. Metcalf to be even better this season after a breakout rookie year. In addition, they have brought veteran tight end Greg Olsen to add another weapon for "DangeRUSS Wilson."
I believe Wilson has very good odds to win MVP with his level of talent and it wouldn't be a bad bet whatsoever to throw some money on him. After a Divisional Round loss to the Green Bay Packers, expect Wilson and the Seahawks to come out extremely prepared and motivated to make a strong run in the playoffs.
Yes, this is a very predictable choice for number one. Yes, he's the MVP favorite, but come on, Kansas City Chiefs quarterback Patrick Mahomes is something we have never seen before. He can make throws that most of us can't even dream of. Mahomes already became the youngest player ever to win MVP when he won it two years ago. Last year, he became the youngest player in NFL history to win Super Bowl MVP after a 31-20 win over the San Fransisco 49ers. Most football fans realize that we may be starting to witness a Patriots-like dynasty in the Chiefs.
With many members of last year's Super Bowl team returning, like star tight end Travis Kelce, you can expect nothing to change for at least the 2020-2021 season. If you had to choose one person throughout the league to win the 2020 NFL MVP, I believe Mahomes would have the overwhelming majority of people who choose him.
Now, you may be wondering, how is the reigning-MVP Lamar Jackson not at the very least in the top five of this list of potential 2020 NFL MVPs? Well, winning the MVP award just once is tough enough in its own right. But to win the award in back-to-back seasons, that earns consideration to be one of the greatest to ever play the game. I just don't believe Jackson is at that point, at least not now. The players to have won the MVP back-to-back seasons include Jim Brown, Joe Montana, Brett Favre, and Peyton Manning. Now think to yourself, is Jackson ready to put his name into the conversation with these all-time greats? I don't think so.
With that being said, I truly believe he will still have a stellar season and help the Ravens win the AFC North for the third straight season. Jackson does have the second-best odds to win the MVP at +600. However, I just can't see him having another insane season as he did last year.