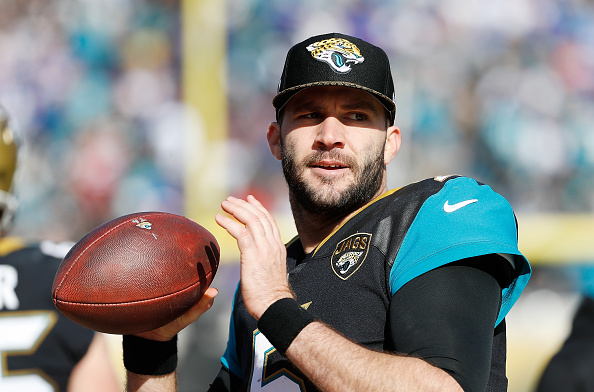 Dave Caldwell is entering his eighth season as the Jacksonville Jaguars' general manager. It seems that each year Jaguars fans have turned their attention to the draft by mid-October. In Caldwell's years at the helm, the team has drafted outside the top five twice, and only once outside the top 10. Caldwell has seen a mixed bag of success at the draft as a whole, finding Pro Bowl talent in later rounds. However, he has struggled with consistency in the first round, the main reason he has been picking early in the night each year. Let's take a look back at Dave Caldwell's first-round draft history.
Dave Caldwell's First-Round History
2013: OT Luke Joeckel (No. 2 overall)
In his first draft, Caldwell looked to sure up the offensive line by selecting Luke Joeckel out of Texas A&M. The 6'6″, 306-pound tackle had high expectations placed on him and he was expected to be a mainstay on the line. Joeckel severely underperformed in Jacksonville, playing 39 games at left tackle and left guard over four seasons. When his rookie deal was up, the team declined to re-sign Joeckel and he went to Seattle on a one-year deal and is now out of the league. Joeckel is one of the bigger busts of the Dave Caldwell era.
After the failed Blaine Gabbert experiment, the Jaguars looked for their new franchise quarterback. Blake Bortles would be the new face of the franchise. At 6'5″, 232-pounds, Bortles drew comparisons to Pittsburgh Steelers quarterback Ben Roethlisberger. Unfortunately for Jacksonville, Bortles would fail to come close to those expectations. In his second season, Bortles seemed to have made his leap. He threw for a career-high 4,428 yards and 35 touchdowns, but would also set a career-high in interceptions with 18.
Bortles never returned to his 2015 numbers, consistently throwing double-digit interceptions throughout his career in Jacksonville. After the miracle 2017 season, Bortles signed a ludicrous three-year $54 million contract extension with $27 million guaranteed. But his performance only dropped, and in the midst of a poor 2018 season he was benched in favor of Cody Kessler. After the season, Bortles was released and signed with the Rams.
2015: DE Dante Fowler (No. 3 overall)
Fowler is one of the more disappointing of Dave Caldwell's first-round picks. The star defensive end lost his rookie season to a torn ACL suffered in minicamp. He showed flashes of his ability during his three seasons in Jacksonville but never was able to put together consistently good performances. He only started one of 39 games and totaled a measly 14 sacks. Off-field struggles combined with his poor play led the team to deal him to the Los Angeles Rams in the middle of the 2018 season in exchange for third and fifth-round picks.
2016: CB Jalen Ramsey (No. 5 overall)
Grabbing Jalen Ramsey at pick number 5 was a steal for the Jaguars. The rookie made an immediate impact, starting all 16 games and recording a still career-high 65 tackles. He paired that with two interceptions, one of which he returned for a touchdown to seal a win against the division-rival Tennessee Titans. Ramsey skipped the sophomore slump and posted the best season of his career in 2017. He hauled in four interceptions and set a career-high with 17 pass break-ups on the NFL's best defense, leading the Jaguars to a division title on their way to the AFC Championship game. Ramsey earned his first career Pro Bowl nod and was named a first-team All-Pro.
Despite a disappointing 2018 season for Jacksonville, Ramsey continued to dominate on the field and was named to the Pro Bowl once again. Frustration with the front office and his contract led Ramsey to publicly seek a trade during the 2019 season. Jacksonville once again partnered with the Rams, sending him to Los Angeles in exchange for two first-round picks and a fourth-round pick.
Leonard Fournette has displayed an up-and-down career thus far. He flashed in his rookie season, running for over 1,000 yards and nine touchdowns. But he only disappointed in 2018, playing only half the season due to injuries and off-the-field issues. However, Fournette showed growth this past season, topping 1,000 rushing yards once again. He also displayed value in the passing game, totaling 76 receptions on 100 targets for 522 yards. Fournette is entering the final year of his deal in 2020. Building on his 2019 campaign will be key to him earning a second contract with the team.
2018: DT Taven Bryan (No. 29 overall)
Through two seasons, Bryan has shown flashes of his ability but is still a work in progress. He showed great athleticism at the combine, and that has translated to the field, a vast majority of plays he makes come from his great explosion off the line. However, Bryan does not possess the excellent instincts and awareness that other linemen do, and he is still learning. He has started only 9 games over his first two seasons but has shown an encouraging jump in production. With Calais Campbell now gone and Yannick likely following in a matter of time, Bryan will have a chance to become an integral part of this defense if he continues his development.
2019: DE Josh Allen (No. 7 overall)
The most recent of Dave Caldwell's first-round pick looks to be one of his best. Josh Allen dominated in his rookie season and has Jaguars fans excited for the future. Allen played in all 16 games of the 2019 season and was one of the most consistent players on the defense. He set the franchise rookie record for sacks, totaling 10.5 and added 44 tackles and two forced fumbles. Allen additionally became the franchise's first rookie to be named the Pro Bowl. He will look to build on an impressive rookie season and will no doubt be a key component to the Jacksonville defense.
Make or Break
After a poor first three years, Dave Caldwell has done a better job of selecting talent recently. 2020 is a must-win year for Caldwell, and he has plenty of ammo to get it right. The Jaguars currently own 12 draft picks, including two first-round picks. This is the first time Caldwell will have multiple first-round picks. Expect Caldwell to be heavily involved in draft-day trades in order to be sure he gets the players he wants.
Main Photo:
Embed from Getty Images