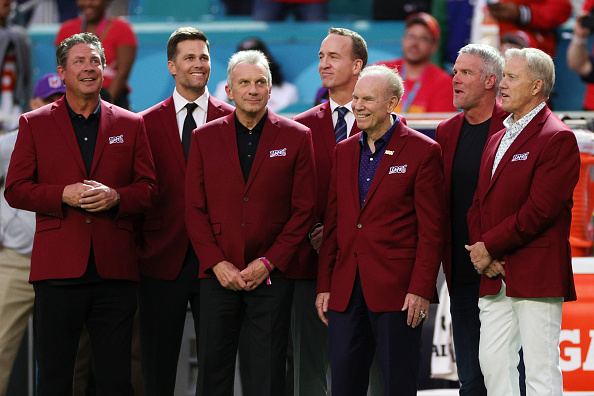 The COVID-19 pandemic has led to a delay in many of our favorite sports. This has led to an increase in the discussion of sports history. One of the greatest debates ever is who the best quarterbacks of all-time are. Many view championship pedigrees as the greatest marker for a great quarterback while others appreciate overall talent from a quarterback. A mix of skill and the ability to win can help create a true list of the greatest signal callers of all-time. The quarterback position is arguably the most important position in football and possibly in all of the sports. While the league today is full of great young quarterbacks, here are the top five quarterbacks in NFL history.
Top Five Quarterbacks in NFL History
It is hard to argue against Tom Brady when discussing the best quarterback in NFL history. Brady has defied the odds of a sixth-round quarterback and has earned himself the most impressive career in NFL history. He has six Super Bowl championships, four Super Bowl MVPs, 14 Pro Bowl appearances, and three league MVPs. Brady has accomplished more in his career than many of the top quarterbacks combined. In fact, Brady has only one less super bowl than the other four quarterbacks on this list combined.
Brady is also one of the best leaders in the NFL. He has often had to play with a lack of weapons on offense but has been able to make the best of many situations. Brady has found success with Wes Welker, Julian Edelman, and other receivers who made their careers with Tom Brady. He is also second among quarterbacks for all-time passing yards and touchdowns. He only trails Drew Brees. Watching Brady play is always an impressive display. Brady makes plays happen sometimes out of thin air, despite a lack of athleticism that many quarterbacks have. While many are not fans of Tom Brady, everyone has to respect his game and his outstanding career.
The only true competition for Brady's number one spot is NFL legend, Joe Montana. Montana has four Super Bowl victories and three Super Bowl MVPs. He also has eight Pro Bowls and two league MVPs. Montana created an incredible career for himself after being drafted in the third round of the 1979 NFL draft. "Joe Cool" made a career out of incredible moments and acquired the nickname "the comeback kid" for doing just that. Two of Montana's best moments came eight years apart.
The first, in 1981, came during the NFL championship game against the Cowboys. The play, often referred to as "The Catch" saw Montana hit tight end Dwight Clark in the end zone for a late touchdown to send Montana's San Francisco 49ers to the Super Bowl. The second is a 92-yard game-winning drive Montana led in Super Bowl XXIII against the Cincinnati Bengals. Montana hit receiver John Taylor with 34 seconds left to win the game for the 49ers. Montana had a memorable career and is easily one of the best to ever play the quarterback position.
Peyton Manning is the prototypical quarterback. Manning came into the NFL in 1998 as the first overall pick and a true pocket passer. He made a career for himself with the Indianapolis Colts that lasted 14 seasons and led to a Super Bowl victory against the Chicago Bears in 2006. Manning was named Super Bowl MVP in that game. The Colts released Manning at the end of the 2011 season after Manning missed the entire season with a neck injury.
The Denver Broncos took a chance on Manning and ended up making the best decision in franchise history. Manning led the Broncos to two Super Bowls and won Super Bowl 50 against the Carolina Panthers. Manning retired after this game concluding his career with a Super Bowl victory. He had an incredible career with five league MVPs and 14 Pro Bowl appearances. Manning has the record for most MVPs in NFL history and his record of five may never be broken. Manning had many great moments and the man known as "The Sheriff" will forever be considered one of the greatest quarterbacks of all time.
Dan Marino is one of the most underrated legends in NFL history. Marino came into the NFL in a loaded 1983 NFL draft that included John Elway and Jim Kelly as first-round quarterbacks. Marino fell to the 27th pick despite being viewed as one of the best prospects in the draft. He landed with the Miami Dolphins where he crafted one of the most impressive careers from a quarterback ever. Marino had 9 Pro Bowls and a league MVP during his career. While Marino never won a Super Bowl, he possessed some of the best skill and arm talent we've ever seen from a quarterback.
He led the NFL in passing yards five times in his career. Marino finished his career with 61,000 yards at a time when quarterbacks did not throw for that many yards in a career. For example, Joe Montana only had around 40,000 yards in his legendary career. Marino retired with the most passing yards in NFL history at the time of his retirement. His record has since been beaten, but only by a few other legendary quarterbacks. Marino will always be remembered as the greatest quarterback to never win a Super Bowl, but that shouldn't keep people from remembering the great career Marino did have while playing in the NFL.
The last spot was difficult to choose but overall Aaron Rodgers deserves to be acknowledged as one of the best ever. Rodgers has been incredible during his career and has led the Green Bay Packers to a Super Bowl championship during his career. He won the Super Bowl MVP in that game as well. Rodgers is regarded as one of the most intelligent quarterbacks to ever play the position. His ability to make plays on a free-play opportunity, draw penalties in crucial situations, and revolutionary use of the back shoulder pass are just a few ways Rodgers used his mind and skill to dominate on the field.
Rodgers has eight Pro Bowl appearances and still has the opportunity to reach another Super Bowl before he retires. Rodgers has battled numerous injuries throughout his career and hasn't had the best rosters built around him during his career in Green Bay. This contributes to his sole Super Bowl victory, but Rodgers has stilled had an incredible career so far. Rodgers has an incredible NFL record of 402 consecutive passes without an interception thrown. He also has records for best passer rating in a season and a career as well as the lowest interception percentage in a season and a career.
Rodgers is a master of protecting the football and that has resulted in an incredible career with many great moments and minimal negatives. He has managed to have an impressive carer statistically despite numerous shortened seasons and a three-year stint as Brett Favre's backup. Rodgers may not have the championship pedigree of a Brady or Montana, but he does have an incredible amount of talent that makes him one of the best quarterbacks in NFL history.
Honorable Mentions:
Super Bowl Champion, Super Bowl MVP, 13 Pro Bowls, the current leader in All-time passing yards, touchdowns, and completions. 77,426 yards and 547 touchdowns.
Super Bowl Champion, 11 Pro Bowls, 3 League MVPs. 71,838 yards and 508 touchdowns.
2 Super Bowl Championships, Super Bowl MVP, 9 Pro Bowls, League MVP. 51,475 yards and 300 touchdowns.
Visit and Re-Visit These Legends' Careers
If you haven't already, find the time to watch these quarterbacks play. You will see countless plays and incredible moments that will leave you wondering how anyone can perform at that level. Each quarterback brings their own style and flair to the position that makes them an incredible talent. The numerous super bowls, MVPs, and pro bowls that these quarterbacks have earned is truly incredible. Watch these players in their primes and see what it takes to be a truly great NFL quarterback.
Main Photo:
Embed from Getty Images