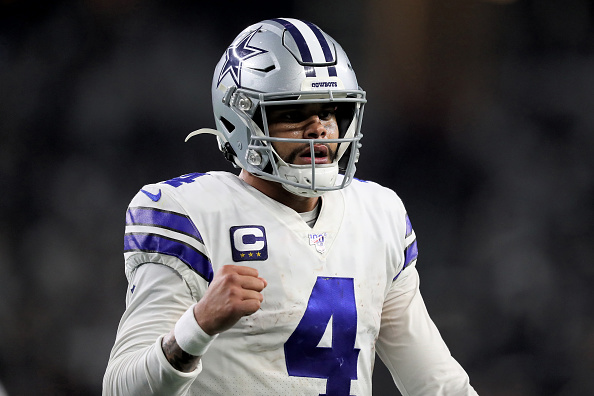 With the NFL in its offseason, one of the many things that the focus is on is contracts. This year there are several quarterbacks who are f. If you aren't very familiar with NFL free agency, it's important to note that even though the players may have played well or have been with their current team for a long time, they are not guaranteed to stay on that team. Let's look at Dallas Cowboys free agent quarterback Dak Prescott and see what may or may not happen.
Dak Prescott Free Agent Profile
When Prescott made his debut on the Cowboys, he came out like a house of fire, stepping in for injured Tony Romo. Leading them to a 13-3 season and showing real promise for the future. Since then he has had good yardage totals, especially in the 2019 season, however, the wins haven't been there. 2019 ending in a disappointing 8-8 season.
This coming after Prescott pushed the limit as far as possible to sign a one year contract last year. This gained a lot of criticism from reporters and fans alike as more and more players are pushing training and pre-season games to hold out for negotiations. With the number of quarterbacks available this year, some owners including Jerry Jones may want to try to switch things up.
Is Dallas Still a Good Match?
After last season, it shows that great numbers of yardage are no match for inconsistency elsewhere on the field. With both Prescott and Ezekiel Elliot missing training camp and pre-season games, there was a lack of smoothness on the offense. Also, even though there weren't huge headlines like there were on other teams, when a few players act like they don't need to follow all of the protocol of the game, it causes tension in the locker room. Tension in the locker room causes problems on the field. And again, owner Jerry Jones may want to try a big change. After firing head coach Jason Garrett in favor of hiring Mike Mccarthy from the Green Bay Packers, the time could possibly be ripe to hire another of the free-agent quarterbacks to give a fresh start.
Where Would be a Good Landing Spot for Prescott?
If, even in a long-shot scenario, Dak Prescott didn't stay with the Cowboys what team would be a good match for him? There are a couple of things that Prescott would certainly need besides a strong offensive line to bring out the shine in whatever receivers he has. He is showing signs of someone who needs a strong coach to keep him in line. Jason Garrett was not that person, not for Prescott or anyone on the team. He would also need a team that needs a whole new approach to their offense.
A team such as the Miami Dolphins may be a place that could use his skill. But they have been going through so many changes in staff and players. They wouldn't have the structure he needs as much as they need a strong quarterback.
Another team that has been struggling even though they thought they had their problem fixed is the Cleveland Browns. Baker Mayfield hasn't been performing up to the hype that surrounded him. But with the rebuilding the Browns have been doing, perhaps a new leader could move them forward.
Bottom Line
The Cowboys have already offered Prescott a two-year deal. Rumors abound that he not only wants more money but a longer contract, preferring a four-year deal. If they do not come to an agreement by the March 18th deadline, he will start shopping for other offers. No matter where he lands and the odds are very good that he will stay in Dallas. The contract needs to be settled and signed well in advance of training camp and preseason to start the 2020 season off on the right foot.
Main Photo:
Embed from Getty Images