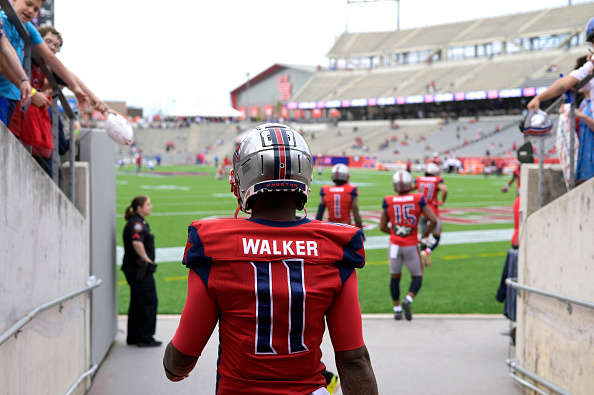 Week two in the XFL was another success. A lot of people tuned in on a weekend filled with sports. XFL week three is quickly approaching and we know for the most part what to expect. Going into week three, two teams are undefeated and two teams have yet to win a game. Many people love what this new football league brings and they'll continue to tune if it means more football. There are some intriguing games this weekend as we look at the XFL week three matchups.
XFL Week Three Matchups
Roughnecks vs Vipers
The first matchup of XFL week three is between the Houston Roughnecks and the Tampa Bay Vipers. The game is on Saturday, February 22 in Tampa at 2 pm Eastern on ABC.
The winner of this game will either have their first loss of the season or their first win of the season. The Roughnecks are 2-0 while the Vipers are 0-2. Houston fought off a comeback attempt from the BattleHawks to win a close one 28-24. P.J. Walker had great chemistry with receiver Cam Phillips on Sunday. Walker had three passing touchdowns while Philips had three receiving touchdowns. The run game was nowhere to be seen but they didn't need it. After two weeks, the Roughnecks may the best team in the league.
On the other side, the Vipers didn't look good for the second week in a row. They only scored a combined 12 points and gave up a combined 40 points over these two weeks. They were without starting quarterback Aaron Murray so they started Taylor Cornelius. He threw for under 200 yards and had two interceptions while backup Quinton Flowers threw an interception. Running back Jacques Patrick had 73 yards on the ground but no touchdowns and the most yards receiving was 51. Even with Murray under center, they still didn't look too good so they need to figure things out soon.
Renegades vs Dragons
The second game will feature the 1-1 Dallas Renegades traveling to take on the 1-1 Seattle Dragons on Saturday, February 22 at 5 pm Eastern on FOX.
After a great bounce-back game for the Renegades, they look to keep it going against the Dragons. It'll be a tough game for Dallas because Seattle is one of the most electric places to play on earth. They had by far the best attendance at over 29,000 fans. They hope that it pumps them up yet again. The Dragons didn't look that good on offense as quarterback Brandon Silvers through for under 100 yards and an interception but he did throw a touchdown. They also had a great receiving day from Keenan Reynolds as he had 87 yards and a touchdown. They will have to get going on offense against Dallas.
The Renegades had a nice bounce-back 25-18 win against the Wildcats. After missing game one, quarterback Landry Jones made his debut in week two. He threw for over 300 yards and a touchdown but he threw two interceptions. He looked good except for those two interceptions. The offense went from nine points in week one to 25 points last week. The defense held serve as they held the Dragon under 200 yards passing a completion percentage just over 50. All eyes will be on Landry again as he tries to navigate better while playing in Seattle.
Guardians vs BattleHawks
The St. Louis BattleHawks welcome the New York Guardians to the dome for their home opener on Sunday, February 23 at 2 pm Eastern on ESPN.
After an impressive week one win over the Vipers, the Guardians fell slat on their face last week. They had absolutely nothing going as they got shutout. Matt McGloin started for New York and he was awful. It was so bad that he called out the offense at halftime and said they needed to change the whole gameplan. Well, they did as McGloin was benched for Marquise Williams. The most yards for anyone on offense were 51 passing yards by Williams. It looked pathetic and now they have to go to what is expected to be a sell-out in St. Louis.
The BattleHawks looked impressive in a close loss. Quarterback Jordan Ta'amu looked very good again last week. He threw for 284 yards and three touchdowns but had two interceptions. They also had two receivers with 50 or more yards receiving. Despite giving up 28, the defense played well as the Roughnecks were given good field position off of turnovers. The BattleHawks look like a serious contender and the Guardians have to figure something out before Sunday afternoon. 
Defenders vs Wildcats
The D.C. Defenders try to keep their perfect record as they travel to face the Los Angeles Wildcats in the last game of XFL week three. The game starts at 5 pm Eastern on FS1 on Sunday, February 23.
The Defenders have looked very impressive these past two weeks. The offense looks very good and the defense is limiting the opposition. Quarterback Cardale Jones is playing very well, including 287 yards and two touchdowns last week. They had two receivers over 90 yards receiving in Rashad Ross and DeAndre Thompkins. The Wildcats will have a tough time against this offense.
The wildcats try to get their first win of the season but it will be tough. Nelson Spruce is a star in the making for LA as he caught six passes for 89 yards and a touchdown. Quarterback Josh Johnson only completed 53 percent of his passes but threw two touchdowns. The offense just needs to be a little better and score more than 20 for the first time this season. If won't be easy against a Defenders' defense who shutout their opponent last week and a defense who is all over the field. 
The Final Drive
The XFL is doing very well and we'll see what it looks like three weeks in. Keeping the audience interested is the key to their success. All the games have been good and interesting no matter if it's a blowout or a defensive battle. Week three is a crucial week for many teams as they fight for position in the division.
Main Photo:
Embed from Getty Images