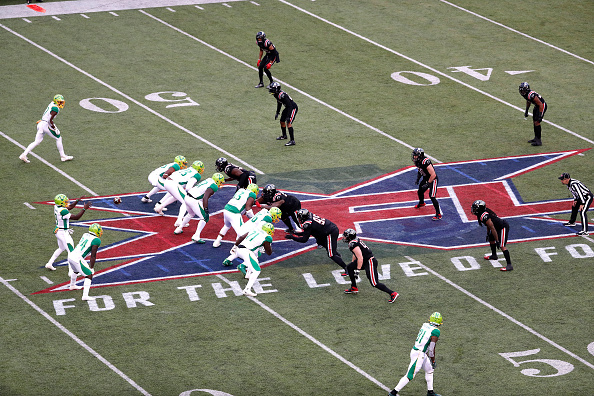 Opening weekend in the XFL was a success. Over three million people tuned in to watch and about 17,000 fans showed up to the games. After we saw what the brand looked like in week one, it will be interesting to see what kind of audience will watch XFL week two. There are four great matchups slated for this weekend. The teams who dominated week one face each other, and we have teams who didn't look so good face each other. This week, we will get a pretty good idea of what to expect from these teams. As we look forward to another weekend of football, here are to XFL week two matchups.
XFL Week Two Matchups
Guardians vs Defenders
The first game of week two is a great matchup between the New York Guardians and the D.C. Defenders. The game will be on Saturday at 2 pm Eastern on ABC.
Both the Guardians and the Defenders looked impressive in week one, which sets up for what should be a very good game. The defenders beat the Dragons 31-19 behind two touchdowns from Cardale Jones. The defenders will look dangerous in weeks and the Guardians will need to stay true to their name because Jones has two good receivers to throw to in Eli Rodgers and Rashad Ross.
The Guardians had a dominate 23-3 against the Vipers. They kept going up and down the field and capitalizing. It was 17-0 at one point and they only allowed a field goal in the third quarter. It looks like it will be defense vs offense type of game and that often is the best game.
Vipers vs Dragons
The game between the Tampa Bay Vipers and the Seattle Dragons will be in Seattle and it starts on Saturday at 4 pm Eastern on Fox.
These two teams didn't particularly do the best in week one. More so the Vipers as they only scored a field goal in an embarrassing loss. Quarterback Aaron Murray threw two critical interceptions in that game. They did have a great performance out of wide receiver Daniel Williams as he had 123 yards and they had 79 yards out of running back De'Veon Smith. If Murray can revive his game, this team can be electric.
The Dragons didn't have as bad as a game as they scored 19, but quarterback Brandon Silvers had a couple of hiccups in that game. He has Austin Proehl to throw to, which will be a good connection cause Proehl is electric and will be one of the best receivers in the league. The Dragons will also play in their home opener and they've sold a lot of tickets. We know how Seattle is when it comes to football so it will be a good atmosphere.
Renegades vs Wildcats
The first game on Sunday will be the Dallas Renegades vs the Los Angeles Wildcats at 2 pm Eastern in LA.
Coming into the season, the Renegades had the most talented team of them all. They were 9.5 point favorites against the BattleHawks at home and then lost 15-9. Granted, they were without one of the faces in the league in quarterback Landry Jones, but they have a lot of power on that team. They only allowed 15 points but couldn't score that much. Jones said he hopes to play this week and if he does, that gives them more fighting power. We'll see how this team looks with their starting quarterback under center.
The Wildcats got blown out by 20 points by the Roughnecks. Receiver Nelson Spruce went off for 103 yards as he will be a threat all season. Starting quarterback Charles Kanoff barely hit 200 yards and threw an interception and backup Jalan McClendon also threw an interception. Kanoff just needs to be a little more efficient because they have a threat in Spruce but also they have Elijah Hood in the backfield who if he's on, can be really effective out of the backfield. They will be an interesting team to watch this week.
BattleHawks vs Roughnecks
The last game of XFL week two is between the St. Louis BattleHawks and the Houston Roughnecks. The game will be Sunday at 5 pm Eastern on FS1.
The BattleHawks face another team in Texas and this time, it's the Roughnecks. St. Louis is coming off a really impressive win against the Renegades on the road. They are in fact the only team to win on the road. Quarterback Jordan Ta'amu was really impressive. He only threw for 209 yards but he didn't turn the ball over and he made key throws when this team was backed up. Ta'amu also ran for 77 yards, including a very important 37 yard run to put the BattleHawks in position for a touchdown. Running back Matt Jones looked explosive and had some key runs for 85 yards. The defense looked tough as they were all over Dallas as the team had four sacks and an interception to seal the game. This is a sneaky team to look out for.
The Roughnecks scored the most points of all teams in week one as they scored 37. They had an outstanding performance from P.J. Walker, who threw for 272 yards and four touchdowns. Wide Receiver Cam Phillips was explosive as he had 67 yards and a touchdown. The defense had five sacks and two interceptions. Based on their performance in week one, they now look like the best team in the league. This can go either way as it will be a great game to cap off week two.
The Final Drive
Week one was a feel-out process for both players and the fans. Now that they've got their feet wet a little, the game should open up more and be even better in week two than in week one. Every aspect of the game got positive feedback and fans can't wait for more. It'll be yet another great week of football in the XFL.
Main Photo:
Embed from Getty Images