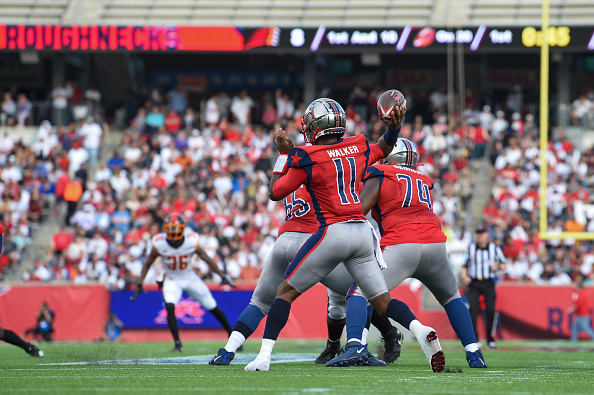 The XFL got a lot of positive reviews in week one and hope to continue that throughout the season. The ratings were high and the attendance was good. We didn't know what to expect coming into the weekend but now we have a pretty good idea. There'll still be a lot to prove but week one had a few good moments. As we look back at XFL week one, let's take a look at the top performances of opening weekend.
XFL Week One Top Performances
P.J. Walker (Roughnecks, QB)
Quarterback P.J. Walker of the Houston Roughnecks had one of the best performances of any player in the XFL. In the Houston Roughnecks 37-17 win over the Los Angeles Wildcats, Walker was 23/39 for 265 yards and four touchdowns, including 26 on the ground. He had a quarterback rating of 103.8 which was for third among quarterbacks. From what we saw from the BattleHawks this weekend, Walker will have his hands full with St. Louis' defense.
Austin Proehl (Dragons, WR)
The son of Ricky Proehl, Austin Proehl, had a great performance in a Seattle Dragon's He caught five balls for 88 yards and two touchdowns, including a 57-yard touchdown. Proehl was explosive in a game where the team didn't look too good. It looks like he learned a few things from his dad.
Matt Jones (BattleHawks, RB)
The St. Louis BattleHawks have one of the best backfields in the league and Matt Jones showed you why. The running back out of Florida played a very good in a game where they needed the run game. Jones carried the ball 21 times for 85 yards. He had a few big runs that put the team in a good position for the game. Jones looks like he can be one of the best if not the best back in the XFL.
Cardale Jones (Defenders, QB)
One of the faces of the league had a great day at the office. The former National Champion for Ohio State threw the D.C. Defenders to a win. Cardale Jones went 16/26 for 235 yards and two touchdowns with a league-best 116.7 quarterback rating. We saw him throw with poise downfield and make good decisions. Many can't wait to see what he can do next week as he will try to impress again. 
Daniel Williams (Vipers, RB)
Daniel Williams had the best performance and really the only good one for the Tampa Bay Vipers. He was the only bright spot for this team in a bad 23-3 loss. Williams caught six balls for 123 yards and averaged 20 yards a catch. He will be a player to watch out for on this Vipers team as they look to bounce back against the Dragons.
Other notable performances:
Opening Weekend:
The first-ever game between the Defenders and Dragons drew had 3.3 million viewers and it increased to about four million towards the end of the game. All four week one games had an average attendance of over 17,000. The ticket sales have been amazing as the new XFL's inarguable season drew a lot of interest. It'll be very intriguing to see how it does in future weeks but this league is putting itself in a position to succeed. 
Main Photo:
Embed from Getty Images