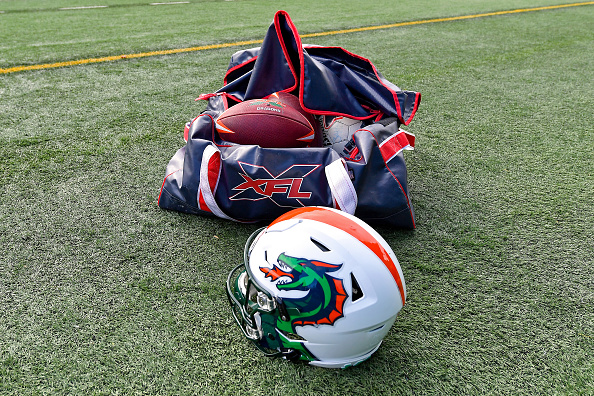 It's finally here! The new XFL is set to begin this Saturday, February 8. Unlike the failure that was the AAF, the XFL is set up to be a success if they play their cards right. They have the money, the media partners, and the personnel to make this league great. Even though we know the rules and what they want us to look for, we truly have no idea what to expect this weekend in XFL week one. All eyes will be on these four games as we get to see more football being played.
XFL Week One Games
Dragons vs Defenders
The first-ever game in the new XFL will be between the Seattle Dragons and the DC Defenders. This game will start on Saturday at 2 pm Eastern Time on ABC. 
Dragons' head coach Jim Zorn will travel back to D.C. where he was head coach of the Washington Redskins for two seasons. This Dragons team isn't slated to do that well and is projected as one of the worst teams in the league. Starting Quarterback Brandon Silvers has no experience as a pro except when he played in the AAF. Their backup B.J. Daniels hasn't thrown a meaningful pass since 2012. None of their receivers have that much size either. This offense has a lot of questions coming into this season.
On the other hand, the Defenders are talented all around and are lead by coach Pep Hamilton. Hamilton has worked with some good quarterback and now he gets to work with another one in Cardale Jones. He is well known for his time at Ohio State, where he won National Championship. They also have a big-time threat at running back with Nick Broussette and they have some good receivers with Rashad Ross and Eli Rodgers. This matchup will be against one of the worst projected teams and one of the best-projected teams coming into the season.
Wildcats vs Roughnecks
The second and last game on Saturday is the Los Angeles Wildcats traveling to take on the Houston Roughnecks. The game is at 5 pm Eastern Time on Fox.
Wildcats head coach Winston Moss assembled a veteran staff with him that has experience. The offense looks like it can move the ball with Josh Johnson under center who looks like he can sling it. He has weapons like wide receiver Nelson Spruce, who is electric, and running back Elijah Hood. Moss was also a linebacker coach and a defensive coordinator so he will be a defensive-minded coach. Teams will trouble against the Wildcats defense because Moss is the only defensive-minded coach in the game.
This will be a chess match as the Wildcats face one of the best offensive-minded coaches in the game with June Jones. They have Connor Cook or would be the popular choice at quarterback but he has competition with P.J. Walker. Sammie Coates is a great option to have at receiver. The offense will be just fine, it's the defense that this team should worry about. Jones has a great offensive mind but that also means the defensive side isn't as good. That's what gives people pause about this team. It should be a good one on both sides of the ball.
Vipers vs Guardians
The first game on Sunday belongs to the Tampa Bay Vipers and the New York Guardians. The game will be at 2 pm Eastern Time on Fox in New York.
People are high on this team and for good reason. This team is loaded on the offensive side of the ball. Aaron Murray will be under center for the Vipers. While playing for Georgia, Murray threw for over 3,000 yards in each of his four seasons. He returns to the spotlight and all eyes will be on him. They will have a powerful backfield of De'Veon Smith and Mack Brown. They might not be big names but they have playmakers on that offense. Star receiver Antonio Callaway landed on injured reserve but when he gets back, this team will be even more dangerous.
Head coach of the Guardians, Kevin Gilbride, won a Super Bowl as the offensive coordinator with the New York Giants. They have quarterback depth as they have three to choose from in Matt McGloin, Luis Perez, and Marquise Williams. Whoever is under center, they will be throwing to players who can make things happen.
BattleHawks vs Renegades
The St. Louis BattleHawks vs Dallas Renegades is the last game of XFL week one. The game will be held in Dallas at 5 pm Eastern Time on ESPN.
The BattleHawks are unique. They are the only team that doesn't have an NFL market so their fans have been waiting for a while. They are coached by Jonathan Hayes who is on a coaching tree with Marvin Lewis. This team also has a familiar face in Az-Zahir Hakim who was apart of the greatest show on turf with the St Louis Rams. Dual-threat quarterback Jordan Ta'amu was named the starter. They have arguably the best backfield in the league with Christine Michael and Matt Jones. They also have two receivers to watch in L'Damian Washington and Marcus Lucas. The defense isn't bad but like every team, we will see what happens.
The Renegades arguably have the best roster in the league as they coached by none other than Bob Stoops of Oklahoma. Former Oklahoma quarterback Landry Jones will be under center and will be one of the best in the league. Lance Dunbar and Cameron Artis-Payne are running the backfield. Two of the best backfields in the league belong to these two. This team will have a lot of pressure on them coming into the season. This one will be a really good one to end week one.
The New XFL
The XFL is looking to change the game of football to like we've never seen before. This league was created for the love of football and the fans who need more football. They want it to have a fast-paced feel to it and for people to enjoy the game at a high level. XFL week one will tell us a lot about what the new league will be about.
Main Photo:
Embed from Getty Images