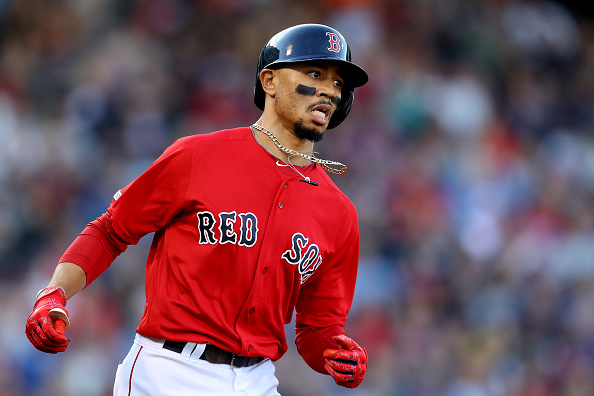 Quite an abnormal few days for both the Los Angeles Dodgers and the Boston Red Sox has no end in sight. Per the Star Tribune, the Minnesota Twins are expected to "back out" of the Mookie Betts trade that would've sent Betts and David Price to the Dodgers. Although not official yet, both the Dodgers and Red Sox can expect that the Twins will no longer have a part in this monumental deal.
One of the biggest trades in MLB's recent history has now taken a sharp turn for the better or worse, depending on which side you stand with. For the Dodgers, it keeps an MVP candidate out of their lineup, something they cannot be happy about. For the Red Sox, it makes for an interesting year if this deal falls through.
Mookie Betts' Trade -What's Next?
For the Dodgers
Main Goal: Find a third team to replace the Twins, don't budge on the top prospects
Los Angeles is now put into an interesting position. I think many baseball fans believe that at face value, the Red Sox got fleeced in the original deal. Although deeper analysis may say otherwise. Either way, the Dodgers will most likely have to give up even more from their farm system. Now guys like Gavin Lux and Dustin May are becoming trade possibilities. The Dodgers have been adamant about this not happening. The halt on this trade also puts the proposed Joc Pederson deal in question as well. The Dodgers may try and pair Alex Verdugo and Joc Pederson together to complete the deal with the Sox, but it remains up for debate whether Boston would accept that.
The best-case scenario for the Dodgers is to find another team to get in on this deal. Use the third team similarly to how the Twins were used, and they get their guy. However, that's not as easy as it sounds. But the Dodgers should start looking and they should start looking fast.
For the Red Sox
Main Goal: Keep the negotiations moving, but don't come down too far
Mixed signals are coming from Sox nation at the moment. One side is pleased to have Mookie Betts in a Red Sox uniform for just one more day. On the other hand, some fans are not wanting to deal with this mess any longer. Many have questioned the Red Sox handling of this situation, with some pointing to General Manager Chaim Bloom getting cold feet as the real reason this trade hasn't happened. Whether it be true medical problems or regret on the part of the Red Sox, it isn't an ideal situation for Boston.
They now have a starting pitcher (David Price) who reports next week to Florida under the assumption that he isn't wanted here. More importantly, they have an MVP caliber player (Mookie Betts), who after making clear what he wanted for a deal to stay in Boston, was met with a shipment out to LA. Both of these players cannot be happy at the moment. As much as many Red Sox fans want Mookie to stay, I don't see how that could work out.
The Red Sox need to stand firm on their asking price and they need to set the bar high. They are giving up some immense talent in this deal. For them settle for anything less than a top prospect along with Verdugo is flat out ridiculous. They truly have been given a second chance in these negotiations. Bloom will have the entire population of New England after him if he messes it up again.
Recap
Who knows what will go down in the coming days with these two clubhouses. Both are poised for playoff runs, but this trade could bolster one while sinking another. The Red Sox have made it clear they won't be paying Mookie Betts. The Dodgers have made clear that they want that all-star outfielder in LA come opening day. It's now just a matter of further negotiations, with far too many possible outcomes. This Mookie Betts trade journey is far from over.
Main photo: Embed from Getty Images