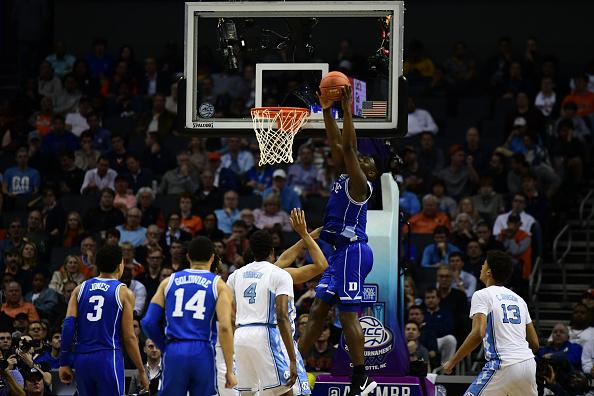 This Saturday, February 8th at 6 PM eastern time, the most intense rivalry in college sports will renew once more. In fact, one could argue this rivalry is amongst the greatest rivalry in all of sports. The seventh-ranked Duke Blue Devils basketball team will travel to Chapel Hill to face the unranked North Carolina Tar Heels. Historically, UNC has had more success, winning 139 times, compared to Duke's 112. However, Duke has turned the tide since the turn of the century, having won 29 meetings compared to 18 for the Tar Heels. History is instructive, and history has shown that no matter the rank, this rivalry always delivers. Look no further than this statistic showcasing the last 100 meetings. Now that the history has been discussed, let's look at this year's Duke vs UNC preview.
Duke vs UNC Preview
Recapping Duke's Season
So far, Duke has had a successful season, with a 19-3 record and a 9-2 conference record. They held the number one spot in the AP poll towards the beginning of the year before a bad loss to Steven F Austin. They spent the next seven weeks climbing back up the rankings. But then they lost back to back games against Clemson, and Louisville. They've won their last four, and in a down year for the ACC, are as good a pick as any to win the league.
Freshman big Vernon Carey Jr. has had an outstanding season, putting up first-team all-ACC numbers (17.8 points-per-game, 9.0 rebounds-per-game). Sophomore point guard Tre Jones remains arguably the best on-ball defender in the country and has improved his stats in almost every category from a year ago. Offensively, Duke is second in the country in points per game with 82.5. If there are any major critiques for Duke, their three-point shooting percentage is the culprit (35% as a team), as well as free-throw shooting (.692%).
Recapping UNC's Season
Meanwhile, UNC started off hot and was ranked as high as fifth in the AP poll in week three. But since their 78-74 win against Oregon in November, they've been spiraling. After starting 6-1, their record is currently 10-12, and they're tied for last place in the ACC. They've fallen off far from when we last checked on them. Both injuries and a depleted roster are to blame for this season. With nine regular-season games left, UNC has already set a record for most missed games due to injury for scholarship players. Freshman phenom Cole Anthony missed 11 games, and during that time, UNC went 4-7.
Junior defensive specialist Garrison Brooks became the focal point of the offense, putting up a double-double in eight of those games. He averaged 18.9 PPG and 9 RPG in that stretch. Rebounding is still the team's biggest strength, as they rank fifth in the nation in RPG. But three-point shooting, fast-break offense, assists, and team defense have all been abysmal. The best offense for UNC is when Brooks or Armando Bacot get the ball in the post.
How Do They Matchup?
As we've just explored, Duke is the superior team in this matchup. They have the better bench and are much deeper than the Tar Heels. Duke has ten different players they can insert into the lineup, while UNC has seven or eight depending on whether Jeremiah Francis plays or not. North Carolina is a poor shooting team and losing senior Brandon Robinson, their best shooter due to injury will hurt them even more.
Anthony and Jones decide how their respective teams run, and watching them go at it should be fun. The keys for Duke are to play great defense and pound the ball inside to Carey. Carey will be going up against either Brooks or Bacot, and if he can put one of them in foul trouble, UNC won't have the depth to be able to compete. Bacot has three or more fouls in half of his games played, so this is possible. For UNC, Anthony and Brooks must find a way to star alongside each other. In the previous two games since Anthony returned, Brooks's offense has vanished, putting up point totals of ten and five.
It'll Be Electric No Matter What
There aren't many atmospheres in sports that compare to the atmosphere of this rivalry. The buzz and excitement in the arena are palpable, and the fans are louder for this rivalry than any other game. Even though they're far less talented, the Tar Heel faithful will pack the arena and do everything in their power to will their team to victory. The great thing about this rivalry is that you never know what'll happen.
Main Photo:
Embed from Getty Images