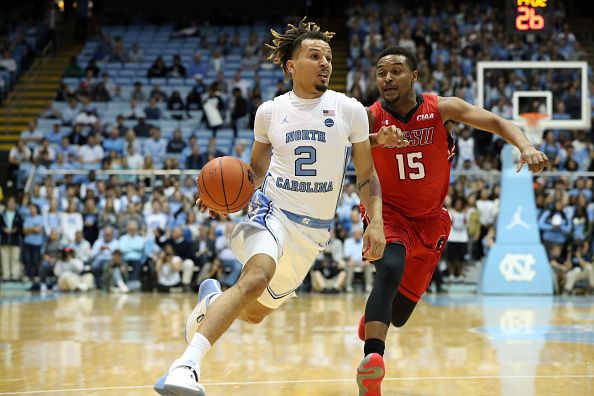 Roy Williams knew 2019 would be tough. After losing five of his top six rotation players, expectations were still high. This was thanks to Williams reeling in the second-ranked freshman in the country, Cole Anthony, as well as bringing in graduate transfers Justin Pierce and Christian Keeling. Although appearing to have reloaded, a telling quote came in an October interview. "The biggest thing is we're going to struggle to score," the coach said. After one of the best scoring years that UNC has seen last year (third in the country in points per game at 85.8), they've seen that stat dip to 88th at 74.9 per game. The next four games for UNC include three games against teams ranked in the top ten in the latest AP poll. With all that in mind, let's look at the next four games for UNC.
Looking Ahead To The Next Four Games For UNC Basketball
UNC's Weakness Is Scoring
Before we dive into the four teams on the schedule, we need to look at UNC. As we mentioned earlier, the offense isn't this team's strength. Through seven games the question has been who can help Anthony (20.7 points per game) carry the load scoring? Thus far, neither grad transfer has been able to step up. Pierce looked strong against UNC Wilmington, scoring a season-high 17 off of efficient shooting. But being forced to play out of position at power forward doesn't play to his strengths. Keeling has struggled more than Pierce at adjusting to UNC's offense. In his most confident game, he shot a poor three of 13 from the field. Reserve sharpshooter Andrew Platek is shooting 16.7% from downtown. UNC is shooting a ghastly 65% from the free-throw line. Poor foul line shooting usually translates to poor three-point shooting and that's true in this case (30.3%). For this team to reach its ceiling, turnovers need to be cut down, they need to get healthy, and need people other than Anthony to create their own shots.
UNC Does Have Strengths
So far it sounds all negative for UNC. But, they're ranked number seven in the country for a reason. Their big man combination of Garrison Brooks and Armando Bacot is among the best in the game. The lone returning starter from last year, Brooks has taken yet another leap forward in his defensive game. Brooks played at an all-ACC defensive level in 2018 and has played at an all-American defensive level in 2019. On offense, Brooks has improved his game and is looking to score more than he did last year. A big reason for his success is being able to play his natural position at the four, while the freshman Bacot is the rim protector at the center spot. Bacot had six blocks against Oregon, and has been the best rim protector UNC has had since Brice Johnson in 2015-16. Bacot is also arguably the most skilled big man offensively since Kennedy Meeks and Isaiah Hicks. As a team, UNC is only allowing 66.1 points per game and is second in the nation in rebounding margin.
Their Upcoming Schedule
Now that we have an idea of who UNC is, we have to look at their schedule. First up is a home game against sixth-ranked Ohio State. Having given up the sixth-fewest points in the country thus far, they are going to be a tough task for UNC's struggling offense. Junior Kaleb Wesson is one of the most well-rounded big men in the country and will put Bacot's defense and conditioning to the test. Following that is a match against fifth-ranked Virginia on the road. This game has the potential to be the lowest-scoring game UNC will have all year. Virginia struggles mightily to score (55.1 points per game), but only allows 40.3 per game in typical Tony Bennett coached defensive fashion. After a rough two games, they have a small reprieve in Wofford. Although not as gifted as Ohio State or Virginia, the Terriers rank 40th in points coming from three-pointers. This style of play, along with UNC's historical inconsistencies defending the three could make this a closer game than expected. Finally, they play ninth-ranked Gonzaga who hasn't beaten UNC in their last three attempts. But with a healthy Killian Tillie, this team could give UNC a run for their money on the glass and take away Carolina's biggest strength.
The Next Four Games For UNC Mean A Lot
Unlike most seasons when we figure out who teams are in January onward, this year is different. Due to the schedule UNC has, we will learn who this team is through these four games. We will learn if someone can help shoulder the load offensively and if this team can keep up their great start defensively and on the boards. That said, even if they flop over this four-game stretch, they will have time to turn it around. But with conference play starting earlier than ever and having more games than ever, the margin for error is less so than in the past.
Main Photo:
Embed from Getty Images