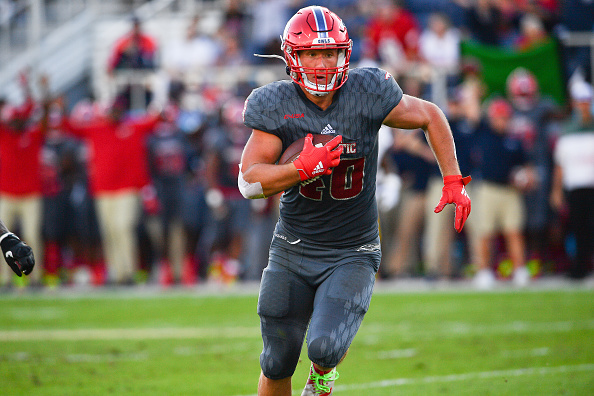 The Senior Bowl takes place this week in Mobile, Alabama. Executives and scouts from across the league will spend the week watching and evaluating this year's top talent in preparation for the combine and draft. The Jacksonville Jaguars are not coaching either team this year, a rarity over the past decade. Instead, the team has sent their personnel department to conduct in-person evaluations and build their draft board. This week will help to solidify some of the draft's top tier players. It will also afford lesser-known players a big stage to showcase their talents. Identifying potential Jaguars' late-round targets will be key for the staff this week. Historically, General Manager Dave Caldwell has found talent late in the draft, most notably in franchise-quarterback Gardner Minshew II. Finding late-round contributors will be important for the Jaguars, who have several big needs to address this offseason.
Jacksonville Jaguars Late-Round Targets
Bryant ended his career at Florida Atlantic by winning the 2019 John Mackey Award. However, he will likely fall in the draft due to the level of competition he faced in college. Bryant, listed as 6-5 240 pounds, checks all the boxes for a tight end and possesses a great catch radius. In his senior year alone, Bryant totaled 65 catches for 1004 yards and seven touchdowns. The Jags struggled to find tight end production in the 2019 season and will look to add to the group. Bryant would fit the roster nicely and provide a strong presence over the middle of the field.
Bailey headlines a weak linebacker class, but will fall due to a torn ACL in September 2019. The fifth-year senior was a big contributor over his career at Purdue and would bolster a weak Jaguars' linebacker corp. Bailey, 6-1 240 pounds, shows a strong ability to shed blocks and would help tremendously in run defense. He was very consistent for the Boilermakers, totaling 324 tackles, 28 tackles-for-loss, and 14.5 sacks over his career. Bailey is run-stopper who can fill gaps well, something the Jags are in desperate need of.
Jefferson finished the 2019 season with only 657 yards and six touchdowns, however, that is largely due to a deep Gators receiver room. Listed at 6-2 197 pounds, Jefferson has a great chance to improve his stock this week. Jefferson is known for his route-running ability, and even in a deep class, several scouts believe he is the best route runner available. As a result of his size and route-running combination, Jefferson is often able to create separation and work himself open. Outside of Pro-Bowler DJ Chark, Jaguars receivers struggled with consistency in 2019.
Potential Late-Round Diamonds
For the first time since 2016, Dave Caldwell will enter the draft without Tom Coughlin. Coughlin was relieved of his duties as Executive Vice President of Football Operations in December, and Dave Caldwell will now return to having more say in personnel decisions. This draft will be crucial for the franchise's future. Caldwell and head coach Doug Marrone have been retained after a disappointing 2019 campaign, and 2020 appears to be a make-or-break season in terms of their futures in Jacksonville.
A strong draft by Caldwell will be the first step towards putting the Jaguars in position for a winning season, something the franchise has achieved only three times over the past 15 years.
Main Photo:
Embed from Getty Images