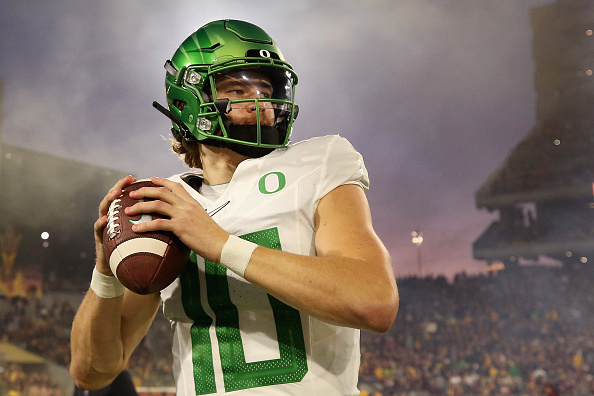 The 2020 Senior Bowl will kick-off Tuesday, January 21st as teams will hit the field for practice. The Senior Bowl has carried some pretty big names on their roster every year. It has become a place for prospects to shine and raise their draft stock in front of many coaches and scouts. One particular position that benefits the most from attending the Senior Bowl is the quarterbacks.
On many separate occasions, we've seen quarterbacks be considered as a day-two prospect before attending the highly touted game. After impressing teams, they end up being taken on the first day of the NFL Draft. The prime example of this would be Daniel Jones. Many people projected Jones as a day two or day three prospect but after a solid week at the Senior Bowl, he ended being a top-ten pick.
These are the top three quarterbacks attending this year's game in Mobile Alabama.
2020 Senior Bowl Preview: Top Three Quarterbacks
Justin Herbert will end up being the most debated prospect in the 2020 NFL Draft and rightfully so. He has the intangibles, traits, and size that NFL teams will love. Coming off of a season he which he threw for 3,471 yards, 31 touchdowns, and six interceptions, all eyes will be on his play this upcoming week. Herbert is a streaky quarterback who can wow you with arm talent and mobility at times but then there are moments that make you question his decision making and poise in the pocket. However, I do believe he is capable of becoming a franchise quarterback at the next level if he falls into the right situation. He's insanely talented and a huge week in Mobile could help change the minds of those who aren't sure what kind of player he can be in the NFL.
Jordan Love has the most potential out of all the quarterbacks attending the 2020 Senior Bowl. Love's sophomore tape makes you sit up in your chair when you see the throws that he's able to make. His arm talent is superb and showed flashes again in 2019. My concerns for Love are his decision making and the level of talent he played against in college. He certainly carries the traits that NFL coaches can work with. Competing against top tier talent this week can bode well for him. Assuming that he plays well, don't be surprised if we hear his name called on day one of the NFL Draft.
Hurts has certainly improved as a passer over the years and after a season in Oklahoma and there's a belief he can make it as a quarterback in the NFL. You can expect him to be overlooked during the pre-draft process because he has a different style of play than most quarterbacks. It's clear he played in an offense that made decision making very easy for him. It will be interesting to see if he can make NFL level throws against tight coverage during the week. This will be a very important week for him to show teams he possesses the arm talent and the decision making to become an NFL starting quarterback.
Image Credit:
Embed from Getty Images