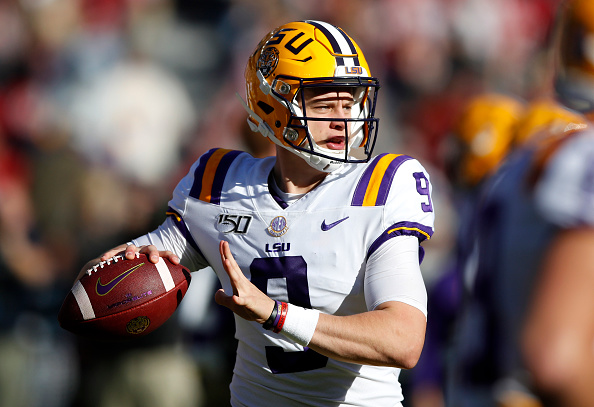 It is officially draft season for the NFL teams that will be without a playoff berth this year. NFL teams have been doing their research and they should have a slight idea of the direction they will want to head in for the 2020 NFL Draft. The point of mock drafts is to give a potential look at what could be coming up for teams next year. So with all that being said let's get started on my 2020 NFL Mock Draft V.2.
Surae Poole's 2020 NFL Mock Draft V.2
Wait a second, Young doesn't play quarterback. Yes, I know and I truly do not care. He is the best player available in the 2020 NFL Draft and he continued to show us why every time he steps on the field. Chase Young is a freakish athlete with the insane ability to bend the edge and get to the quarterback. His get-off is astonishing, at times tackles don't even get a hand on him. Yes, the Bengals are in the market for a quarterback but it will be hard to pass up on such an amazing player.
It was very tempting to go wide receiver here but the big boys upfront need a lot of improvement. Thomas is the best tackle prospect available in the 2020 NFL Draft. He is a mauler in the run game and his strength allows him to bully defenders off of their spot. This move will open up holes in the run game and protect the young quarterback.
Nobody has raised their draft stock more than Burrow this season. Last year nobody would have seen this type of play from the LSU signal-caller. He's played himself into top-three draft pick status and lucky for the Dolphins they might have found their quarterback of the future. Burrow has displayed outstanding poise in the pocket this year. He's an excellent decision-maker and does a great job of processing his reads.
The best wide receiver in college football and it isn't close folks. The best route runner to come out of college in quite some time. Jeudy possesses video game-like moves. His ability to stop on a dime and make defenders look silly is unreal. He shows elite ball skills when attacking the ball in the air. He will for sure help the development of the Redskins struggling offense.
Drafting a quarterback is definitely in the question here but after selecting one in the 2019 NFL Draft, I'm sure Denver will want to see what they have at that position. Wirfs dominates his opponents in the pass and run game. He has good feet for a man his size and is athletic enough to deal with speed rushers off the edge at the next level. He looks like the prototypical tackle in the NFL. Many believe he can play both tackle spots.
The Falcons are surprisingly having a very bad season. With the team showing many needs they will need to take the best player available approach here. Okudah displays amazing foot speed and his man coverage skills are elite. He is a great corner who can help the 27th ranked pass defense trend upwards.
The Lions currently rank in the bottom half of the league in run defense and pass defense. They could use a do it all player like Simmons. He brings a versatile skill set to the NFL, with the ability to cover in space and make plays in the box. He has the size, speed, explosiveness, and athleticism to be a very good player in the NFL.
The Cardinals offense has been fun to watch lately but they can add an absolute star to their receiving core with Lamb. He is incredible after the catch and has the must score mentality every time he touches the ball. He is physical at the catch point and shows his great ball skills when going up to catch the ball. He is an underrated route runner but he will be a great fit for this exciting Cardinals offense.
Obviously cornerback is a need here but I'm not sure there is one I like to take with Okudah already off the board. A clear need is the wide receiver position. There have been some guys to show a little promise but the group needs clear improvement. Slot Ruggs here who is the ultimate playmaker. He is a speedster who is aggressive after the catch. He is a good but not great route runner. Nonetheless, he will help the Jaguars offense with his ability to take the top off of any defense.
This offensive line needs help immediately. Leatherwood is a special talent who has the experience at guard but he's performing well at the tackle position this season. Protecting your young quarterback should be the focal point for the Jets in the 2020 NFL Draft.
With Philip Rivers showing clear signs of slowing down at the age of 38, this pick makes so much sense for the Chargers. Tua's injury allows the Chargers to let Rivers finish his career for the next year or so and when the lefty is healthy he can take over as the starting quarterback. Tagovailoa is a very accurate passer and displays the special talent of extending plays. He is a proven winner and his leadership and poise could help many teams.
Listen, Jameis Winston is a turnover machine and it's time to move one from him while you can. Herbert has all the physical traits that scouts will love but his mental makeup is what scares me the most. He's not asked to do much in this Oregon offense so we might not see his full potential until he reaches the NFL. He will be one of the most interesting prospects to evaluate in the 2020 NFL Draft.
The Eagles need serious help in the secondary but after watching this lackluster offense all season they need to add some speed on the outside. Receivers are struggling to create separation and they need a deep threat to draw the eyes of the defense. Aiyuk is a good intermediate route runner who shows good speed on the perimeter. He possesses strong hands and his footwork at the LOS allows him to beat defenders when they decide to play press-man coverage.
The Raiders could use another wide receiver like Higgins. He is aggressive when attacking the ball in the air. He shows off his great hands and deep-play ability when the ball is in his hands. He is a good route runner who separates from defenders.
The Browns offense has not lived up to the hype after making so many splashes in the offseason. Mainly due to the poor offensive line play, the Browns can't be effective without more talented upfront. Wills shows off his great pass protection skills and he's a powerful run blocker.
People his size should not be able to move as well as Brown does. He is a physically gifted defensive lineman who plays with a great motor and a ton of power. As age might be an issue on this Panthers defensive line, Brown would be the perfect fit.
The linebackers on this roster have been average and this defensive unit could use an upgrade. Murray has improved tremendously this year. He's a tackling machine who displays good sideline to sideline speed. He's the leader of the Oklahoma defense and he has the type of character any organization would want in their locker room.
The Colts have a need at defensive tackle and Davis fits the mold. Davis has incredible length and plays with wonderful leverage in the trenches. At 6'7 he moves very fluidly for a man his size.
Okay, it's time to get crazy here folks. Hurts has improved as a quarterback but I still see some flaws in his game. Hurts is a good athlete and has shown the ability to make NFL level throws at times. Tennessee can draft Hurts and let him develop before giving him the starting job.
Finally, the Jaguars get themselves a cornerback. Fulton has good man coverage skills and his physical tools will be a plus in the NFL. He loves to play physical and that fits the Jaguars mold on defense.
Delpit hasn't had the amazing season we were all expecting this season but he's still a talented player. Delpit is versatile enough to play over the top of any defense, cover the slot and sometimes lineup in the box. His tackling has been very inconsistent if he cleans that up the sky is the limit.
The Dolphins need to continue building and especially on the offensive line. After taking Burrow earlier in the mock draft they will look to add some talent to protect him. Biadasz is naturally strong and he dominates interior defensive lineman. He has light feet and he's very nimble for a man his size.
The secondary is still a huge weakness for the Chiefs defense. Diggs contains elite ball skills and he's very long and rangy for a cornerback. He's a raw prospect but if developed he has the chance to be special.
The Vikings need an upgrade at cornerback and it's becoming more of a glaring need. Adebo is a physical corner who can excel in man coverage. He has fluid hips and has no wasted movements when opening his hips to mirror receivers.
Etienne reminds me of Chris Johnson with his ability to burst through holes and score every time he touches the ball. He has the strength to run through arm tackles and his speed is unmatched. He's also been improving as a pass-catcher.
The Bills could use another versatile playmaker on offense and Shenault is exactly that. He's a gadget guy but can be used in so many different ways in a creative offense. Just find ways to get him the football and he will do the rest. His rare combination of speed and strength will allow him to be a special kind of threat on offense.
Hamler has been the bright spot on the Penn State offense thus far in 2019. He has top-notch speed and his route running skills are good as well. He will run by almost anyone in man coverage and Green Bay could use a legit second wide receiver on offense.
This might not be the hugest need for Seattle but it would be a fantastic fit for both parties. Epenesa faces a ton of double and triple teams so the production is not where it once was. However, he's a physical player who can win with power and speed. He's a stout run stopper and is talented enough to play multiple positions on the defensive line.
The Ravens have everything they need to make a Super Bowl run but they could use a bit of an upgrade in the middle of the defense. That's where Moses comes in. Yes, the torn ACL will scare some teams but he will have a full recovery before the 2020 NFL season starts. His play speed, tackling ability, and coverage skills were huge for the Crimson Tide.
Fromm will not wow anyone with his physical traits but he takes care of the football and makes good decisions. He doesn't have the greatest arm but with the elite talent on this offense, Fromm could benefit a ton. He has the ability to extend plays and bring another element to an already loaded Saints offense.
The Patriots have been incredible on defense all year long and Gallimore could help continue that trend in 2020. He's not the most talked-about prospect in the 2020 NFL Draft but he is very talented. He's a stout run stopper with good play strength.
The 49ers have dealt with some key injuries on the offensive line this season and age has to be taken into account for some members apart of this group. In an offense that wants to run the ball and punch teams in the mouth, Humphrey will fit right in on this roster. He has great mobility and moves laterally with ease. He gets hands on his defenders and bullies them with power.
Image Credit:
Embed from Getty Images