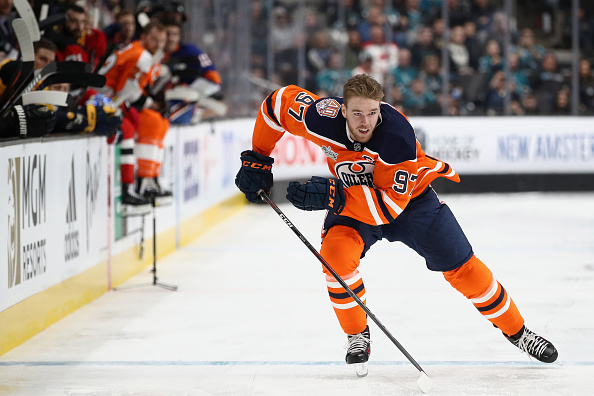 We're inching closer to NHL All-Star Weekend in St. Louis, Missouri. Many people look forward to it every year, especially the All-Star Skills Competition. The NHL will add a couple more events to the skills competition this year. It's a chance to have some fun while playing hockey but also showing your skills. It'll be a fun weekend for many as we look forward to these new competitions.
NHL: All-Star Skills Competition Events
Fastest Skater (2019 Winner: Connor McDavid)
This is one of the most exciting events of the day. In the fastest skater competition, players will begin at the starting point and on the referee's whistle, they will skate a lap around the ice one by one. Whoever gets to the finish line to quickest, wins. 
36 skaters will take turns attempting a breakaway. The spotlight isn't on the skaters in this one, it's on the goalies. A minimum of four goalies will be in net. Each goalie will face one opposing division and have a minimum of nine attempts. This officiated by NHL shootout rules and begins on the referee's whistle. Players from each division will shoot in numerical order, lowest to highest, with the divisional captain shooting ninth. Whichever goalie makes the most consecutive saves, wins. 
Accuracy Shooting (2019 Winner: David Pastrnak)
This competition not only requires pinpoint accuracy but also quickness. In this event, eight players will stand a distance of 25 feet from the net. They will shoot pucks at LED targets on the goal line. Once you hit that target, the light will go out and they can't be hit again. They will shoot until all targets go out. The player that hits all targets in the fastest time, wins.
Hardest Shot (2019 Winner: John Carlson)
A lot of people are intrigued as to how hard a player can shoot a puck. There have been a lot of guys throughout history that have been known for their hard shot. In this event, players will have two shots from 30 feet from the center goal line. Whoever records the fastest shot on net, wins.
Shooting Stars
This is one of the new events the NHL has added to the skills competition. The Shooting Stars event will entail eight NHL All-Stars and one member from the American women's All-Star team and the Canadians' women's All-Star team. These players will shoot pucks at targets on ice from an elevated platform about 30-feet above ice surface behind the goal. These targets hold different point values as each player will get seven shots. Pucks can take any route as long as it hits the target and they can hit that target more than once.
Women's 3-on-3
In this new event, women will compete in a 20-minute, 3-on-3 game. It'll consist of the Americans vs Canadians. There'll be a combination of Olympic players and World Championship medals. It'll be just like a regular game except it's 3-on-3.
All-Star Weekend
The NHL All-Star Skills Competition will be held on Friday, January 24th at 7 PM CT at the Enterprise Center in St. Louis. The All-Star Game will be held on Saturday, January 25th at 7 PM CT. All-Star weekend is a lot of fun for all and it's a chance to get away from the pressure that is regular season hockey.
Main Photo:
Embed from Getty Images