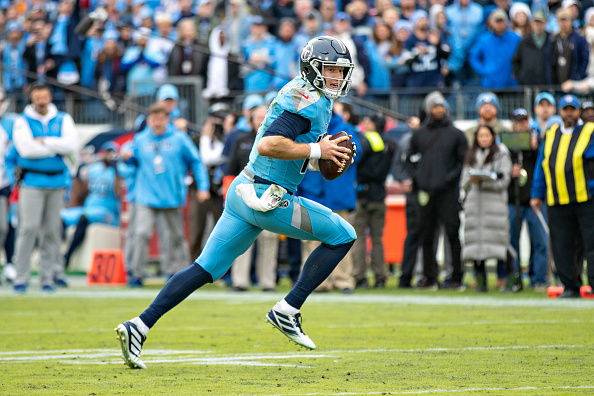 Value quarterbacks highlight week 16 NFL DFS. Ryan Fitzpatrick, Philip Rivers, Eli Manning, Drew Lock, and Gardner Minshew are all priced at or under $6,000 and will be popular options in cash games due to the plus match-ups they are in and the value they offer. Additionally, the Carolina Panthers have announced that rookie, Will Grier will start Sunday at Indianapolis Colts. He's priced at $4,300 and if he can hit double-digit fantasy points he will pay off that price tag. I'm here to find the plays that are going under the radar, the plays that allow you to pivot from the field. For your consideration, week 16 NFL DFS under the radar plays.
All players and pricing were taken from DraftKings, Sunday main slate.
Week 16 NFL DFS: Under the Radar Plays
I chose Tannehill as my under the radar play because of a few reasons. First, Grier will be the value du jour. He offers the greatest value and allows you to do so many different things as far as roster construction. However, his ownership will be high. As previously mentioned there are other value quarterbacks in excellent match-ups. The pay-up spot is obviously Lamar Jackson. However, buyer beware. The Ravens could sit him the second half of a meaningless game.
Why Tannehill? His price point isn't optimal However, he continues to multiply his salary by four each week. The fact that he's facing a perceived difficult defense in the New Orleans Saints may keep people from rostering him. However, they are playing at home with the highest total, 51 points, on the slate. They are a one-point underdog and the game should feature plenty of passing. Keep in mind the Saints are traveling on a short week. I think the Titans go under-owned and under the radar week 16 in NFL DFS.
Week 15 under the radar play: David Blough, 10.3 fantasy points. Outcome: PUKE!
Kamara has been underperforming his salary for most of the year. This bias will have DFS players shy away. The Titans have the third-worst defense against receiving running backs. Kamara averages twenty touches per game and it could be a spot to lean on the short passing game. Additionally, Kamara's price tag is such that people will have a hard time clicking on his name. Roster construction will be based around Chris Carson and Saquon Barkley, at the high end, and perhaps, at value, Phillip Lindsay. They are in excellent match-ups and are great cash plays. So, sprinkle Kamara in your MME (mass multi-entry) line-ups. I like him stacked with Tannehill and A.J. Brown.
Week 15 under the radar play: Duke Johnson Jr., 4.3 fantasy points. Outcome: PUKE!
Hamilton is my under the radar, dart throw of the week. Wide receiver two's have victimized the Detroit Lions all season long. Courtland Sutton will see Darius Slay coverage which will funnel the passing offense of the Denver Broncos toward Hamilton. Tim Patrick had taken over as the number two receiver after the trade of Emmanuel Sanders. However, Hamilton has overtaken Patrick in terms of offensive snaps, 83 percent to Patrick's 68 percent. There are pitfalls with this pick. The Broncos will most likely be in a positive game script and won't need to rely on the pass game. Thus making Lindsay a great pick. However, if Drew Lock hits for a ceiling game, Hamilton will play a role.
Week 15 under the radar play: Dede Westbrook, 4.1 fantasy points. Outcome: PUKE!
Smith is the week 16 NFL DFS under the radar tight end. And, he could end up being the pay down chalk play. However, there are a few tight ends priced fairly in excellent spots.  Noah Fant $3,700 vs. Lions, Greg Olsen $3,900 at the Colts and Jacob Hollister $4,200 at the Cardinals should be worth consideration.
With that being said, Smith is seeing nearly one hundred percent of the offensive snaps and recency bias suggest that DFS players will roster Barkley and/or one of the Giants wide receivers ahead of Smith. The one caveat with this pick is the Evan Engram could return from injury. If that is the case I will pivot to one of the aforementioned tight ends.
Week 15 under the radar play: Ian Thomas, 4.3 fantasy points. Outcome: Bust!
Spending up a defense is not always recommended. But, given the value, we have at quarterback and at some running back positions, we can get away with it. The Steelers go on the road to play the New York Jets and are a three-point favorite in the lowest implied total on the slate. One could argue the Le'Veon Bell revenge narrative, however, that'd be a tough sell.
If Grier and the Steelers can total 30 fantasy points at a combined $8,200 then we have nearly multiplied by four the salary. Paying up for defense is a contrarian way to look at line-up construction for week 16. Remember that the closing weeks of NFL can go off the rails due to player auditions and teams going off-script due to, clinching or being out of the playoffs or fighting for a playoff spot.
Week 15 under the radar play: Arizona Cardinals, 5.0 fantasy points. Outcome: Bust!
Under the Radar
The key to week 16 NFL DFS is to target teams and players with something at stake. There are games pitting division rivalries that could go overlooked for stacking purposes such as the Oakland Raiders at Los Angeles Chargers and the Dallas Cowboys at the Philadelphia Eagles. Both games have reasonably high implied totals and the teams have a healthy dislike of one another. Additionally, I would never say to fade Lamar Jackson. However, there is a possibility that, if the Ravens have the game in hand, limit him in the second half preventing his ability to reach value on his price. These are things to keep in mind when building DFS rosters in the final weeks of the season.
Good luck and good DFS!