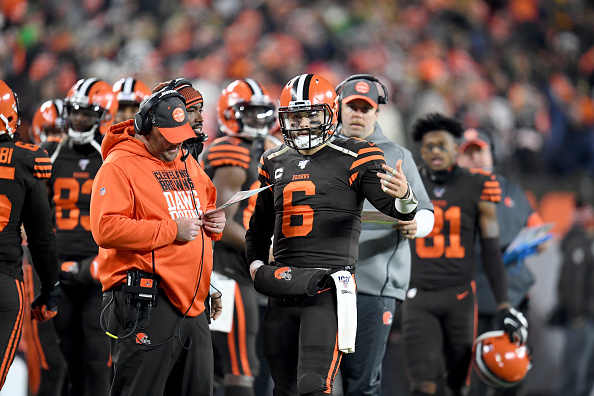 With all teams vying for top spots going towards the playoff season, NFL week 13 is a pinnacle week for many. Between injuries and playmakers and strong coaching predicaments. There are many things that will affect week 13. Let's take a look at what we should be looking for.
NFL Week 13 – What to Watch For
Are Coaches on the Hot Seat?
With some teams faltering or having a very bad season altogether, week 13 may be the nail in the coffin for some head coaches. Dallas Cowboys coach Jason Garrett is one who is getting a lot of displeasure from both fans and critics alike. However, even after an embarrassing home loss to the stronger Buffalo Bills team, owner Jerry Jones has said he is still sticking by him. Now whether that lasts into the offseason will remain to be seen. If Garrett can't take a Cowboys team with the talent that they have in nine seasons and make it to a Super Bowl. He may have been given enough time and it would be time to move on.
One of the bigger coaches challenges will be during the Pittsburgh Steelers and Cleveland Browns game. Not only do both teams need to keep winning to keep their playoff hopes alive, but this game is also very emotionally charged since their last meeting in week 11, which ended in Myles Garrett hitting Mason Rudolph in the head with his own helmet. Afterward, several suspensions and fines were handed out on both sides.
Can They Control Their Team?
One argument can be made that Browns coach Freddie Kitchens could be at least partially to blame for not having better control of his team. Of course, the Browns don't stay with their coaches long enough for any to make a true impact on behavior on and off the field. But with the Browns record of not keeping coaches long, week 13 will be a real trial to see if Kitchens sees another year. Both Steelers coach Mike Tomlin and Kitchens will have to do a lot of prep during the week to keep their men focused on winning and not revenge or trash talking. The better-behaved team can pull out a victory on Sunday.
Pride or Draft Pick?
By the time you are at week 13, you have a pretty good idea of whether or not you have a shot at the playoffs. Some teams know they have absolutely no chance at all. At that point in the calendar, do you still push for wins or just roll over and hope for what you need in the draft? No team wants to just roll over and play dead but in a case such as the Cincinnati Bengals who are coming into Sunday's game 0-11, how do you motivate a team that has seemed to be on a path to win multiple times in a season and yet still by week 13 has none?
The New York Jets are their next opponent, and while at 4-7 they are certainly not unbeatable, though they are coming off of a 34-3 romp of the Oakland Raiders. If the Jets can keep the winning formula from last week in week 13, then the Bengals are on their way to another loss.
Bottom Line
As the playoffs approach, the NFC seems more set as to who will be in the playoff than the AFC. The AFC has many teams on the cusp that can come in and take over one of the six playoff berths. So truly every game will count, and every loss will hurt. Let's see who is strongest after this week.
Photo Credit: Getty Images