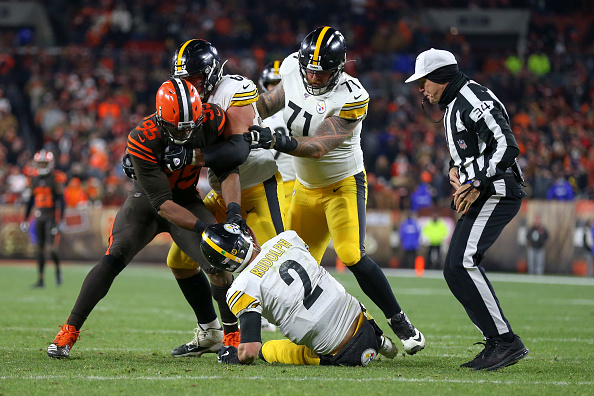 The start of week 11 in the NFL ended on a very sour note thanks to a melee that ended in a Myles Garrett suspension. Play between the Pittsburgh Steelers and the Cleveland Browns has always been a heated rivalry. However, the events that happened Thursday night with only eight seconds left in the game have taken it to an entirely different and dangerous level.
Myles Garrett Suspension– Does He Ever Play Again
A Dangerous and Almost Life Threatening Act
With a mere eight seconds to go, Myles Garrett tackled Steelers quarterback Mason Rudolph. It was a play that would have resulted in a useless penalty anyway since he drove Rudolph into the ground after he threw the ball. But from there escalated, from shoving, with admittedly Rudolph's hand on Garrett's helmet, to more than likely words, to Garrett ripping Rudolph's helmet off his head— which in itself would have drawn fines and penalties from the league.
But what Garrett did next as they jostled around was inexcusable. While being held back by David DeCastro and still jawing with Rudolph. Garrett took a full swing with Rudolph's helmet, hitting him in the unprotected head. At which point, DeCastro took him down to the ground and Maurkice Pouncey punched and kicked him.
In the middle of this when Rudolph had his back to him and was watching what was going on. Larry Ogunjobi came up behind him and shoved him to the ground. An action that not only got him ejected from the game as well but has a lot of people calling him a coward for his actions.
Three Ejections, What Kind of Suspensions?
Pouncey will more than likely face a two or three game suspension for his part in the melee. For all that the rules have to be followed. Little to no players, past or present are saying anything other than he was protecting his quarterback. Ogunjobi will more than likely also be suspended an equal amount of games. The bigger story is what should be handed to Garrett? In the post-game interview, he said it wasn't like him. Some disagree. Coming into Thursday night's game he already hand several calls against him. Including roughing the passer, unnecessary roughness and the like. Also a 42K fine in week two for roughing the passer and a 10.5K fine in week one for punching Delanie Walker. This seems like an escalating pattern to many people and should result in a large suspension.
Did Mason Rudolph Start it?
This really doesn't seem like the best defense for such an inexcusable action, but it is out there so it must be addressed. Were they scrapping on the ground? Yes, Garrett had just driven him into the ground unnecessarily which would have gotten a flag on its own. Did Rudolph try to take Garrett's helmet off first or kick him in the groin? Possibly, in the heat of trying to shove him off of him, his hand was no doubt on and around the helmet, was he intending to pull it off? No one knows but him, if he was, it was wrong, but didn't excuse the next actions.
Is This a Coaching Problem?
It has been brought up many times before. The Cleveland Browns keep changing their coaches and the effect of that is, there is no real control. The Browns are the most penalized team in the league and this is a discipline problem. Browns coach Freddie Kitchens needs to take the bull by the horns and get control of a team that has potential but is wasting it by actions as these. What he could do to establish himself as a disciplinarian is to bench Garrett before any word comes down from the NFL.
This is something that has cast a black cloud over the game of NFL football. It was in the lead block of stories on Good Morning America which normally leaves sports to the sports channels. Everyone is talking about the Myles Garrett suspension. This cannot be what the game is known for.
What Happens in Two Weeks?
Browns quarterback Baker Mayfield said that even though they won the game, the feeling in the locker-room was like they lost. This is something that has gotten into the heads of the entire team and can bring down team morale. On top of that, in two weeks, they now have to travel to Pittsburgh. The atmosphere in the steel city is going to be a turmoil of memory and anger. But Pittsburgh has a strong dominant coach in Mike Tomlin and it is going to be a show of how he can regroup his team to see how they act in two weeks.
The Fines and Suspensions Come Down
Mid day on Friday the NFL handed down the results including a season ending Myles Garrett suspension. Three games for Pouncey and one for Ogunjobi. Also a 250K fine for both teams involved with possible more fines and suspensions to come.
Main Photo: Embed from Getty Images