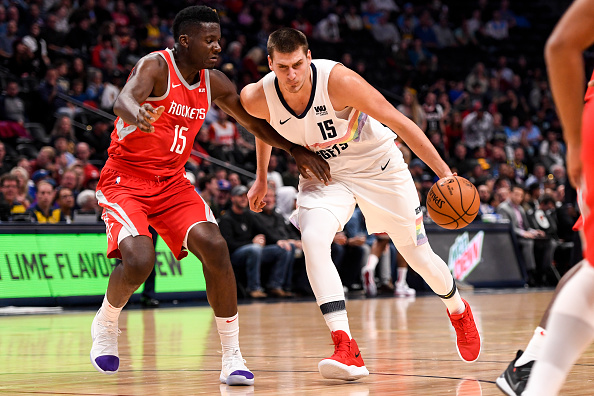 The NBA season is finally here. After months of one of the wildest offseasons the association has ever seen, every team looks different. Multiple superstars have moved around through trade and free agency. So before the season starts, here are the top 20 NBA players right now.
Top 20 NBA Players Right Now: 11-20
Victor Oladipo has really come on strong offensively since being drafted. His defense is one of the best at his position but he suffered a knee injury that will keep him out most of the season. His improved offense and great defense make Oladipo a top shooting guard in the league. Despite that, he is the most valuable player to the Indiana Pacers right now.
One of the best shooters in NBA history, Klay Thompson is a cornerstone piece for the Golden State Warriors. However, his ACL tear in the finals hurts his position on this list, but when he comes back he will bring his elite shooting and great defense to a Warriors team that is still in contention.
Jimmy Butler will be the face of the Miami Heat this season, looking to lead a young team. His ability as a scorer will make the Heat a sneaky playoff contender if he lives up to his potential of being the number one option. Expect big numbers from Butler this upcoming season.
Kyrie Irving leaves his short stint with the Boston Celtics to join a rising Brooklyn Nets team. Considered one of the top point guards, Irving's skillset driving to the basket makes him difficult to guard. His play has fallen off a bit while he was on the Celtics, but I expect him to turn it around with the Brooklyn Nets this season.
Back-to-back defensive player of the year Rudy Gobert is the heart and soul of a strong Utah Jazz team. His ability to guard the paint with great consistency and athleticism is rare for a man of his size. His offense has been getting stronger year after year too, making the Jazz a top team in a tough western conference.
Former first overall pick Ben Simmons is one of the key players for the Philadelphia 76ers being a legitimate title contender. His ability as a passer despite being 6'10" has him drawing comparisons to Magic Johnson. He is a monster around the rim, being a triple-double threat every night. What holds him back is his inability to shoot, as he has yet to hit a 3-pointer in his career.
Karl-Anthony Towns is a bright spot for a mediocre Minnesota Timberwolves team that has struggled to build a team around him. He is one of the best, if not the best offensive centers in the league, and he is still only 23. KAT is a dominant rebounder and a solid rim protector, and his game gets better every year on both ends of the court.
Kristaps Porzingis or also known as "the unicorn" has a style of play never really seen before in the NBA due to his size. The 7'3″ power forward is an excellent 3-point shooter, especially for his height, and his athleticism for someone that big is hard to stop. He is also one of the top shot blockers in the NBA. An ACL tear has set him back for a whole year, but now he gets a fresh start with a Dallas Mavericks team that has a rising star in Luka Doncic.
Traded to the Los Angeles Clippers this offseason, Paul George is paired with Kawhi Leonard to make them instant title contenders. George's unique ability to be a threat from deep and score in the paint makes him a consistent 20 point threat. He is also an elite defender too, consistently ranking in the top 5 in steals. With an already strong Clippers supporting cast, Paul George makes the Clippers one of the toughest teams in the league.
Relatively unknown heading into the NBA, Nikola Jokic has cemented himself as one of the top big men in the league. He is a triple-double threat nightly, an incredible feat considering he is a 7'0″ center. His court vision is unparalleled compared to the rest of the centers in the league, and the Nuggets move offensively through him. Look for "the Joker" to help carry a talented Denver Nuggets team to a top playoff spot in the west.
Wrap-up
This will be one of the most exciting seasons to watch this season, with many duos primed for contention. Many players found new homes this offseason, and how the chemistry works with some is critical to each team's success. Check back for the second part of the top 20 NBA players right now.
Main Photo:
Embed from Getty Images