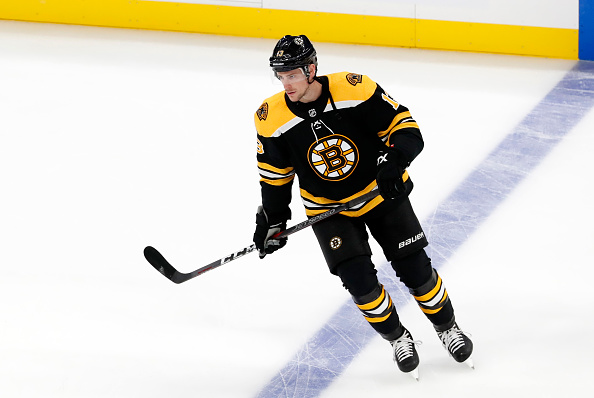 Many times, deals at the NHL trade deadline mean nothing more than a rental for a subsequent playoff run. However, there are a select few that end up providing on that team for years to come. The Boston Bruins acquired Charlie Coyle last March in an effort to push themselves over the hump and into a stanley-cup-winning season. That was not the outcome. But they didn't come out empty-handed. Charlie Coyle was arguably one of the most productive players in the 2019 playoffs and it wasn't a fluke. The Bruins may have just made one of the best trade deadline acquisitions in their recent history. Charlie Coyle is a key piece to this Bruins roster and you should get used to seeing him in black and gold.
Charlie Coyle is a Key Piece to This Bruins Roster
Versatility in His Blood
Charlie Coyle has bounced around the forward position, unlike any other. He was used on the wing more often than not back in Minnesota, which opens the door up for future use on the wing in Boston. It's already evident that management and the coaching staff know how talented and versatile he is. It can give teams a massive advantage when your forwards are capable of filling in nearly everywhere up top. Some of the most talented players in the league aren't even accustomed to switching positions. This makes Charlie Coyle a valuable player to have in your top six and a key piece to the Boston Bruins future.
Some may question his production from the wing position in the past but with the trust of the President of the Boston Bruins Cam Neely, he should have no problem adjusting if needed. Not to mention, he's playing with a bit more talent than he did in Minnesota.
New Age Center
As we continue into the next decade, those with older ties to this Boston Bruins will see their time expire. Patrice Bergeron (34), David Krejci (33), and Zdeno Chara (42) have all surpassed their "prime 20s" and although we still see great production from some of them, it's ignorant to think they won't eventually need to be replaced.
Charlie Coyle sits at just 27 years old, six and seven years younger than his center counterparts Krejci and Bergeron. Coyle would be a fantastic successor for one of these two. Now, he would in no way replace either of them, but he could provide top-line production when given the opportunity, as he did in Minnesota.
Production is There
Charlie Coyle has been in the league for nearly eight years now. In seasons where he plays more than 65 games, he averages roughly 41 points per season. That may seem a bit low, but keep in mind, he played second fiddle to Mikael Grandlund for most of his time in Minnesota. In his breakout season (2016-2017), he logged 56 points in 82 games while averaging nearly 17 minutes of time on ice. Coyle has kept as 1:2 points to game ratio for most of his career, so you can count on him logging at least 35-40 points in a healthy season. Not to mention, pairing him alongside Jake Debrusk or David Pastrnak should do wonders for his already steady production.
The Kid From Weymouth
The kid from Weymouth, Massachusetts may have found his way back home. An acquisition at the deadline has turned into a possible future with his lifelong team. His name should be penciled into rosters for years to come because the Bruins seem to know what they have. Charlie Coyle recognizes the energy and pride in Boston. It's time for us to recognize the talent he presents.
Main Photo:
Embed from Getty Images