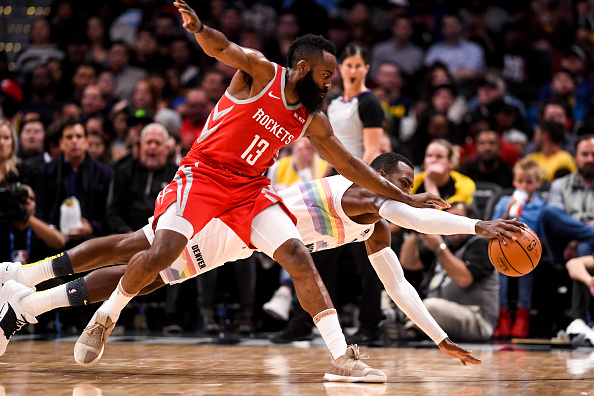 Believe it or not, basketball will be here shortly. The NBA has picked four western conference teams to play on opening night. It's not hard to see why. This is because the western conference is as deep as ever, and the league as a whole is wide open. With the Golden State Warriors taking massive roster hits, a majority of the teams in the west think they have a chance. Because of that, in this piece, we will take a look at the western conference playoff predictions.
2020 NBA Western Conference Playoff Predictions
1. Los Angeles Clippers
In the first battle of L.A., the Los Angeles Clippers have the edge over the Los Angeles Lakers. Two-time Finals MVP Kawhi Leonard and MVP candidate from 2019, Paul George, come into a team with a lot of pieces already in place. Patrick Beverley is one of the best defensive players in the league at point guard. Not to mention his backup Lou Williams has won sixth-man of the year three times and is only getting better with age.
Head coach Doc Rivers has a wealth of experience and will remind the league of his greatness. The defense will be this team's calling card, but they have the talent to light it up offensively as well. Load management may be the only thing preventing them from the top seed come April.
2. Denver Nuggets
In an offseason where player movement dominated the news, the Denver Nuggets took the opposite approach. They retained all their pieces from last year and added a piece in Micheal Porter Jr. Before his injury in college, Porter Jr. was in consideration as the number one pick. Head coach Mike Malone said at media day that Porter is in the running for the starting small forward spot.
Nikola Jokic was one of the most impressive big men last season, and should only get better. Ther bench unit is deep and will be a difference-maker in games. Now one of the most cohesive groups in the NBA, expect Denver to make a run for the top seed.
3. Los Angeles Lakers
Finally, the Lakers get a respectful third place. They are a threat to the number one seed as well as Denver and the Clippers. How could you not be with LeBron James and Anthony Davis on the same team? In the first preseason game on October 5th, Davis put up 22 points and 10 rebounds in just 18 minutes!
LeBron James is still one of the best players playing the game. Now healthy after battling some injuries last year, the King will look to reclaim his throne. The duo is surrounded by scoring machine Kyle Kuzma, anchor in the paint Dwight Howard, and a slew of good defenders. The biggest concern is if the suspect coaching staff of Frank Vogel and Jason Kidd can keep everyone happy coexist together.
4. Utah Jazz
The Utah Jazz is sneaky under the radar on this playoff predictions list. But they should be taken seriously come April. Adding veteran point guard Mike Conley was one of the most important moves of the offseason. The Jazz needed playmaking help, and they got it. If there was ever a season for Conley to make his first all-star game, it would be this one. Playing alongside third-year phenom Donovan Mitchell should only improve Conley's game.
In a league where teams have big men that stretch the floor, the Jazz has the opposite. Rudy Gobert is the best defensive big man in the league and has two DPOY awards to show for it. Surrounded by sharpshooters Joe Ingles and Bojan Bogdanovic, this team has everything you want to succeed.
5. Houston Rockets
The Houston Rockets may blow this playoff prediction out of the water. Old teammates have reunited in the form of James Harden and Russell Westbrook. Both players have a league MVP to their name so a fifth-place ranking may seem harsh. The question is whether Westbrook can play in Houston's offensive system where three-pointers are the most sought after shot. Westbrook has only shot better than 30% from downtown once since 2014. Regression from starter P.J. Tucker who is now 34 is something to be on the lookout for. This is a star heavy squad that has also continuity together. The fact that they're at five shows how hard making these playoff predictions are.
6. Portland Trail Blazers
For seemingly half a decade, the Portland Trail Blazers have possessed one of the best backcourt duos in the NBA. Damian Lillard and CJ McCollum have some of the most natural chemistry ever seen on a basketball court. Last season they made it to the Western Conference Finals before being swept by Golden State. This time around they are reloaded and have added weapons. Hassan Whiteside was a major addition, and his 2.3 career BPG will come in handy for a team that needed extra rim protection thanks to Jusuf Nurkic's absence. Although Nurkic's timeline to return from his broken leg is vague, there's a reported date of around the all-star game. This team will need their young players to produce. If Anfernee Simons, Nassir Little, Mario Hezonja, and Zach Collins don't take the load off their backcourt stars, their ceiling becomes much lower.
7. Golden State Warriors
It is going to be a strange season for Golden State Warriors fans. For the last five years, the cast of characters remained mostly the same but not anymore. Kevin Durant left for Brooklyn. One of the splash brothers Klay Thompson is out until at least the all-star break. Finally, a mass number of role players have left or retired including Andre Iguodala, Shaun Livingston, Jordan Bell, Quinn Cook, and DeMarcus Cousins. So who's left? Stephen Curry had his most impressive season since his MVP season last season and is going to have to be the catalyst once again in 2019. Draymond Green remains one of the most versatile defenders in the league. And newly acquired all-star D'Angelo Russell will have to try and fill Thompson's shoes. These three players are enough to get Golden State a spot in this playoff predictions piece. Should an additional injury occur, however, the conference will eat them alive.
8. San Antonio Spurs
The toughest call to make on this playoff prediction list was the eighth seed. A slew of teams including New Orleans, Dallas, and Sacramento received consideration. But despite all the changes the league has undergone, there's remained one constant. Gregg Popovich taking the San Antonio Spurs to the playoffs. The last time we haven't watched the Spurs play in April was in 1997.
There may not be a less talked about pair of stars than DeMar DeRozan and LaMarcus Aldridge. DeRozan has put up over 20 PPG every year for the last six, and Aldridge has done it seven out of 13 seasons. This team has incredible young talent at guard, in Dejounte Murray and Derrick White. If Murray can take the next step he was expected to take before missing 2018 due to injury, this team will be solid. It's worth noting San Antonio led the NBA in three-point shooting percentage last year.
Watch Out For the Rest of the West
Although the eight teams listed above are the likeliest playoff predictions, it's not a given list. The Dallas Mavericks are led by two all-stars, the New Orleans Pelicans underwent a complete makeover, and the Sacramento Kings just barely missed out last year.
The NBA is wide open this year, and the western conference is going to be a slugfest. Whenever a game featuring two western conference teams is on, it will be a good contest. Buckle up your seatbelts ladies and gentlemen, the 2019 season is going to be one to remember.
Main Photo:
Embed from Getty Images