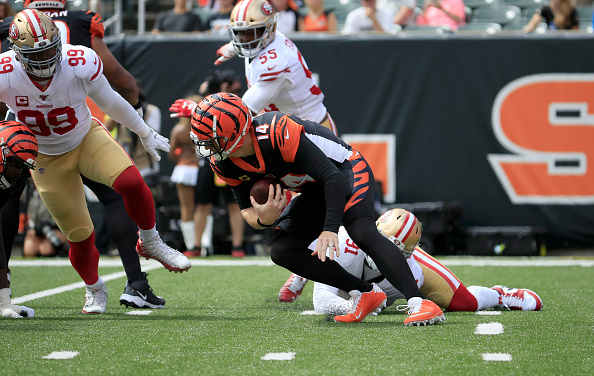 The Cincinnati Bengals week two matchup with the San Francisco 49ers was, to say the least, a terrible showing. Where the Bengals performed well in week one, they faltered in week two. Of course, there are plenty of things to be proud of, Bengals faithful. It just so happens that the 49ers were much more athletic and came ready to play.
Cincinnati Bengals Week Two: Issues Abound
Porous Defense
The Bengals' run defense in week two was so filled with holes that it would make swiss cheese blush. While running backs like Matt Breida and Raheem Mostert are solid in their own right, there is no reason an NFL defense should allow this tandem to go off for 204 yards. In total, the 49ers gashed the once-proud Bengals defense for 259 yards and two touchdowns. All this was just a week removed from a solid performance against the Seattle Seahawks where they were held to just 72 yards on the ground. In a division with Nick Chubb, Lamar Jackson, Mark Ingram, and James Conner, the Bengals cannot afford to continue in this fashion.
Jimmy Garoppolo carved up the Bengals like a Thanksgiving turkey. By passing for 297 yards, three touchdowns, and one interception, 49ers faithful began to see what their team is capable of. The Bengals only managed two pass defenses and one of them was an interception. Cincinnati is home to two great, young defensive backs in Jessie Bates and William Jackson, but the weak spot of this secondary is Dre Kirkpatrick.
In the last few seasons, Kirkpatrick has been at the epicenter of numerous defensive and/or emotional breakdowns. In addition to the lack of football and situational IQ, Kirkpatrick would lead the Bengals in missed tackles if it were an official statistic. He was nearby and could have made a play on all three touchdown passes. He bailed out and followed the wrong receiver on the Marquise Goodwin score and whiffed on a blitz on the Mostert screen. Finally, Deebo Samuel scored after easily shaking off Kirkpatrick. Perhaps the Bengals can work out a trade with the Miami Dolphins to acquire Minkah Fitzpatrick?
Last week, Dalton led all of football with 418 passing yards, two touchdowns, and zero interceptions. This week, he recorded 311 yards, two touchdowns, and one interception. Honestly, these are respectable numbers for an NFL quarterback. The issue with Dalton is the fact that he is neither consistently great nor terrible. He has been good enough for a franchise like the Bengals to continue to commit to him as their franchise quarterback, but he hasn't really given the Cincinnati faithful much to celebrate.
Against the 49ers, Dalton was solid, but it still was not enough to overcome an early deficit. Perhaps overshadowed by the barrage of scoring and lack of rush defense was the performance of both Tyler Boyd and John Ross. With A.J. Green injured, Boyd and Ross stepped up by recording 10 catches for 122 yards and 4 catches for 112 yards and a touchdown, respectively. It's been tough sledding for Dalton thus far in 2019, but it would probably have been even worse had either of these two failed to step up.
It Begins And Ends On The Line
The offensive line has been bad, there's no other way of putting it. However, first-round draft pick Jonah Williams was injured before the start of the year and Cordy Glenn has been battling concussions. As fate would have it, these are two of the best linemen on the roster. Trey Hopkins has been a welcome surprise at center, however. He was actually the highest-graded center in week one by Pro Football Focus. Andre Smith, Bobby Hart, John Jerry, and John Miller have all been rather atrocious. Last week, the Seahawks sold out to stop the run game, so I will give them the benefit of the doubt. This week, however, the Bengals offensive line was a major failure. Through two weeks, Dalton has been sacked nine times. Joe Mixon led the AFC in rushing in 2018, yet he has only mustered 27 yards on 27 carries thus far.
The trend of disappointment continued on the defensive line as well. In week one, the Bengals front four managed four sacks and eight and a half tackles for loss. This week? Zero sacks and one tackle for loss. Maybe Seattle's offensive line is lacking, but a successful defense cannot go from one extreme to another and expect to win against decent teams. It is telling when you look at the tackle stats. The leading tackler was linebacker Preston Brown. This means that the defensive line is not getting any penetration and all of the plays are getting to the second level. Sam Hubbard, Geno Atkins, Carlos Dunlap, and company are going to need to step up in week three. The Bengals cannot afford to take the Buffalo Bills lightly and subsequently fall to 0-3.
#NewDey, Same Old Bengals
At this point, the Bengals are poised for another top-ten draft pick. Unfortunately, I do not think Cincinnati is tanking like the Miami Dolphins. Instead, the Bengals have been trying to win and have let one game escape them and have been royally demolished in the other. Rookie guard Michael Jordan was injured in the Bengals week two contest. Hopefully, he will be back soon in order to continue his decent campaign. The 2-0 Bills look to be a formidable foe for these Bengals next week. It may only be September, but their matchup with the Bills has a feeling of a must-win game.
Main Photo:
Embed from Getty Images