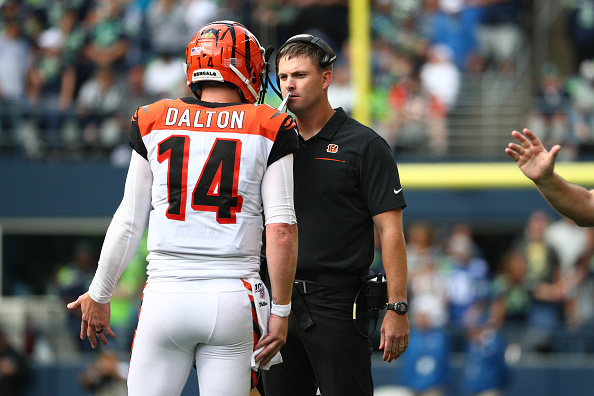 The Cincinnati Bengals week one matchup with the Seattle Seahawks provided plenty of exciting and frustrating play. If you look at the cold-hard numbers, it would have seemed that the Bengals dominated the entire game and the Seahawks stole a win. While this feeling may not be totally incorrect, there are plenty of reasons for optimism in Cincinnati.
Cincinnati Bengals Week One: Reasons For Optimism
Defense Wins Championships
In 2018, the Bengals' defense was one of the worst in the NFL. Statistically, they ranked 30th in points allowed. In terms of yards allowed, they ranked 29th, 32nd, and 32nd in rushing, passing, and total yards allowed, respectively. The Bengals could not stop an offense if it was made of tissue paper and the wind was at their back. 46.3% of opposing drives resulted in a score. That number was, you guessed it, dead last in the league. Of course, it must be stated that the entire team was struggling with injuries. The defense alone had nine players who finished the season on injured reserve. No defense would succeed with that many injuries.
Fast forward to the Bengals' week one tilt in Seattle, every expectation was that Cincinnati would continue this trend. The final spread for the game was Seattle (-9). The expectation was that Seattle would run away with the game. From the start, the Bengals defense stifled the Russell Wilson-led offense. In their first three drives, Seattle managed one first down, two three-and-outs, and negative one yards. The Bengals defense totaled six three-and-outs, one turnover (fumble), and four sacks overall.
Second-year defensive end Sam Hubbard led the way with ten total tackles and two sacks. Nick Vigil and Dre Kirkpatrick added a sack each. Considering the 2018 edition finished 28th in the league in sacks, totaling four sacks in one game is impressive. Carlos Dunlap was a force to be reckoned with all game, but the respect given to him allowed Hubbard to get free for four quarterback hits.
Take away the 41-yard completion to D.K. Metcalf and the 44-yard touchdown to Tyler Lockett,the defense gave up a total of 148 yards. 76 of those yards would have been through the air. Limiting Wilson to 76 yards would effectively guarantee a team a victory. This is all fine but as the old idiom goes, "if ifs and buts were candies and nuts, every day would be Christmas." The defense played well enough to earn a win, so perhaps the issues lie elsewhere.
In the eight seasons that A.J. Green has graced the Cincinnati Bengals' sideline, he has been the obvious favorite target for quarterback Andy Dalton. Thanks to a freak accident injury during the preseason, the Bengals are going to be without the star for a few weeks. In his absence, who will step up? Last year, Tyler Boyd emerged as the best number two receiver the Bengals had had since Marvin Jones. Going into the 2019 season, Boyd is expected to take some pressure off of Green once he returns. Outside of Boyd, who could step up against a solid defense in Seattle? Enter, John Ross.
When he was selected with the ninth overall pick in the 2017 NFL draft, speedster John Ross had lofty expectations. In his rookie year, he appeared in three games and had one rush for 12 yards…which he fumbled. In 2018, Ross appeared in 15 games, tallying 21 receptions for 210 yards and seven touchdowns. That's not bad, but it's not first-round worthy. Perhaps the struggles were not of John Ross, but rather of Marvin Lewis. In his first game post-Lewis with new coach Zac Taylor, Ross had seven catches, 158 yards, and two touchdowns. Finally, after two long, arduous seasons, could we see an exciting and explosive John Ross? If he can play to his first-round expectations, name a better 1-2-3 punch at wide receiver than AJ Green-Tyler Boyd-John Ross.
The Good (Andy), The Bad (Andy), The Ugly (Andy)
Andy Dalton has been quite the polarizing character during his time in Cincinnati. To some, he epitomizes mediocrity at the quarterback position. To others, he is a solid player who is doing his best with what he has. Wherever you fall on the spectrum, you cannot deny that Dalton had a magnificent season in 2015, but he has some games where you are left scratching your head. Could Zac Taylor bring out the best in Dalton and show that it was Marvin Lewis who was holding him back?
In the Bengals' week one matchup in Seattle, Dalton broke personal bests in completions (35) and passing yards (418). For the most part, Dalton's play was certainly good enough to earn the win. The sheer fact that Dalton outplayed his counterpart in Wilson should be enough to walk away victorious, right? Well, that's not how football works. Dalton had two lost fumbles at crucial times. Given, that second fumble was probably an incomplete pass. Officially, it was ruled a fumble. Dalton completed at least two passes to eight different receivers to carve up the Seahawks defense. All in all, Andy Dalton played well enough to earn a win in week one.
No Day But Who Dey
The fact that the Bengals week one tilt resulted in a loss while the offense out-gained the opposition 429 yards to 233 yards shows that there is work to be done, but there are reasons to be optimistic. New defensive coordinator Lou Anarumo has managed to take the worst defense in the NFL in 2018 and manage to terrorize the Seattle offense for four quarters.
Offensively, the passing game looked promising, but the running attack left plenty to be desired. Seattle did a great job gameplanning and subsequently took away Joe Mixon and the rushing attack. Remember when the Cincinnati cut Jake Elliott (who went on to hit 60+ yard field goals and win a Super Bowl) in favor of Randy Bullock? Everyone in the queen city sure does. Hopefully, the Bengals can move past this loss and take care of business next week against the San Fransisco 49ers.
Main Photo:
Embed from Getty Images