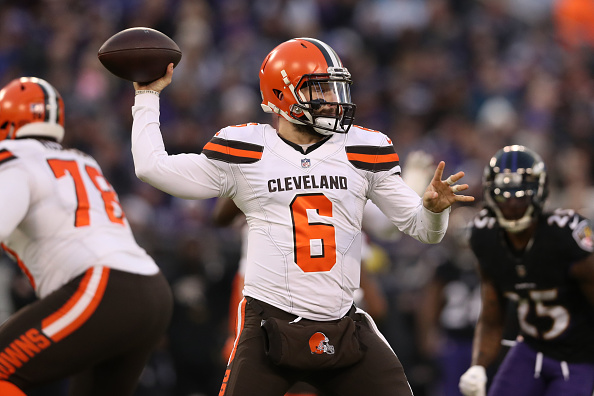 In this part of the divisional quarterback rankings series, we dive deep into the AFC North quarterback rankings for the 2019 season. The AFC North has been the home of many great quarterbacks, but the cliche is that Cleveland is where quarterbacks go to die. There is plenty of talent in this division and it is going to look very different soon.
AFC North Quarterback Rankings for 2019
4. Lamar Jackson
Starting out, we have the 2018 first-round draft pick for the Baltimore Ravens. Joe Flacco was the long-time established starter, ultimately displaced by Lamar Jackson in their week 11 matchup against the Cincinnati Bengals. Jackson was a run-first quarterback who broke out in his first start with 119 rushing yards. Due to this, Jackson was sacked 17 times in 2018 and completed only 58% of his passes. What he lacked in statistics he made up in exciting and explosive plays. Despite these lackluster stats, Jackson leads the Ravens to a 6-1 record to close out the season and was rewarded with the 2018 AFC North division championship. Ultimately, they fell in the wild-card round of playoffs to the Los Angeles Chargers, 23-17.
A full season should work for Jackson's benefit. Pro Football Focus (PFF) predicts that Jackson and the Ravens will run all over the NFL in 2019. Realistically, this is a possibility. Jackson's running ability will be complemented by established back Gus Edwards as well as newly-signed Mark Ingram and Justice Hill. By having this much talent behind him, the RPO attack from Baltimore will be lethal. Regardless of the fact that Lamar Jackson is ranked fourth AFC North quarterback out of four, look for him to improve on his 56.0 PFF grade. He's going to be fun to watch as long as the NFL doesn't figure him out as they did with Robert Griffin III.
3. Andy Dalton
The face of the Cincinnati Bengals is the quarterback with flaming red hair. Andy Dalton has been great at times and atrocious at others. The difference between Dalton and Jackson is slim, but Dalton gets the edge due to experience. Interestingly enough, Dalton has proven to be a worthy inclusion in the MVP discussion. The issue with this discussion is he is a product of the talent around him.
During the first four weeks of 2018, Dalton had a PFF grade of 88.9. The only two who were graded better were Drew Brees (92.3) and Patrick Mahomes (91.6). What happened to cause his overall season grade to fall to 81.9? Tyler Eifert broke his ankle at the end of their week four matchup at the Atlanta Falcons. In addition to Eifert, A.J. Green missed almost the entire second half of the season. Take away his weapons and Dalton isn't the same quarterback.
The Bengals are in a precarious position in 2019. This year is a contract year for Green, Giovani Bernard, Eifert, and Tyler Boyd. Judging by the Bengals' history, there is a very good chance that at least one of these will not be brought back. The Bengals, with the new coaching regime, should be okay. Coach Zac Taylor has experience with similar quarterbacks and knows how to play to their strengths. One of these strengths is utilizing play-action. Dalton has a grade of 84.2 on play-action the last four years, so look for the Bengals' offense to lean on Joe Mixon with Dalton capitalizing on play-action.
2. Baker Mayfield
These aren't the Cleveland Browns you are used to. Led by Baker Mayfield, the Browns will be an exciting, play-making machine. Interestingly enough, Mayfield had the highest PFF grade within the division in 2019 with 84.5. That grade was actually the second-highest grade for a rookie in the league's history. Mayfield certainly lived up to his number-one overall pick hype. As a starter, he went 6-7. In reality, this is not the greatest record, but when it's the Browns, it was like winning the Super Bowl. He threw for 27 touchdowns with a 63.79% completion rate.
2019 should be an extremely exciting year for Baker Mayfield. Statistically, Mayfield was the top AFC North quarterback. Moving forward, expect him to continue to grow and succeed. The Browns play four playoff teams in five games this fall. Notably, four of these games occur in the first half of the season. If Mayfield can pull off an upset or two, look out for these Browns. An offense that is fully-loaded with Odell Beckham Jr., Jarvis Landry, and Nick Chubb will allow Mayfield to insert himself into the MVP race. Watch out, Pittsburgh Steelers, the Cleveland Browns, and Baker Mayfield are coming for you and they aren't going anywhere fast.
1. Ben Roethlisberger
Despite the fact that Baker Mayfield is about to take over the division, the top AFC North quarterback is still Ben Roethlisberger. Arguably the greatest quarterback in Steelers history, Roethlisberger has led the NFL in just about every passing statistic at least once. The two-time Super Bowl champion graded at 78.2 last year, but this was probably due to the distracting personality of Antonio Brown as well as the drama surrounding Le'Veon Bell. Even with these distractions, he still led the league in attempts, completions, and passing yards. The 15-year veteran is still just as good as he ever was. The question will be how much longer can he play?
Roethlisberger is coming off of his lowest-graded season since 2011. His 78.2 grade was third in the division last year and it may be where he stays. It all depends on how well the new guys perform. Donte Moncrief and third-round pick Diontae Johnson have big shoes to fill. We may be witnessing the end of an era in 2019, but knowing Roethlisberger, he is probably saving the best for last.
Change Is A-Comin'
The AFC North quarterback rankings are usually a difficult endeavor. Roethlisberger has dominated the division for the last decade and a half, Flacco was a regular at the top, and Dalton has proven that he can play. As Roethlisberger ages and the Cincinnati faithful continue to lose their patience with Dalton, watch out for the young guns. Baker Mayfield looks to be a sure-thing franchise quarterback and Lamar Jackson is anything but boring. The face of the AFC North division will be changing soon. Let's all enjoy the ride.
Main Photo:
Embed from Getty Images