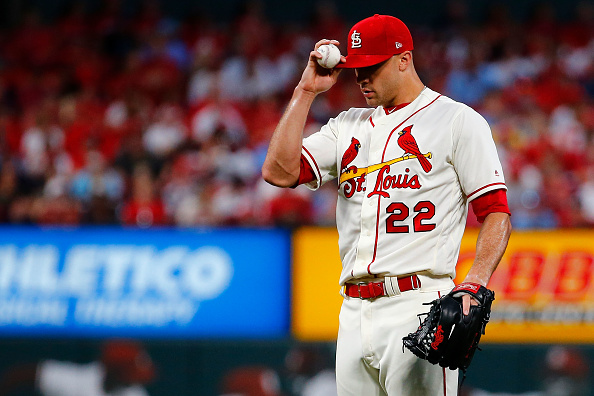 Jack Flaherty had a late start to his Cy Young campaign. Coming into the season we were expecting Flaherty to be a Cy Young candidate throughout the season. It's not how you start, it's about how you finish right? Over the last couple of months, he has best arguably the best pitcher in baseball. If he finishes strong then it will be really hard not to put him near or at the top.
Is It Too Late For Jack Flaherty To Win NL Cy Young?
A Tough Start to the Season
Flaherty didn't have a strong start to the season. Many wondered if the St. Louis Cardinals would consider trading him. He was expected to be a top of the rotation ace and he wasn't performing like it. At the end of April, he had an ERA of 4.06 but he did a little better in May by lowering his ERA to 3.45.
June was a disaster and that month will factor into this but he had an ERA above 7.00 for the month of June. He was giving up home runs at a high rate than most would like and it didn't look good. It's not like he fell off the face of the earth or he was so bad nobody talked about him but nobody was expecting him to come out of the gates slow for three months. After June, all of that would change and he would become the ace we all knew last season.
Outstanding July and Beyond
Yes, the first few months weren't good but what he has done lately makes you forget about what happened early. His last start before the all-star break and his second-half have been outstanding. He has been arguably the best pitcher in baseball in the second half. This is were his Cy Young campaign really gets going. 
He faced the San Francisco Giants in his last start before the all-star break and he didn't disappoint. Flaherty had a no-hitter into the seventh inning until Evan Longoria unloaded and hit a home run or the lone run of the game. Flaherty gave up a run on only two hits in an outstanding start. This might have been a sign of things to come and it was.
The second half came and the Cardinals needed an ace and Flaherty stepped up. He has made 12 starts in the second half so far and in those 12 starts, he has shutout his opponent seven times. He hasn't allowed more than two earned runs since July second. In his last 12 starts, he has pitched 85 innings, thrown 105 strikeouts, and he has only walked 20. He now has double-digit strikeouts in back-to-back games. In his last start, Flaherty became the 19th different pitcher to reach 200 strikeouts this season. His home runs against have gone way down as he has only given up five home runs in that span. He amazingly brought his ERA down from over 4.0 to a 3.05. He has been exactly what we expected and more in the second half. 
Other Candidates
Hyun-Jin Ryu
Hyun-Jin Ryu has been the front runner for the Cy Young pretty much all year for the L.A Dodgers. He has led the league in ERA for the majority of the season. He has allowed more than two earned runs just one time through his first 22 starts but since then, it hasn't looked good. In his last four starts prior to his past one, he had an ERA 9.95. He was dominant in his last start though. This past start, he pitched seven innings while only giving up two hits with six strikeouts. Even with his last outing, he has left the door open in this Cy Young race.
Max Scherzer
Mad Max Scherzer is doing what Max Scherzer does. He leads the NL in strikeouts to walks ratio and strikeouts per nine innings with the Washington Nationals. He is in line for his fourth Cy Young in his career but he a missed a couple of weeks so he has a few starts less than anyone else. Also, his last outing was not good. He only went five innings, gave up seven hits and allowed three earned runs. In the second half, he has given up three or more earned runs three times. He has also left the door open in the race.
Jacob deGrom
Jacob deGrom has been one of if not the best pitcher in the league over the last couple of years. His numbers aren't as good as last years' but that's because he had an insane year last season with the New York Mets. He has a 2.61 ERA and a great strikeout per nine innings ratio over 11 and leads the National League in strikeouts with 239. In his last start against the Dodgers, he threw seven innings and gave up only three hits with eight strikeouts. deGrom is a strong candidate to win back-to-back Cy Young awards.
Mike Soroka
Mike Soroka is having an under the radar season that not a lot of people are talking about for the Atlanta Braves. He is a dark horse for the Cy Young. In 27 games, he is 12-4 with a 2.57 ERA, has 130 strikeouts, and has a whip of 1.09. His last start was impressive when he went up against another Cy Young Candidate in Max Scherzer. He only gave up one hit against the Nationals and had four strikeouts. Only Ryu has a better ERA than Soroka in the league. He is a very strong candidate if he keeps this up.
He Needs a Strong Finish
As I mentioned before the has been arguably the best pitcher in the second half but there are still about starts to go. If he can continue his second-half dominance and do exactly what he has been doing lately then he should be a very strong contender for the Cy Young Award in his second year. He is exactly what the Cardinals needed in the second half and even if he doesn't win it, what he has done for this team and throughout the league will certainly make him a great piece to the future.
Main Photo:
Embed from Getty Images