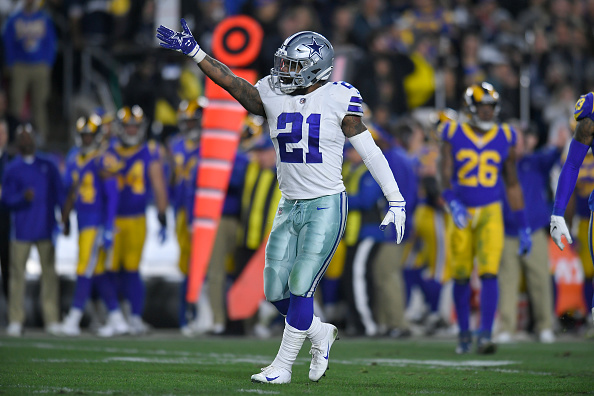 It's safe to say the Dallas Cowboys are committed to their star running back Ezekiel Elliott. The two-time NFL rushing leader recently came to terms with the team on a six-year, 90 million dollar extension. Roughly half of the total contract will be guaranteed, and that was something that took a little extra time to sort out. Both sides were at a standstill for over a month since Elliott decided to hold out in late July. This deal not only makes him the highest-paid running back in the NFL history, but it locks him up with the Cowboys through the 2026 season. The question is, are the Cowboys making a mistake by tying so much money into a position that is seemingly losing its' value? 
Ezekiel Elliott, Dallas Cowboys Agree to Record Extension
"Zeke" Finally Gets Paid
Elliott took the league by storm in 2016 rushing for a league-high 1,631 yards. From the get-go, Dallas knew they were going to lean on a run-heavy approach.  Part of that was due to the offensive line they had built over the years which includes All-Pro center Travis Frederick, guard Zack Martin and the tree-like tackle that is Tyron Smith. You hear the talk about how "anyone" can run behind that line, but Ezekiel Elliott has proven why he deserves to be their workhorse.
In 2018 he was fifth in the league in yards after contact with 595. When you watch him, he not only is always falling forward once the contact occurs but has a keen ability to weave and stay balanced among a slew of defenders. Running backs like Elliott are far and few, and despite this being a passing league, his presence on the field changes the way the Cowboys run their offense. The team is 17-4 when Elliott rushes for 100 or more yards. A simple stat that tells the tale of how Dallas functions.  
While Elliott possesses all the traits you want in a modern-day running back, he isn't it without fault. Ball security is one thing the 24-year-old superstar must hone in on.  In 2016 and 2018, the seasons in which he started all sixteen games, he had five and six fumbles, respectively. With the kind of volume he receives, mistakes will occur. But the rate at which he loses the ball is higher than most backs and must be shored up. Also, Pro Football Focus, who analyzes every player of every play, wasn't very high on Elliott last season.  His 72.3 overall grade ranked 30th in the league. The site highlighted how he doesn't break as many tackles as she should. 
Last Word on Elliott Extension
I think the bottom line in justifying this deal comes down to the raw production when the Dallas Cowboys go through Ezekiel Elliott. Over his first three seasons, Elliott leads all running backs in touches and yards, and this without getting injured. Dak Prescott has mostly shown that he can't be depended on alone. All along the team's mission was to create a run-first attack that wears down defenses slowly. Go back and watch some of the Cowboys key wins and you will see that is exactly how they operated. They have the third-highest win percentage (.667) of any team in the league since 2016. In a basic case of, "if it ain't broke, don't fix it", I can tell you confidently that the passing game is not the reason Dallas has been successful.
Main Photo:
Embed from Getty Images