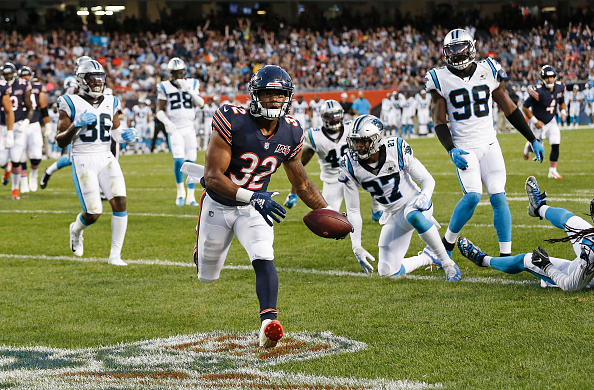 It seems like just yesterday Saquon Barkley and Baker Mayfield were ready to step onto an NFL field for the first time. Now a year removed, both of those star rookies have developed into elite talents. As the new NFL season rolls around, new rookies step into the spotlight. There will be surprises, disappointments, and most importantly star talent developed over the season. But who will emerge as the top rookies from the class of 2019? Here are my predictions for offensive and defensive NFL rookie of the year.
2019-20 NFL Rookie of the Year Predictions
Offensive Rookie of the Year
Normally, a third-round pick is never an immediate candidate for rookie of the year. However, David Montgomery is grossly underrated. Montgomery (pick 73) was just the fourth running back taken nearly halfway through the draft. He amassed nearly 3000 rushing yards in just three seasons at Iowa State, while also adding 26 touchdowns. That was good enough for second in the Big 12 Conference. He averaged 79 rushing yards per game and nearly five yards per carry and was by far the most used running back in the conference. Montgomery's speed and past workload were both big reasons why he fell so far in this draft. However, power backs have seen immense success in the past and this scenario will be no different. In addition, he won't have to fight too hard for a starting role.
Tarik Cohen currently sits as his only competition and he remains a viable pass catcher, rather than an every-down back. Montgomery has already been extremely impressive during the preseason and he's got a ton of room to grow. Last year we saw a similar player in Jordan Howard have success in this system as well. I think we see similar stats from Montgomery this season as he finishes with just over 1000 yards rushing and 10 touchdowns. Tarik Cohen takes a step back, while Montgomery becomes the future of the Bears backfield.
Defensive Rookie of the Year
In a draft filled with fantastic defensive talent, it was tough to pick just one to come out on top. In the past 19 years, 12 of the winners were linebackers. That's 63%. In addition, nearly all of them were drafted in the first round. fifth overall pick Devin White (LSU), was a force this past season. He finished first in the SEC for total tackles and won the Dick Butkus Award (best college linebacker) as well. It's hard to bet against this man and it's also hard to believe he was a running back coming out of high school. His ability to drop into coverage is a question mark, but his pure strength and skill at clogging the middle will do wonders for that Buccaneers defense. He reminds many of Myles Jack in terms of playstyle.
He will join a Tampa Bay defense that struggled tremendously last year, especially in the run game. He will partner with Deone Bucannon on the inside, who are great compliments to each other. Devin White has shown rapid growth in the past two seasons and will continue to thrive in this Bucs system. He will finish the season with just under 130 tackles and will lead all rookie linebackers in sacks at the end of the season. Devin White is your defensive rookie of the year.
Talented Class
The class of 2019 has many weak spots and many strong spots. seven of the first ten picks were from the front seven. Only two wide receivers were taken in the first round and over half the picks were on the defensive side. Although defense-heavy, this class has some explosive talent all over that should provide great entertainment this season.
David Montgomery and Devin White will be two of the top picks from this year's draft for years to come. The rookie of the year award has jumpstarted many NFL careers and it will do the same for these young guns.
Main Photo:
Embed from Getty Images