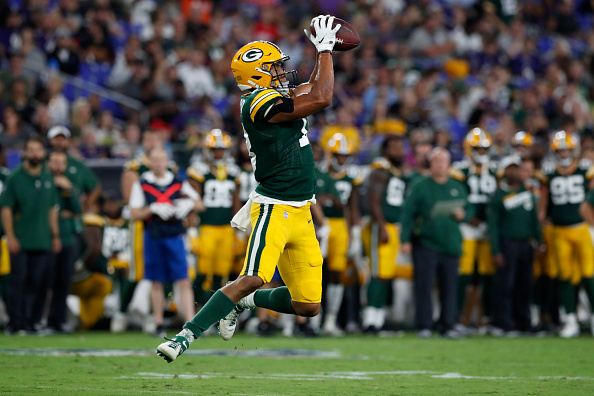 The Green Bay Packers lost their second game of the preseason to the Baltimore Ravens 26-13. Head coach Matt Lafleur put the starters out there for a quarter or so. Even though we were excited to them play, they weren't the ones fighting for spots. As the game went on, the backups and third-stringers took over and that's where the real evaluation period has begun. Even though the Packers lost it's not about the result, it's about the play of the players fighting for spots. The overall game was very sloppy but there were a few players that stood out from preseason week two for the Green Bay Packers.
Five Packers Players That Stood Out in Preseason Week Two
JK Scott
A punter? Yes, even a punter can be one of the stand-out players in a game. After an inconstant year from JK Scott last year, he is having a pretty good camp and a good start to preseason in both week one and week two. Scott had some pretty long punts with great hang times that limited the Ravens in the return game. He had six punts with an average punt of 49.5 and a punt that went 56 yards. With the offense struggling, he had to be good and he was. The Packers are looking for more of this not only in these last two preseason games but into the regular season.
Jake Kumerow
Wide receiver Jake Kumerow has turned some head in his direction with his play. He has been one of the best receivers so far for the Packers, not only in camp but in these two preseason games. When the offense struggled against the Ravens, Kumerow still shined and showed why he should be featured on this team. He had three receptions for 52 yards with his longest reception being 22 yards. He looks to be running great routes and getting to the ball. Aaron Rodgers noted how he liked Kumerow a lot last season and now Kumerow is showing why Rodgers doubles down on that in the offseason. He should be high on the receiver depth chart to start the season for the Packers.
Curtis Bolton
Linebacker Curtis Bolton got reps in practice on Saturday next to Blake Martinez. He looked pretty good against the Ravens. His speed and quickness to the ball were notable. He also snagged an interception that was tipped out of the air and also had three tackles. Bolton was at the right place and the right time. He isn't the first or maybe not even the second choice to replace Oren Burks but he headed in the right direction after the game he had.
Darrius Shepherd
Darrius Shepherd is another receiver that shined in these two preseason games. He didn't have a huge receiving day as he had three receptions for 11 yards, but he did catch a pass in the end-zone for a touchdown. That's his second touchdown in as many games. He has a chance to shine in special teams as a kickoff and punt returner. He didn't have a big day as a punt returner as he had two punt returns that averaged 7.5 yards per return but he had a couple of moves to get some extra yards on those punts. His kick returns were very impressive. He had a burst of speed every time he returned kicks. He averaged 25.5 yards per return on the kick returns. With Trevor Davis out with a stinger, Shepherd took full advantage.
Allen Lazard
With the offense having a bad game it's strange how three receivers make this list but they did. Allen Lazard is another young receiver to showcase their talent. He was the leading receiver on the field of any receiver including the Ravens receivers. Lazard had three receptions for 63 yards. He had two receptions that went for 21 yards and 25 yards. Both of them big receptions were on a touchdown drive in the third quarter. He has a big reception last week as well. These receivers are fighting hard for a spot and it's going to be a tough call for a couple of guys. Lazard no doubt put his name in the conversation to make the team.
The Pack Attack
The Packer's young guys and rookies have made a name for themselves throughout the offseason. It will be a really tough call when it comes to roster cuts. Although the Packers want to look to the now, the future doesn't look too bad for this team. The first team defense didn't look so good but it's a preseason game and they aren't going all out. One thing that continues to be an issue is tackling. The Packers have missed a lot of tackles over the past couple of weeks. Lafleur said it will get better and it should be fixed as soon as possible. This team is a very exciting one and it will be interesting to see what this team looks like for week one of the regular season.
Main Photo:
Embed from Getty Images