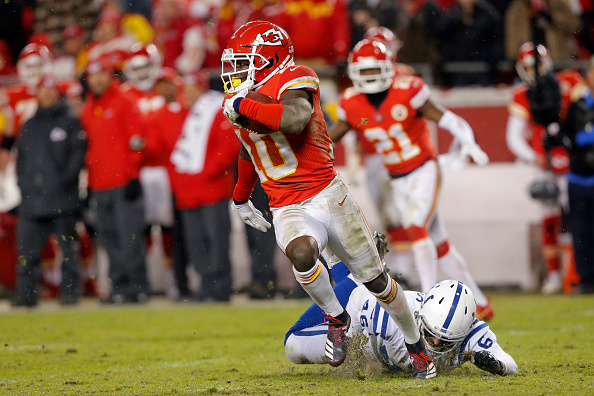 In this final edition of the fantasy football outlook, I cover the AFC West. Is Patrick Mahomes worth a first-round pick? Also, there's a situation brewing in Los Angeles with Melvin Gordon is threatening to sit out the 2019 season. How will that affect his average draft position? I try to sort out these questions and more in this week's fantasy football outlook AFC West edition.
2019 AFC West Fantasy Football Outlook
Few predicted Mahome's sophomore campaign would blow up as it did. In week one, he had 27 pass attempts and four touchdowns. In week two, he had 28 pass attempts and six touchdowns. He accounted for two or more touchdowns in every week except one and in that week— week five— against the Jacksonville Jaguars, he threw for more than 300 yards and ran in a touchdown.
I think we can expect more of the same from the man with a cannon for an arm. If you like to draft the best quarterback in round one, then do it. Ignore the pundits telling you not to draft a QB until the later rounds. If you have the fortitude, draft him number one overall in your draft.
It's All For You Damien
Damien Williams didn't come onto the scene until after the Kareem Hunt situation and Spencer Ware wore out his usefulness. In the last four weeks of the season, he scored double digits (30 in week 16, which almost robbed me of a fantasy football championship). Andy Reid didn't give him more than 13 carries but his catching ability paid off for fantasy owners in PPR formats. His production warrants third round consideration.
Sure, the Chiefs added Carlos Hyde, but all he's done lately is spend time on the injured reserve. I'll pass. However, they're starting to beat the drum in K.C. for the little known rookie and sixth-round pick, Darwin Thompson, and preseason week one star, Josh Caldwell. It wouldn't surprise me to see one or both make Hyde expendable.
TnT
Tyreek Hill and Travis Kelce. Think about it. How outlandish would it really be to stack the entire Chiefs offense? Round one: Mahomes. Round two: Hill. Rounds three/four: Kelce and Williams. This is just me spitballing, but why the not? Hill will get five to fifteen targets and double-digit fantasy points nearly every week which makes him a bonified WR1. Kelce? Same thing. Why would you not want the number one overall quarterback, number three overall wide receiver and number one overall tight end? We tend to overthink our draft strategy. Maybe, this year we don't.
Philip Rivers was the number ten overall quarterback last year and he'll likely pass a lot this season (maybe more if Melvin Gordon doesn't report). But, I just have this weird feeling that his window is closing even tighter and with the Gordon situation, the Chargers take a step back. There are quarterbacks I like better and with more upside than Rivers. He's lumped in with a big group of quarterbacks to look at when your drafting in the later rounds.
Anybody Seen Melvin?
Melvin Gordon is holding out, ala Le'Veon Bell. Doesn't he know he's screwing up our draft rankings and strategies? By the way, I traded him last year for Julio Jones, straight up. I won the championship. And the Chargers didn't. If Gordon doesn't report, Justin Jackson should be the main beneficiary (much like James Conner last year) and Austin Ekeler should see an increase in workload. If you have the guts to take Gordon in round one, you absolutely have to get Jackson later and most likely at a higher round than you would normally take him (round six, maybe even five).
An Air Coryell Reprise
Keenan Allen and Mike Williams make for as solid a duo of wide receivers in the NFL that there is. Allen would be a nice addition at the end of round two of drafts and Williams is WR3 with upside. Hunter Henry is back as well. And, if he can stay healthy, he has TE1 upside.
John Elway went and got himself a quarterback, again, in Joe Flacco. He'll throw some deep and he'll throw some to the other team. And he'll probably end up hurt at some point. Pass. For the Devy league fantasy footballers, Drew Lock will be on your radar. If Lock demonstrates an understanding of the offense look for him to get mop-up duty at the end of the year if the Broncos are out of contention.
Sorting Out the Backs
Phillip Lindsay is clearly the back to target. He out-touched Royce Freeman 227 to 144. With that being said, Freeman should be added late in drafts. He'll be the one to get the tough yards and could be counted on at the goal line. Lindsay should be upgraded in PPR scoring formats due to his ability to catch out of the backfield. Theo Riddick was brought in to add a receiving dimension on third downs. Devontae Booker is also still in the picture but seems to have fallen out of favor for some rookies. All in all, Lindsay is a nice target in rounds four through six and Freeman should be added after that.
Mid-Round Targets
Courtland Sutton will be Flacco's deep threat and looks to be a WR3. If Sutton can demonstrate consistency catching the ball then he has WR2 upside. He's a depth target for me after I've filled out my starting wide receivers. Emmanuel Sanders is returning from injury and should be ready week one. He should be Flacco's safety net and could approach 75 receptions. That would be solid enough for WR3 status with a bump in PPR formats. DaeSean Hamilton has exhibited a nice ability to get open and use his speed. Hamilton is a deep sleeper to keep on your watch list. Especially, if Sanders shows signs of rust.
Once upon a time, Derek Carr was being touted as an MVP candidate. He threw for 32 touchdowns in his sophomore campaign and 28 the year after. "He's a top ten quarterback", the people shouted, and then, he threw for 22 touchdowns and then 19. We can attribute his lack of production to a number of things. All I know is until he reverses that pattern, I'll leave him on the waiver wire. If you're a believer in Jon Gruden and the arrival of Antonio Brown, then, by all means, add him as your second quarterback.
A Running Back We Can Trust
Enter rookie Joshua Jacobs who was drafted 24th overall. All signs point to Gruden using Jacobs as the feature back. If the offensive line is able to do its job Jacobs should be in for a nice year. Especially with Brown drawing coverage and keeping defenses from stacking the box. I'm usually cautious with rookie running backs but, I think Jacobs has RB2 upside and should be considered in rounds four and five.
Dude, Where's My Helmet?
Gruden goes all-in on superstar Antonio Brown giving Carr a much-needed weapon. But it's turning in to a fantasy nightmare. As I write this, it's being reported that Brown is threatening to retire if he isn't able to use his old helmet. Carr was ready to sling him the ball 200 times. And now? After Brown, the Raiders boast a who's who at the wide receiver position: Marcell Ateman, Tyrell Williams, Hunter Renfrow, Dwayne Harris, Ryan Grant, what's his name and oh yeah, that other guy. You get my point. Stay tuned. They aren't being featured on HBO's Hard Knocks for nothing.
Adjust Your Rankings
Every year players like Brown and Gordon create a visceral reaction regarding our draft boards. However, they can't go overlooked because of the possibility they show up late and get snagged off the waiver wire. Outside of the Chiefs' offense, there isn't much that jumps off the page in the AFC West. But if you can mine a diamond in the rough. Fantasy glory will be yours.
Good luck and good drafting!
Main Photo:
Embed from Getty Images