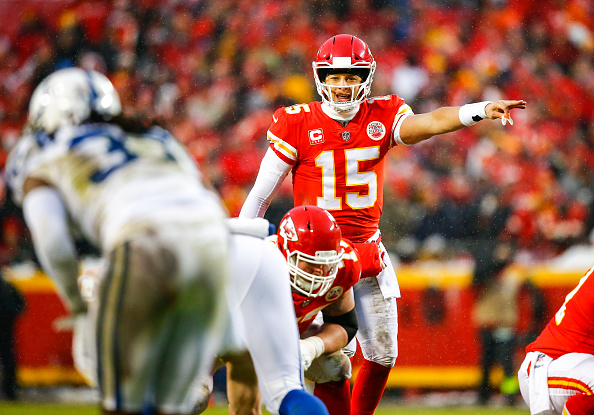 In this part of the divisional quarterback rankings series, we dive deep into the AFC West quarterback rankings for the 2019 season. This is one of the most interesting divisions since all four starters have shown the potential to be franchise quarterbacks, however, nothing is guaranteed heading into 2019. The AFC West has everything from a proven veteran to a young up and comer and should be an interesting division to follow this season.
AFC West Quarterback Rankings For 2019
4. Derek Carr
Derek Carr showed the potential to be a franchise quarterback in 2016 with 3,927 passing yards, 28 touchdowns, and only six interceptions. However, he has taken a step back the last two seasons. The passing yards have stayed consistent, however, the touchdown to interception ratio hasn't. In 2017, he threw 22 touchdowns with 13 interceptions and in 2018 he threw 19 touchdowns and ten interceptions despite throwing for over 4,000 yards.
Last season the Oakland Raiders struggled on both sides of the ball, ranking 23rd in total offense and 26th in total defense. They were unable to stay competitive as nine of their 12 losses came by double digits. They only had four wins last season, however, none of those opponents made the playoffs.
In his second season under head coach Jon Gruden, Carr has the opportunity to prove he's the franchise quarterback Oakland expects him to be. The Raiders added pieces such as Antonio Brown, Tyrell Williams, and Josh Jacobs to help him. How Carr and Brown play together is going to determine how far this team can go. If they can't develop chemistry I don't see the Raiders contending anytime soon. Carr is a wildcard this season as to how he will play but based on what he and the Raiders have done since their playoff appearance in 2016 I don't have the confidence to believe in them. I respect Carr and want to see him succeed, but until he can prove to me he is a consistent quarterback I can't put much confidence into him going into a season.
3. Joe Flacco
After spending his entire career with the Baltimore Ravens, Joe Flacco was traded to the Denver Broncos this off-season. As soon as the Ravens drafted Lamar Jackson, it was clear his time as the starter was coming to an end. Now he gets a fresh start in Denver and can prove he's the quarterback who led Baltimore to a super bowl. Since 2012 when the Ravens won the super bowl he's been inconsistent and hasn't proven he is one of the top quarterbacks. The passing yards aren't bad, but the touchdown to interception ratio has been an issue for him. In 2016 he threw for over 4,300 yards and 20 touchdowns but threw 15 interceptions. Turnovers have been a problem for him, and it's something he has to improve on if he wants to remain a starter. Since 2012, he's only thrown 20 touchdowns twice, although the Raven's receiver core has been a weakness he has also contributed with some poor decisions.
A fresh start has proven to lead to success for other quarterbacks, so there's a chance he can regain the 2012 version of himself. With the Broncos he has some weapons around him such as Emmanuel Sanders and rookie Noah Fant as well as Pro Bowler Phillip Lindsey. He doesn't have the defense he did in Baltimore, however, they've added some pieces and should improve as a unit. Von Miller is a great player, but Denver is going to need others to step up. As an offense the Broncos were 19th last season, however, adding Flacco doesn't look to improve it drastically. I don't have much confidence in Flacco coming into 2019, however, since he didn't take as big of a dip as Carr did after his best season he is the third-best quarterback in the division.
2. Patrick Mahomes
If this shocks you, allow me to explain. Patrick Mahomes had a historical 2018 season throwing for 5,097 yards and 50 touchdowns with 12 interceptions. While this was one of the best seasons of all-time, that doesn't automatically make him the best quarterback in the division. This was his first full season as a starter, unlike everyone else in the division we haven't seen him play multiple years to judge how good they are. I believe you must prove yourself for at least three seasons before being considered a franchise quarterback. We have seen many players who dominated the league early and for various reasons never became the same player. Names such as Colin Kaepernick and Robert Griffin come to mind.
While his numbers suggest he's clearly the best quarterback heading into 2019, as a quarterback the number one factor in keeping your job is consistency. Until he can prove he is not a one year wonder I can't fairly say he's the best quarterback in the division, let alone the NFL. Mahomes doesn't need to throw for 50 touchdowns to prove this, another few seasons where he's playing at a high level and winning games will do it. It's going to be harder for him without Kareem Hunt and possibly Tyreek Hill, but with the talent he has, I'm not doubting his ability to back up his 2018 campaign. For players with little experience, it can be hard to overlook first impressions, and until he can follow it with another great season I still believe one quarterback is better at least for now.
1. Philip Rivers
Going back to my point about consistency, that is why Philip Rivers is on top of this list. He has thrown for 4,200 yards in each of the last six seasons and completed on average 65% of his passes. He's also started 208 consecutive games and has always been near the top of the passing stats each season. While the Los Angeles Chargers record has been about average this decade, Rivers has continued to put up the numbers a franchise quarterback needs to. Rivers finished in the top ten last season in yards, touchdowns, and completion percentage.
In 2018, Rivers was sacked 32 times behind the 30th ranked offensive line according to Pro Football Focus. Despite playing behind the lowest-rated guard and tackle in pass protection Rivers was still able to put up 4,308 yards and 32 touchdowns. Taking matters into your own hands and playing this well speaks to the player Rivers is, and why he's the best quarterback in this division.
He also has some of the best weapons around him in Melvin Gordon and Keenan Allen as well as a young defense led by Joey Bosa and Derwin James who has the potential to become one of the best units in football. Rivers isn't getting any younger and the Chargers know it's now or never to win a Super Bowl. Los Angeles also has 11 games this season against non-playoff teams and with the players they have should lead to a potential run to the Super Bowl. Rivers has been the face of this division for over a decade, and unless he begins to digress I don't see it changing anytime soon. He is the best quarterback heading into 2019 because he's the only one who has proven he is one of the top quarterbacks year after year.
Two Minute Warning
I know having Mahomes at number two is going to cause some debate, and I'm open to hearing your thoughts. But I've seen too many examples of players who start out fast and are never able to repeat it or come close to the level they were at. I wish nothing but the best for Mahomes as well everyone else in the league, having someone like him be the face of the league would be great. But as of now, we've only seen one year, so let's see what he follows 2018 with before judging his place among the best of the NFL. This division could get interesting since each team has a reason to believe they can compete for a playoff spot. The Patriots dynasty has to end eventually, and with the young stars in this division including at quarterback, I wouldn't be surprised if someone from the AFC West becomes the AFC's best.
Main Photo:
Embed from Getty Images