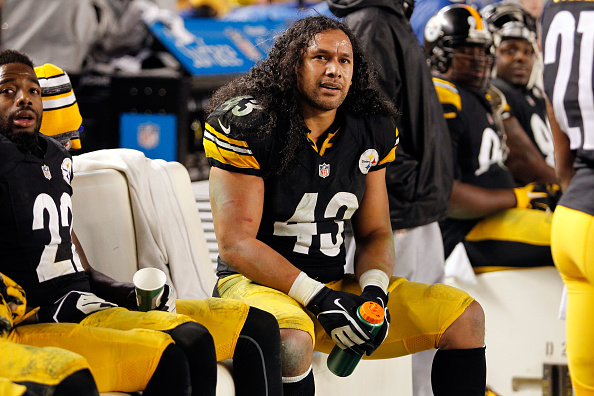 Every year the Pro Football Hall of Fame (PFHOF) inducts new members whose legacies are forever celebrated and remembered. With this year's class including legends such as Ed Reed and Tony Gonzalez set to be inducted next month, let's look ahead to next year. The Hall of Fame is considering a 20-member class in celebration of the NFL's 100th Anniversary. 2020 could be a big year. But the age old question still stands; who should be in Canton?
David Baker, the PFHOF President said that "It is extremely elite company, and it's not the Hall of very, very good. It's the Hall of Fame, and so it should be difficult to make it. But there's a lot of guys through the years (who deserve to be honored but have not). We have several guys who are on all-decade teams who aren't in the Hall of Fame. And, so, this is an opportunity with the centennial coming up." Here are five modern era players worthy of induction to the Class of 2020.
Five Players Who Should Be in Canton, Part 1
More Than Just The Hair: Troy Polamalu Should Be In Canton
If five Modern Era players are enshrined as normal, the five I believe are most deserving are Troy Polamalu, John Lynch, Tony Boselli, Isaac Bruce,  and London Fletcher. The only player I believe will be a first ballot Hall of Famer is Polamalu. He was easily a top two safety in the game alongside PFHOF Class of 2019 inductee Ed Reed, for most of the 2000s. A six-time All-Pro including four first-team selections, Polamalu also won the NFL Defensive Player of the Year Award in 2010. He is one of three safeties to receive this award since 2000 joining Reed and Bob Sanders, and one of five safeties to win since the award was first presented in 1971.
Polamalu only has 32 career interceptions which are fairly low for a Hall of Fame safety. However, he played all over the field and went sideline to sideline to make plays. He was fearless and did anything he could to make a play and help his team. Polamalu earned the respect of his peers, former Ravens quarterback Joe Flacco said of Polamalu that "Troy's an example of the right way to do things, on the field and off the field. Such a great competitor on every play and he treats everyone the right way. That's the right way to handle yourself. The image he had, the example he set … he just did it right."
Pro Football Reference charts players with similar career lengths and qualities, Polamalu matched with Hall of Fame safeties Brian Dawkins, Mike Haynes, and Paul Krause. Krause has the most interceptions of all time, and if he has a gold jacket there's no reason that Polamalu won't be wearing gold real soon.
From Tampa To Canton: John Lynch
Safeties have traditionally had a difficult time being inducted into the Hall of Fame. However, Lynch is deserving of this honor. With 1,054 tackles he is in the top ten all-time for defensive backs. 100 tackles are rare for a defensive back, many of the all-time greats only did it a few times. Dawkins only did it once and Ed Reed and Deion Sanders never reached 100. Lynch recorded 100 tackles three times including his career-best 117 in 1999.
He only has 26 interceptions, however, they came when it mattered most. According to Yahoo Sports 14 of his interceptions came in the fourth quarter, and 21 of those 26 helped ensure his team won. Lynch made nine Pro Bowls, and only Hall of Famer Ken Houston went to more as a defensive back. He has the numbers to get into Canton, but he also has the respect of those who competed with him.
His former teammate and Hall of Famer Derrick Brooks said "He sustained the level of play when the organization gave up on him. He switched teams, conferences, and positions. He helped improved the Denver defense. It's not a question to me at all." Safeties have had a difficult time getting into Canton, but Lynch deserves to be a member of the Hall of Fame.
Starts Up Front: Tony Boselli To Canton
Boselli was the Jacksonville Jaguars first draft pick, and the USC tackle did not disappoint. In his rookie season, he only allowed one sack. As the Jaguars left tackle for seven seasons, he has five Pro Bowls and three consecutive first-team All-Pros to his name. One of the most impressive accomplishments of his career was being selected for the 1990s All-Decade team, despite only playing in five seasons during 90s. While he has the accomplishments and reputation to deserve a gold jacket, his short career seems to be why he has been kept out. This should not be the case, players whose careers were short but who dominated during them have gotten in before. Terrell Davis is a recent example who also played seven seasons with three seasons with at least 1,500 yards including a 2,008-yard and 21 touchdown season in 1998.
Boselli also has the support of Hall of Fame voters, which is crucial to getting him into Canton. John McClain of the Houston Chronicle said "I think Tony deserves to be in the Hall of Fame. We put Terrell Davis in, and he had a short career. Others have had short careers. I don't think it should be held against Boselli because when he was healthy, he was as good a left tackle as there was in his generation. Orlando Pace, Walter Jones, and Jonathan Ogden are in there; they had longer careers, but Tony dominated when he played."
Main Photo:
Embed from Getty Images