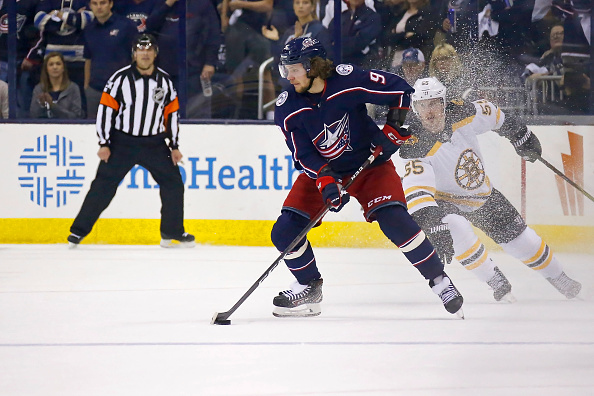 Free agency in the NHL starts July 1st and unrestricted free agents have already started to meet with teams. Everybody looks forward to this day in the off-season as there is a flurry of moves whether it's free agency or trades. Every year some great players hit the free agent market. The top ten unrestricted NHL free agents are said to get a lot of suitors come July 1st.
Top Ten Unrestricted NHL Free Agents
1. Artemi Panarin, Left Wing
Artemi Panarin is the best free agent available come July first. In 79 games with the Columbus Blue Jackets, he tallied 28 goals with 59 assists. He led the Blue Jackets to the playoffs and their first ever series win with a sweep of the Tampa Bay Lightning. Panarin should receive a big payday from any team who signs him. He will make teams a whole lot better.
2. Sergei Bobrovsky, Goalie
Another huge Blue Jacket hits the free agent market. Sergei Bobrovsky had a good 2018-19 campaign. In 62 games he went 37-24-1, had a 2.58 goals against average and a .913 save percentage with nine shutouts. He is kind of known to not show up for the playoffs but this year he posted a career-best .925 save percentage in the Stanley Cup Playoffs. He is an elite goaltender that would solve any team's goaltending issues.
3. Matt Duchene, Center
This is the third big name Blue Jacket to make the list and all are in the top three. Matt Duchene was traded to the Blue Jackets at last year's trade deadline from the Ottawa Senators. He is coming off a 31 goal and 39 assist campaign. He is the best center available so a lot of teams will be looking to add him. A lot of people have him pegged for the Nashville Predators but well see come July first.
4. Joe Pavelski, Center
Joe Pavelski has spent 13 years with the San Jose Sharks and he would like it to be more but with the huge contract they gave Erik Karlsson, I don't know how possible that is. He tallied 38 goals and 26 assists. With teams needing goal scorers, he will receive a lot of attention.
5. Anders Lee, Left Wing
Anders Lee scored 28 goals with 23 assists while playing all 82 games. Lee's numbers dipped a little last year but still had a good season with the New York Islanders. He is a loyal character and can be the heart and soul of any team.
6. Jake Gardiner, Defenseman
Jake Gardiner is one of the top defensemen on the market. His season was shortened to 62 games because of injury but when healthy he put up a decent season. He only scored three goals but had 27 assists. A 30 point season with a +19 is good for a player who missed 20 games and a player that needed time to recover. With a fresh start, he can be a really good option for any team who needs a top defenseman on the blue line.
7. Robin Lehner, Goalie
Robin Lehner had by far the best season in his career. He had career bests in wins, shutouts, save percentage, and goals against average. The season that he had will get teams interested but it doesn't seem he wants to leave the Islanders. Maybe this season was a flash in the pan but teams would still love to take that chance a pay him.
8. Mats Zuccarello, Right Wing
Mats Zuccarello only had 12 goals and 28 assists but he only played 48 games due to injury. He is a slick playmaker who would be an important part of any team. The Dallas Stars want him back after they acquired him from the New York Rangers at the deadline last year. He is 31 so he won't get a long-term deal but a short-term deal for any team would be great for a skilled forward to have.
9. Tyler Myers, Defenseman
Tyler Myers is a big defenseman who has skill at the blue line. He had nine goals and 22 assists. Myers is a great special teams player and that's what teams need nowadays. He is a top defenseman in this draft so don't be surprised if he makes a little more money than expected.
10. Gustav Nyquist, Right Wing
Teams that need depth and secondary scoring should be giving Gustav Nyquist a call. He had a career-high 60 points this season in 81 games. He had a good post-season run with the Sharks as he put up a career-high 11 points in that playoff run.
Free Agent Market
As I said before, there will be a flurry of moves come July 1st. There's a range of great players to good depth pieces. There are a lot of high-end skilled players and playmakers in the 2019 free agency class. This year features a couple of unrestricted free agents that people need to keep an eye on and that's Panarin and Bobrovsky. The top ten unrestricted free agents are probably set in stone but teams that don't sign their restricted free agents is just adding to a list of great free agents in the 2019 class.
Main Photo:
Embed from Getty Images