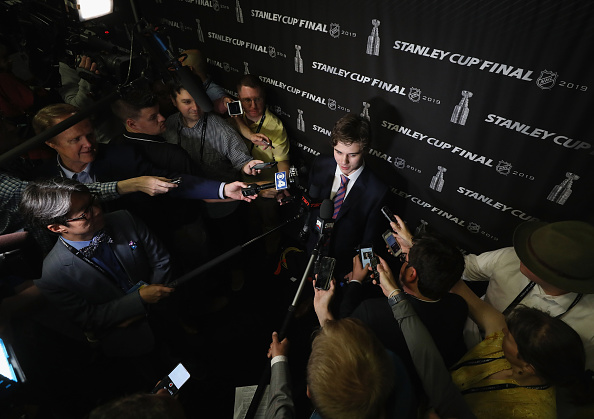 The 2019 NHL season has come to a close and it is time for each team to begin prepping for the 2019 NHL draft. Today, I'm going to preview what each team in the Eastern Conference is going to address in the draft this year.
2019 NHL Draft Needs: Eastern Conference
The Bruins, as of this writing are in the finals. One of the reasons they got there was due to an influx of youth in all key areas. All they need to do is focus on the youth being brought in and developed and they're good to go for some time.
The Sabres got a game-changer last year on the blue line in Rasmus Dahlin. Rasmus Ristolainen has been solid as well. Now they need to start structuring that offense. Jack Eichel is a great player but they desperately need more.
The Blue Jackets pulled out all the stops to finally achieve playoff victory. This worked until they ran into a brick wall named the Boston Bruins. The other main issue is that the key pieces for that run are currently UFA's. Columbus could bring pieces back but they more than likely won't have the cap space for everyone. They need to acquire new impact players in the draft to take up the reins.
Ever since Cam Ward left, the Hurricanes goal-tending has ranged from suspect to sieve. They desperately need a solid number one goalie and the 2019 NHL draft is the time to do so. Petr Mrazek is a solid 1B goalie but not one who you call to steal a series. Additional depth on the wings couldn't hurt either.
Detroit Red Wings – Getting Rid of More Bad Contracts
Hockey town has a reason for optimism. Steve Yzerman returned to take the reins from Ken Holland and some of the contracts that had held them back are gone. They're still far from out of the woods just yet. There are a lot of holes to be filled and they've still got some bad deals to pay for. But given Yzerman's ability, the Wings could be truly competitive in a few years.
Let's face facts here, Roberto Luongo isn't getting any younger. His abilities are slowly being lost due to age. The Panthers could solve this by either acquiring Sergei Bobrovsky in free agency or by drafting a goaltending tandem in the draft. This year is a crossroads for this much-maligned squad. It's either they finally do something or oblivion.
Much like the Islanders the Habs valiantly worked their way near the playoffs but it just wasn't enough. They need some offensive dynamos, which is funny considering some of the greatest offensive players of all time have worn that sweater. This year could finally be the year they acquire that help up front they've been crying out for some time.
The Rangers could land a game changer in Kappo Kakko or Jack Hughes this year, and they can start assembling and developing a proper championship core. There's also the issue of Henrik Lundqvist's age and contract. Like Luongo, he's slowly losing it due to the undefeated father time. The Rangers have some interesting goaltending prospects coming but they desperately need help up front on the blue line. Having an heir apparent to fill King Henrik's crease would be lovely.
With John Tavares gone and Matt Barzal still young, many thought the Islanders wouldn't have a shot this year. Little did anyone know that the Islanders would channel their inner 1995 New Jersey Devils and simply outwork their way deep into the playoffs. Going into the 2019 Draft, New York desperately needs to get some additional offensive reinforcements. Robin Lehner one of the biggest comeback stories of the year needs some goal scorers to give him help.
The Devils really lucked out and are picking first overall. The team is potentially turning around this year thanks to Jack Hughes or Kappo Kakko. This should be what the Devils need to get back in the playoff hunt.
One of the keys to the Penguins success has been moving the puck out of their zone quickly. They tampered with their identity bringing in Jack Johnson and Erik Gudbranson. They desperately need speed on their blue line again and the 2019 NHL Draft is where you can start to build another solid defensive core.
Similar to their in-state neighbors, the Flyers need some help on the blue line. They've also got some depth issues up front to address. Jakub Voracek and Claude Giroux can only do so much.
The Lightning may have pulled the single biggest choke job in NHL history. All of that high-end talent up and down the line-up and you get swept. I can't get a read on this team. They weren't severely hurt or anything, they just flat out choked. They need some good old fashioned grit in the line up to potentially get over the hump. I know the NHL is more speed based now but having players that can throw the body around can't hurt.
The Leafs really need a solid shutdown defenseman or two to solidify a suspect blue line. There were rumors some time ago that they'd trade for Duncan Keith but those turned into nothing. They need to get some defensive help at the 2019 draft or this era could be a complete waste.
An issue that really hurt the Capitals was injuries going into the playoffs. The loss of Michal Kempny really didn't help their case. They need to bolster the defensive core at the 2019 NHL draft. Some additional wingers couldn't hurt either.
The Top Shelf Summary
More than likely, I'm going to be proven totally wrong on draft day. This year's draft is predicted by most pundits to be one of the most unpredictable in recent memory, at least after the first 2 picks. These are just the needs each Eastern Conference team need to address going into the draft this year.
Think I missed anything? Feel free to tweet me @nero_alucard and be sure to follow @LWOsports for the latest.
Image Credit:
Embed from Getty Images