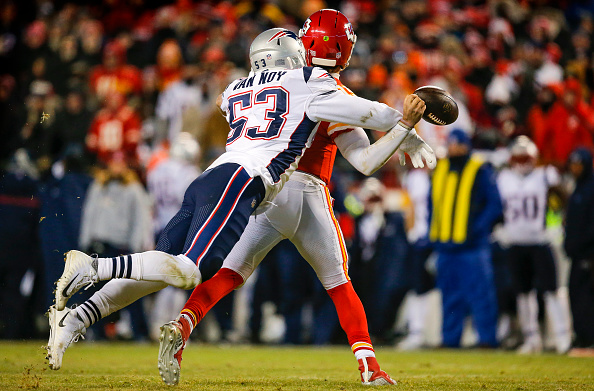 The Madden Curse has been around for 20 years at this point and the jury has always been out, whether the curse is, in fact, real or not. According to Business Insider, the Kansas City Chiefs quarterback, Patrick Mahomes, could be the next potential victim. Will Mahomes be the next victim of the Madden Curse? Let's look a little deeper.
Patrick Mahomes Madden Curse: Will He Fall Victim?
Curses of the past
Cody Benjamin, a writer at CBS Sports, posed the question last year of whether the Madden curse was still a thing. John Madden was a former head coach turned booth announcer. It was he who graced the cover of the game until 1999 when Barry Sanders was given the honor.
He was considered cursed because although he was a great running back, he retired in July of the same year, said Benjamin. It was an abrupt decision made just two years after his best showing yet. During his ten-year career, Sanders never rushed under 1,000 yards and only broke 2,000 in 1997. After that performance, he was deemed one of the best running backs at the time, but it wasn't until one year later when he was chosen for the cover.
Peyton Hillis had a singular season in which he rushed for over 1,000 yards. Besides that, he was a regular running back whose claim to fame was being an ample part of the Cleveland Brown's offense for two seasons. Hillis had no real superpower besides the fact that, at the time, he was the only running back who was Caucasian and rushing the way he had in 2010.
Most recently was Tom Brady. He had another great season, capped off by an appearance in Super Bowl LII against the Philadelphia Eagles. The Benjamin article says that Brady was actually not cursed but he was. Each player was cursed the way they should have each individually been cursed. And Brady was no different. During the second quarter of the game, the New England Patriots relied on a trick play to get the ball to Brady. Danny Amendola's pass fell incomplete and Nick Foles, a former high school tight end, showed him how it was done.
One might argue that the Philly Special, as that play became known as, was the one that won the Eagles their first championship. It may seem like Brady wasn't cursed because he still broke his own record for most passing yards in a super bowl, the record he set just the year before.
Latest Madden Cover
At this year's NFL draft, EA Sports picked Mahomes to be on the cover of Madden 2020. The young quarterback is coming off a record-breaking season in which fans thought he would be a shoo-in to represent the AFC in Super Bowl LIII but Kansas City lost to the Patriots in overtime. Still, Mahomes threw for an impressive 5,097 yards. So what's next for him in his third season?
If history serves correct, Mahomes will endure what most guys do when they grace the Madden cover. It's too soon to tell exactly what that will look like but the Chiefs have taken multiple hits on offense. Wide receiver, Tyreek Hill, and running back Kareem Hunt are both suspended to start the 2019 season, after acts of violence. Mahomes' season is already cursed.
Last Word
If Mahomes doesn't want to be cursed he has to work double time. Hill and Hunt being suspended is a big blow to the Chiefs offense but it doesn't guarantee a lost season for him. Keeping his mind and body healthy will help him achieve close to what he did last year.
Main Photo:
Embed from Getty Images