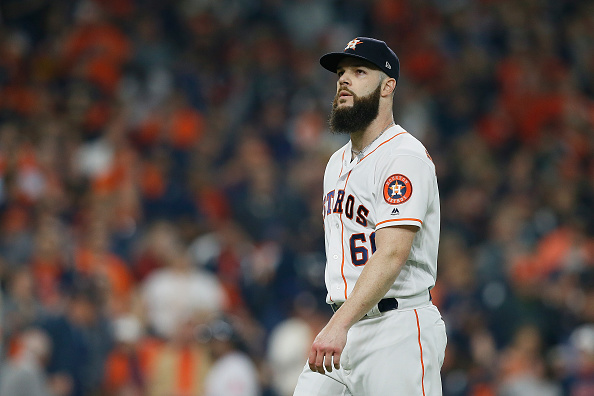 The season has entered June and Dallas Keuchel is still unsigned. There are many reasons why no teams have called Keuchel yet. A couple of reasons are that he wasn't what he used to be and he is asking for way too much money. At the beginning of the off-season, he wanted a six-year deal but now he is open to a one-year deal and it will probably be around $18 million. The price will probably have to go down in order for a team to sign him. I still believe he has more left in the tank and a lot of teams could use him even if he isn't a top of the rotation guy. These three teams will want to check in on Keuchel and probably negotiate a deal with him to bring him on their team.
Top Three Destinations for Dallas Keuchel
St. Louis Cardinals
The St. Louis Cardinals look to have some issues with their starting rotation and it doesn't seem like it's getting fixed anytime soon. The Cardinals don't even have a fifth starter set for every five days. They have to look around in the minors or pull a guy like Michael Wacha from the bullpen. With these issues, signing Dallas Keuchel isn't a bad idea at all. He can definitely fit in that last spot in the rotation. They would have a proven veteran at the back end of the rotation. Even if he isn't what he was, he still has enough to be a back end of the rotation guy.  The Cardinals aren't exactly the team to pull out the checkbook in June and sign one of the best on the market but for a one-year deal, that's not a bad idea at all.
Milwaukee Brewers
The Milwaukee Brewers would be a perfect fit for a guy like Keuchel. The Brewers have a great offense led by MVP Christain Yelich but their rotation isn't really their strong suit. Their best starting pitcher Jhoulys Chacin is on the 10-day injured list. They don't have a top guy to lead the rotation right now. They have inexperience right now with Brandon Woodruff and Freddy Peralta. They're going to have a heavy workload throughout the season and that could really put a tole on these pitchers down the stretch.
Keuchel would be great for the Brewers. First, he could easily fit near the top of the rotation and give them what they need. Second, he is a veteran who can eat up inning for this team when others can't. He has thrown 200 plus innings in three of the past five seasons. If you can get him half-way through the season, he can really give you more innings than you could expect. If the Brewers were to make the playoffs, Keuchel has the experience and even has a world series ring. He can certainly help them out.
New York Mets
The New York Mets are in an interesting position in the season. They started out hot and now they aren't doing so well. They're still in the playoff race and it's June so they definitely could use the help. The Mets year in and year out have one of the best rotations in baseball but every year there is always an injury or two that messes it all up. Jacob deGrom is one of the best if not the best pitcher in all of baseball. He is healthy more than others but he can't do this alone.
Noah Syndergaard has the ability to be one of the best but he keeps getting injured year in and year out. Zack Wheeler is a solid pitcher to slot in at number three but he can be better. Same with Steven Matz. Matz isn't performing that bad this season and is a good number four but Keuchel could be the number three and that would be a pretty good staff. If Keuchel can give them the innings and perform like a number three or even better, the Mets would be set in their rotation. The Mets are lacking depth and Keuchel would fill that void. He definitely could be helpful in that National League East where there are some good offenses.
Last Word
Aside from the money, getting Dallas Keuchel would be a huge risk. He hasn't pitched for a team since last season. He is throwing on his own and showing his stuff but that isn't game time action. Now that he waited until after the draft, no one has to give up a draft pick. As the season went on that might be a little part of the reason but the money for his age and production is why he still hasn't been signed. He can be a good depth piece for rotation and can fill in for teams with injury problems. He will still remain one of the hottest topics going into June and beyond.
Main Photo:
Embed from Getty Images