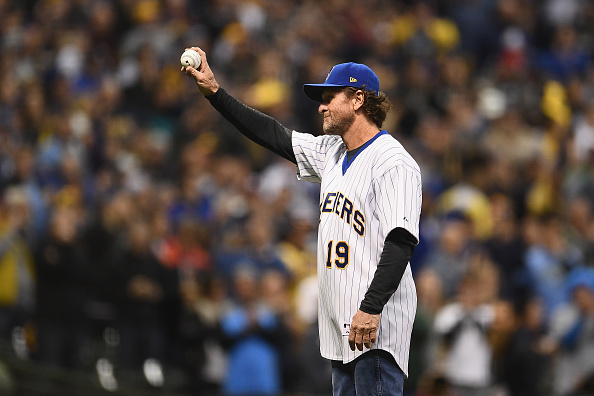 Over the next month, LWOSports will be breaking down the top five MLB players in franchise history for all 30 teams. This article will rank the top five Milwaukee Brewers players from least to best by who had the biggest impact for the team. You can check out the other series articles here.
People who play and succeed with the Milwaukee Brewers are the ones who fit the mold of its fans: a working-class fan base. Those who don't fit that mold, are the ones who stay for a short time and then move on to what they consider greener outfield grass. The people at the top of their list of best players are the ones who didn't make headlines off the field but certainly made news and headlines on it.
Top Five Milwaukee Brewers Players
5. Prince Fielder
Prince Fielder thought he left for more green (as in money) when he went to Detroit after playing six-plus years in Milwaukee, but what a tenure it was. He only played 39 games in 2005, so we won't count that. In six full seasons with the Brewers, he averaged 38 homers (including 50 in 2007), 107 RBIs, and nearly 100 walks a year. He also was a workhorse, playing in at least 157 games every year with Milwaukee, making him a threat every day. Unfortunately, injuries forced him to retire after just 12 seasons, leaving Brewers fans, and baseball fans left to wonder what more he could have done for their team.
4. Cecil Cooper
Cecil Cooper spent 11 of his 17 years with the Brewers and was a solid left-handed contact hitter. He averaged about 20 homers a year while with the Brewers, but also batted .300 (including .352 in 1980), and averaged about 30 doubles a year while in Milwaukee. He also made five all-star teams, finished in the top for MVP voting four times, and was a member of the Brewers' 1982 World Series team that lost in seven games to the Cardinals.
3. Rollie Fingers
Rollie Fingers makes the top of any list when it comes to mustaches, but he's number three here because he only played for the Brewers for four seasons. However, you can't talk about the Brewers without talking about Rollie Fingers, so here he is. With the Brewers, Fingers won the Cy Young Award AND the MVP Award in 1984, when he posted an ERA of only 1.04, had a WHIP of .0872, and led the major leagues in saves with 28 (his career best was 1978 when he had 37 as a member of the Padres). In 17 seasons, he also made seven all-star teams, received Cy Young votes three times in addition to the year he won it and received MVP votes six times in addition to the year he won it. He was elected into the Hall of Fame in 1992 with 81.2% of the vote. But that mustache…
2. Paul Molitor
Paul Molitor and Robin Yount really should be 1 and 1-A on this list. It's that close. Molitor is at number two (keep reading to find out why) but not because he was lacking talent. He made seven all-star teams and received MVP votes nine times (he was runner-up in 1993). For his career, Molitor had 3,319 hits, had a career average of .306, but amazingly walked almost as much as he struck out (1,094 walks to 1,244 strikeouts), which is unheard of today. He also swiped more than 500 bases, which made him not just a threat to get on base, but to take an extra base from time to time. Molitor was elected into the Hall of Fame in 2004 with 85% of the vote.
1. Robin Yount
Yount beats out Molitor on this list because he played his entire career for the Brewers. Above that, he was a grind-it-out, gritty ballplayer. He won two MVP Awards, received MVP votes five more times and made three all-star teams. He had 3,142 career hits, batted .285, and was elected into the Hall of Fame in 1999 with 77.5% of the vote.
Last Word
The Brewers have been more mediocre than bad, but could never get over the mountain if they made the playoffs, which has not been often. It's a bit ironic that the team's playoff nemesis, the Cardinals, are now in the same division. St. Louis beat the Brewers in the 1982 World Series and then again in 2011 in the National League Championship Series to advance to the World Series. The Brewers teams in the 1980s and early '90s with the players on this list gave them a certain level of consistency, but now the team is more of a layover for players who hope for a big season or two and then to move on for a bigger market and more money.
Main Photo:
Embed from Getty Images