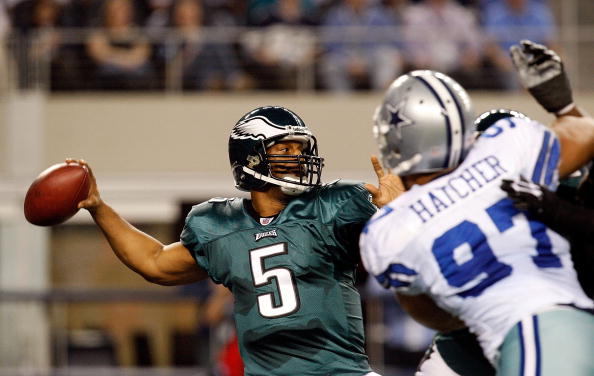 Recently former NFL quarterback Donovan McNabb said he deserves to be in the Pro Football Hall of Fame, arguing his numbers are better than Troy Aikman. While this is true, it doesn't mean McNabb deserves a bronze bust. If there was a Hall of very good, he would be an easy choice, but there's a significant difference between very good and legendary. McNabb had a great career however I don't believe he did enough to earn a spot in Canton.
Donovan McNabb Is Not a Hall of Famer
Numbers Never Lie
McNabb finished his career with 37,276 passing yards and 234 touchdowns. This places him 25th All-Time for yards and 30th in touchdowns. He only threw about 2,000 more yards than Jay Cutler who is ranked 28th All-Time and is considered nowhere close to Canton. Joe Flacco and Russell Wilson should both pass him on the touchdowns list while Flacco can likely surpass him this season. Playing 13 seasons, putting up these numbers are not as impressive as they seem. He averaged about 2,800 yards a season, which today would be considered below average for a franchise quarterback, let alone a Hall of Famer.
His completion percentage of 59.0% is 63rd all-time behind names such as Chad Henne, Blake Bortles, and Case Keenum. His career completion percentage ranks lower than the top 250 single seasons in completion percentage by about 4%. In the eight seasons he started at least 13 games and threw under 25 touchdowns. He threw 3,200 yards each of these seasons, however, he also threw 10 or more interceptions in six of the eight seasons. He only has one Hall of Fame season, in 2004, when he threw 31 touchdowns and eight interceptions along with 3,845 yards.
Compare and Contrast
Of the Hall of Fame quarterbacks without a championship, he ranks significantly lower than many of them. Dan Marino is considered a top-five quarterback all time and has over 60,000 yards and 420 touchdowns. Dan Fouts has over 43,000 and 254 touchdowns, he and McNabb each reached one Super Bowl yet Fouts has something McNabb never achieved. He threw for 4,000 yards three straight seasons, something McNabb never accomplished. Championships don't tell the whole story, even players who aren't considered gold jacket worthy still have better stats than McNabb. Matthew Stafford has put up great numbers in Detroit, yet few consider him a Hall of Famer since he was never considered a top-five quarterback despite seven consecutive seasons with 4,000 yards. Eli Manning threw for 4,299 yards last season when many were calling for his replacement.
Compared to many Hall of Fame quarterbacks who never won a championship, McNabb is behind by a lot so it's clear that rings don't tell the whole story. If rings alone decided who got a bronze bust, Jim Plunkett would have been in decades ago with 25,000 yards and under 200 touchdowns. McNabb never made an All-Pro team, Tony Romo made it in 2014. The All-Pro team is considered the more important achievement than the Pro Bowl so to never be selected makes me question if he was a good or great player. McNabb made six Pro Bowls, but so has Ben Roethlisberger who is a two-time champion and is a safe bet to be in Canton.
The Line is Long and McNabb Is Not at the Front
McNabb was a nominee in 2018 and 2019 yet failed to advance to the 25 modern-era semifinalists. If he's a Hall of Famer, he should be able to get at least past the first round of cuts. The fact that he didn't says a lot about his chances. The quarterback nominees this year included Randall Cunningham and Steve McNair who McNabb has better numbers than, yet none made it to the semifinalists. Hall of Fame players should be able to get at least to the Finalists stage where at this point the voters agree you are worthy of being inducted. It also doesn't help that his era has some quarterbacks who will get in before McNabb and many of them are either eligible soon or are close to retiring.
Tom Brady, Drew Brees, Peyton Manning, Aaron Rodgers, and Roethlisberger are all locks to get into Canton. Eli Manning and Philip Rivers should also get in, and Matt Ryan will have more of a resume than McNabb when he retires. Combine this with the other modern era quarterbacks waiting to get in such as Phil Simms and Boomer Esiason and McNabb's chances don't seem high. The Hall of Fame always has backloads of inducting players at certain positions. Until recently it was at wide receiver and now it's the offensive line. In the next decade, we will likely see a quarterback backload, and McNabb will be towards the back of the line.
The Last Word
McNabb had a great career, better than most quarterbacks could dream of. He's easily one of the greatest Eagles of all time and should be celebrated in Philadelphia. However, there is a difference between very good and legendary. There are 326 members of the Pro Football Hall of Fame, of the 29,000 players, coaches and officials who were paid professionally. Based on the numbers and how many better quarterbacks played in his era, I don't believe McNabb is a Hall of Famer. Even though I believe he doesn't deserve a gold jacket, his career is nothing to laugh at and he should be proud of what he's accomplished.
Main Photo:
Embed from Getty Images