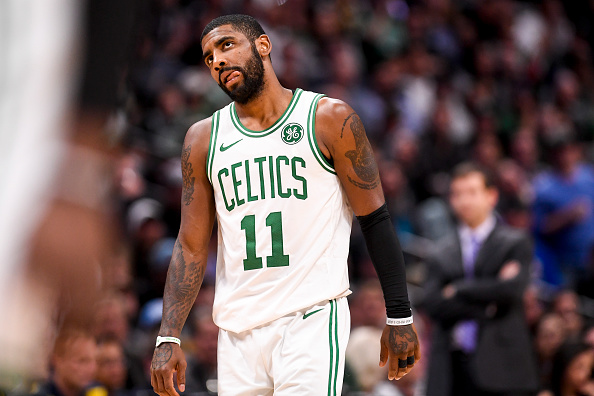 No team was more hyped at the beginning of the NBA season than the Boston Celtics. Three all-star caliber players along with two rising rookies as your starting five? Not to mention possibly the deepest bench in the league? If you were to have knocked this team at the beginning of the year, you would have been called crazy. But we now sit seven months later in the heart of the NBA Playoffs, with no Boston Celtics.
A team proclaimed to be the savior the NBA needed to knock off the Warriors is now sitting at home watching the final weeks of their dream disappear. A season that started with so much promise now ends with so many more questions. Now the Boston Celtics must look towards the offseason to try and correct one of the most disappointing seasons in recent team history.
Boston Celtics Offseason Preview
The 2018-19 Boston Celtics will forever be known as the team that could have been. But now, they must not look back on what could have been and look ahead at what can still be.
The Celtics have ten players with expiring deals this year. However, only six of these players had a true impact on the team. Daniel Theis is expiring at a 1.3 million dollar cap hit. I think it would be smart to let him walk and give Robert Williams some much needed playing time next season. Aron Baynes has a player option at 5.4 million which I can see him both accepting and declining. Now the next four players have a bit more value to them. Marcus Morris, Terry Rozier, Al Horford, and Kyrie Irving all have the option to leave the city of Boston in their rearview mirror.
Marcus Morris
Expiring Deal: 5.375 million (UFA)
Expected Market Deal:15-20 million
Expected Decision: Signs elsewhere
One of the biggest surprises of this season was the emergence of Marcus Morris. He became what many had hoped Gordon Hayward would've been this season, and really helped the Celtics with their "slumping stars" during some parts of the season. He's as close to a role player as the Celtics have, but I don't see Boston signing him back to a deal that suits both him and the Celtics.
In the projected market, he should be getting at least 15 million. This isn't ideal for the Celtics as they are already in enough cap trouble, to begin with. Now, Marcus Morris has stated that he wants to return to the Celtics and the city of Boston. So if he is able to sign back on a team friendly deal. I think they can make it work. But I would bet on the Celtics taking a pass on his deal.
Terry Rozier
Expiring Deal: 3.050 million (RFA)
Expected Market Value: 17-20 million
Expected Decision: Signs elsewhere (Boston doesn't match)
Terry Rozier had Celtics fans in awe following last years playoff run. Although his game seven performance is something most Boston fans want to forget, he was a huge reason they even got there in the first place. A lot was expected of "Scary Terry" this past season, and I don't think it's harsh to say he was a disappointment. Rozier averaged 9ppg on just 38% from the field. Now, with some adjusting to his minutes, this mirrors his production from the 2017-18 season almost to a tee. Why was he such a disappointment then? I think a lot of fo Celtics fans expected more from him following his playoff run last year, and they were surprisingly disappointed at what they saw.
Rozier can definitely fill a starting role with one of the numerous NBA teams looking for a point guard. Rozier has a lot of talent if used correctly and I just don't think the Celtics are in a position to do that. If they plan on signing Rozier back to a 3-4 year deal for 70+, they are putting themselves in a huge hole come the 2020s. I think it would be smart to let Rozier walk and put all the focus into your true starting PG, Kyrie Irving. However, if Kyrie decides rather quickly that he would rather take his talents to New York or LA, then signing Rozier back becomes almost a necessity. Either way, you won't be seeing both of these guys back on the roster next year.
Al Horford
Expiring Deal: 28.9 million (Player Option for 30 million for 2019-20)
Expected Market Value: 23-30 million
Expected Decision: Opt out and sign back with the Boston Celtics
Al Horford is quite possibly the most interesting out of all the free agents for the Celtics (besides Kyrie). He sits on a 30 million dollar player option that all signs pointed to him accepting and signing back with the team. Now although his destination of choice hasn't changed, there are rumors that he may opt out to give Boston more wiggle room for deals. This would make Horford even more loved in this city and would help the Celtics tremendously.
Horford is at a point in his career where he's gotten paid, but still lacks one important career achievement; an NBA title. He understands that unless he were to sign with Golden State, Boston gives him the best chance in the next three years to win a title. I fully expect Al to be back on a 2-3 year deal of about 23 million per year. It would free up about 6 million in cap space for the Celtics, giving them a bit more to work with.
Kyrie Irving
Expiring Deal: 20 million (Player Option of 21.3 million for 2019-20)
Expected Market Value: Max deal
Expected Decision: Opts out, signs back with Boston Celtics
A lot rides on Kyrie Irving's decision this offseason. If he signs elsewhere, the Celtics are now left with a huge gap at point guard with little to no cap space to work with. It would create either a dynamic duo of KD and Kyrie on New York or possibly reunite Lebron James and Kyrie Irving in LA. If he signs back with Boston, he keeps the core of this team together and makes the Celtics contenders once again for a title run. Either way, his decision will impact the NBA in many ways.
I don't see a reason Kyrie Irving leaves the Boston Celtics. He was traded from the Cavs under one notion; he wants to lead a team to an NBA title. In his first year, he was injured in the most inopportune time and didn't get the chance to lead the team. This year, he failed miserably at doing so. So he was accomplished little to nothing in his two years with the Celtics. If he leaves and joins Lebron in LA or joins KD in New York, he will tarnish his legacy forever. He will be labeled as a player who couldn't win on his own. Labeled as someone who lacked basic leadership to keep a locker room connected. Kyrie needs to prove he can lead this Celtics team to an NBA title.
Forget all the media stories, rumors, promises, etc. If Kyrie has any love for this city or has an ounce of respect for himself, he'll sign back with the Celtics. If not, he will be plagued with the same notion Kevin Durant was labeled with after he left OKC; you can't lead a team.
Last Word
As the Celtics have been for many years, they will be the focus come this free agency. Many of the decisions made by Danny Ainge will shape this franchise for years to come. They have the talent, they have the support, but is it too far gone for this team? Can they pull it together and continue their quest for an NBA title? Or is it rebuild part two for this storied franchise?
Main Photo
Embed from Getty Images