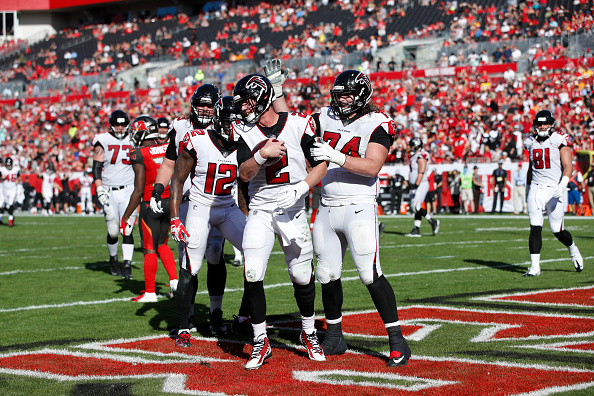 Matt Ryan texted general manager Thomas Dimitroff after the first round of the 2019 NFL draft to thank him for picking two offensive linemen in the first round. Let's hope this is a good sign which will lead the Atlanta Falcons back to the super bowl and finally secure Ryan the ring he deserves. Let's see how the upcoming Falcons season looks.
Hope and Optimism Clouded by Skepticism for Atlanta Falcons 2019 Season
First-round OL Draft Picks, Matt Ryan Window
While filling a major need in addressing the putrid 2018 offensive line play, the Falcons drafted guard Chris Lindstrom and right tackle Kaleb McGary in the first round. While these picks are far from sexy, they do address a major need. The main goal is to keep Matt Ryan vertical and limit the number of hits and sacks he absorbed in 2018. Drafting a guard with your first pick is not very common, although Lindstrom was graded as the top one in the draft. Both Lindstrom and McGary are plug and play guys for the next ten years… hopefully. They should both be able to protect "Matty Ice" much better. They should hopefully also be able to open up more running lanes and holes for running backs, Devonta Freeman and Ito Smith.
There are rumblings that the window is closing for Matt Ryan. Nobody is more deserving of winning a super bowl than him. I still foresee him playing another four to five years, given his health, longevity, and production.  When given time and a clean pocket, Ryan is top five easily in terms of accuracy and production.
Reason for Skepticism and Optimism
I've read many frustrated Falcons fans stating with all of the defensive line talent in this draft, they should have taken a dominating edge rusher and/or defensive tackle. That would have been a much sexier pick in the first round as opposed to two offensive linemen. Although I do agree to a certain extent, I also know that without a young, healthy, productive and nasty line, you cannot run or pass the ball. I do love the cornerback picks which add youth and depth. Both Kendall Sheffield and Jordan Miller should and will bring speed, athleticism, length, and toughness to a secondary lacking in all areas.
Trusting the process in what Falcons management has done in previous drafts, has become somewhat easy, specifically in the later rounds. I believe Dan Quinn knows he's on the hot seat if the Falcons don't at least make the playoffs this year and have a deep run. His rah rah cheerleading approach and antics are wearing thin on fans. The lack of a pass rush is still a major concern and something Quinn and the front office should and must address once rosters are cut down with available veterans post-training camp. They cannot head into next season with this current corps of pass rushers. I would like to see a 42-45 sack season overall as a team. This might or might not be feasible, but will be contingent upon how they look in training camp, preseason and what vets will be available after cutdown.
2019 Outlook
Only time will tell as to how the 2019 season will play out. With improved play calling on offense and a healthy defense returning, I see no reason why the Falcons can't finish 11-5 and have a deep playoff run. The window is slowly closing for some of the veterans on this team. If the Falcons don't show significant improvement from last season, Dan Quinn could very well be handed his pink slip which could make many Falcons fans very happy and relieved.
Main Photo:
Embed from Getty Images